Image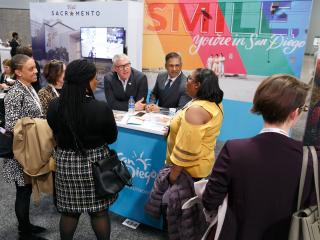 Event Impact Calculator (EIC)
The Event Impact Calculator is utilized by over 300 destination organizations worldwide and is the global standard for measuring net new money coming to a community because of meetings and events.
Join the industry's leading event impact measurement.
The Event Impact Calculator measures the economic value of an event and calculates its return on investment to local taxes. Armed with this information, destination organizations and CVBs are better prepared to make the case to policymakers and stakeholders for the ongoing development and growth of the events and meetings sectors. Updated annually, the calculator draws on ten different data sources to provide an industry-wide standard.
Why is it important? 
With more than 300 destination organizations using the tool, the Event Impact Calculator has been established as an industry standard with over 500,000 events analyzed. The models and platform have been developed by Tourism Economics, an Oxford Economics Company.

Credible
With minimal user inputs, destination organizations and CVBs can produce impact analysis based on the latest survey and economic data available.

Localized
Each destination organization and CVB receives access to a model that is uniquely developed for their destination.

Comprehensive
The calculator measures the direct impacts of events on businesses, employment, income and taxes.
Why Use the Event Impact Calculator?
"I'm not sure there's a press release or statement made when we don't include a group's economic impact to convey the value to our community! Hotel room nights are just one piece of the pie and the EIC allows us to convey the total value of an event to our stakeholders, in terms everyone can understand." 
NATALIE JAMIESON 
Director of Destination & Business Intelligence 
Visit Baltimore
Subscription

Rates

Annual fees for licensing one or more modules follow the rate structure below, based on the organization's annual operating budget. 
Local and Public Events module pricing is based on the rentable square footage of the destination's convention center.
Americas Pricing*
Organization Budget
 
Annual License Fee
 
 

Meetings
 

Sports
 

Festivals
 

Meetings + 1 Module
 

All Three Modules
 
Less than US$1M
 
$2,512
 
$1,992
 
$1,992
 
$3,376
 
$5,380
 
US$1M - US$2.99M
 
$2,817
 
$2,241
 
$2,241
 
$3,798
 
$6,053
 
US$3M - US$5.99M
 
$4,325
 
$3,140
 
$3,140
 
$5,845
 
$8,545
 
US$6M - US$9.99M
 
$6,275
 
$3,785
 
$3,785
 
$8,110
 
$11,250
 
US$10M - US$14.99M
 
$8,110
 
$4,325
 
$4,325
 
$10,600
 
$14,385
 
US$15M - US$19.99M
 
$8,921
 
$4,758
 
$4,758
 
$11,660
 
$15,824
 
Above US$20M
 
$9,732
 
$5,190
 
$5,190
 
$12,720
 
$17,262
 

* EIC modules in the Americas are currently available in the United States, Canada, and Mexico. Pricing is also available for Australia. Please reach out to our contacts below for inquiries. Please also reach out to the contacts below for state/province or regional pricing.
European Pricing
Organization Budget
 
Annual License Fee
 
 

Meetings
 
Sports
Festivals
Meetings + 1 Module
All Three Modules
Less than €1 million
 
€2,503
 
€1,985
 
€1,985
 
€3,365
 
€5,362
 
€1 million-€2.99 million
 
€2,807
 
€2,233
 
€2,233
 
€3,785
 
€6,032
 
€3 million-€5.99 million
 
€4,325
 
€3,129
 
€3,129
 
€5,825
 
€8,516
 
€6 million-€9.99 million
 
€6,254
 
€3,772
 
€3,772
 
€8,083
 
€11,212
 
€10 million-€14.99 million
 
€8,083
 
€4,310
 
€4,310
 
€10,564
 
€14,336
 
€15 million-€19.99 million
 
€8,861
 
€4,742
 
€4,742
 
€11,620
 
€15,770
 
above €20 million
 
€9,699
 
€5,172
 
€5,172
 
€12,677
 
€17,204
 
Subscription to the Event Impact Calculator is available to Destinations International member organizations only.