Meetings and Groups Database (MINT+)
Image

The Meetings Information Network (MINT+) database helps destinations prospect intelligently by using both historical data and information on future bookings. A joint venture between Destinations International and Simpleview, MINT+ is a shared repository of information on organizations and their meetings and events and is the DMO industry's exclusive data cooperative.
Over 140 Destinations Using MINT
Image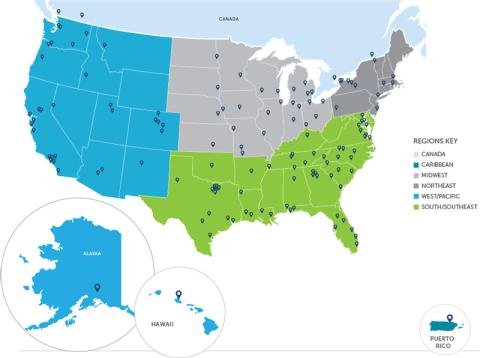 Product Demo
To schedule a product demo, please reach out to Terri Roberts at [email protected].
MINT+ is a valuable business development and relationship management resource for your sales professionals. Using pattern matching, MINT+ recommends meetings by looking at your historical booked meetings and identifying similar ones for your consideration.
Image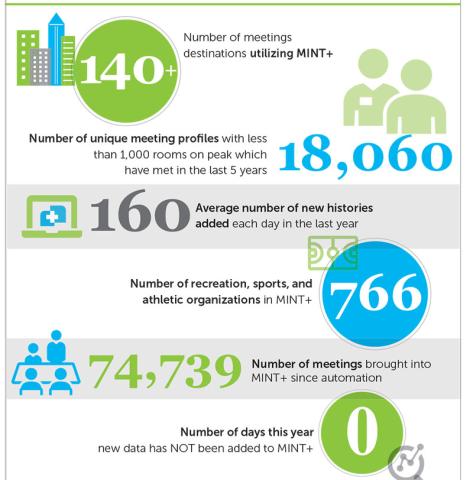 AUTOMATED REPORTING
Member contributions to the shared data cooperative are automatically pulled into a processing pool from their CRM before being added to MINT+. This ensures more complete and robust meeting data and increases the pool for query building and prospecting for direct outreach.
CRM INTEGRATION
You can identify a record in MINT+ and through the integration, pull the record into your CRM without having to enter the information manually. The integration is designed to provide the best balance of getting new information and updates while still maintaining control of your own records.
STANDARDIZED MARKET SEGMENTATION
You'll have confidence in the accuracy of the MINT+ data because it uses universal industry standardization. Standardized and objective market segmentation is a central component in the system that makes all the meetings data more searchable and thus more useful to users in both their search and query.
QUERY BUILDER
The query builder helps you quickly hone in on the right meetings and qualify prospects by letting you enter destination-specific criteria based on size, market segment, and need period. MINT+ will provide a customized list for you to prospect.
EVENT SCORING PROFILE (ESP)
This feature allows destination sales leaders and their teams the ability to proactively score events, based on their specific criteria, using the MINT+ Event Scoring Profile calculator, which is a complimentary value to MINT+ subscribers.