Image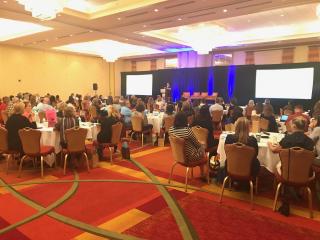 2023 Visitor Services Summit
July 18, 2023 | Dallas, TX, USA
The Visitor Services Summit is a gathering of visitor experience and community engagement professionals. Join us this year as we focus on re-envisioning the purpose and value of the visitor center and how we engage with our communities, visitors, and residents. Learn from your peers as we share best practices, opportunities, and new innovations. 
Register Now
Use your Destinations International login to register for the summit, or contact us for assistance.
Schedule

at a Glance
Tuesday, July 18
The Visitor Information Experience: Not Just for Centers Anymore
It's well-understood that destination organizations are not responsible for and can't control the in-market visitor experience; once a visitor arrives in the destination, that responsibility is [appropriately] ceded to the hotels, restaurants, attractions, retail shops, etc. But the visitor information experience is different, and should not be ceded to anyone, especially internet providers who can't distinguish one destination from another and can only provide a list of the "most popular" things to do vs. the ones that are most relevant to each visitor. The destination organization is the expert and must claim and own that right. Yet far too many destination organizations stop their efforts once a trip is booked and move on to inspiring the next travelers. That's a missed opportunity, not only for the destination organization, but for the members of the destination's hospitality industry. In this presentation, Matt will walk us through his experience leading the transformation of the physical visitor information center in San Francisco, and also share how other destination organizations are taking visitor information outside the physical center while ensuring that the organization remains at the center of all in-destination discovery.
Speakers:
Matt Stiker, Senior Vice President, Strategy, Madden Media
Is the Visitor Center Still Relevant?
Visitor behavior is changing, and the evolution of the visitor center is changing along with it. In this session you will hear from destinations that have taken different paths but with some common ground. Learn about ways to evolve the visitor experience with digital solutions, new pop-up visitor center models and some of the biggest advantages to leveraging your destinations high-traffic areas.
Speakers:
Douglas Ralston, CEO, True Omni
Brad Jones, Executive Director, Visit Bellevue Washington
Meredith Darden, CTE, Vice President of Strategy, Visit Corpus Christi
Amy Olmsted, VTA, Luxury Travel Consultant
Visitor Services 2.0: High-Tech vs. High Touch
We are at a crossroads within our industry and the visitor experience itself - does the current technology provide a better way for destination navigation, market retention, and revenue generation for tourism businesses or does the "human touch" through consumer-facing local insiders and bubbly personalities resonate best with the traveler? This session will examine the case for both alongside a hybrid model, while going through a checklist of options and platforms to better understand where your visitor engagement opportunities line up. Gain critical insights into the evolution of visitor demands, touchpoints and how best to apply the latest tools to your destination at all stages of the purchase funnel - from inspiration and planning to in-market exploration and itinerary development.
 
Speakers:
Elena Prostova, Vice President, New Business Development, Miles Partnership
Attendees

by Budget Size

Attendees come from destinations of all shapes and sizes. Network with peers from your budget group, or meet people from cities large and small.
30%

Greater than $10 million

31%

$5-$10 million

39%

Less than $5 million
Attendees

by Job Level

Visitor Services Summit welcomes attendees from all job levels. Whether you're just starting out or you have years of experience under your belt, you'll find colleagues in the same career path as yourself!
10%

Entry Level

44%

Manager

33%

Director

13%

Executive Level/CEO
Location

Details

Hotel booking information will be provided in your registration confirmation email. The hotel cutoff date for all hotels is Thursday, June 22, 2023. Rooms are available on a first-come, first-serve basis and may sell out prior to the cutoff date.
Omni Dallas Hotel
555 S. Lamar St.
Dallas, TX, USA
+1.214.744.6667
Block Rate: US$219 + taxes and fees
Additional Hotel Options
Courtyard Dallas Downtown | 0.1 miles away
310 S. Houston Street, Dallas, TX, USA
Website | Map
Block rate: US$179/night + taxes and fees
Aloft Dallas Downtown | 0.3 miles away
1033 Young Street Street, Dallas, TX, USA
Website | Map
Block rate: US$199/night + taxes and fees
Renaissance Saint Elm Dallas Downtown | 0.9 miles away
1907 Elm St, Dallas, TX, USA
Website | Map
Block rate: US$189/night + taxes and fees