Image
EDI Case Study: Visit Baltimore
Visit Baltimore's goal is to create a warm and welcoming environment for all visitors, but especially those of color. This is critical in a city like Baltimore, where nearly a quarter of the city's annual visitors are African American.
In late 2020, Visit Baltimore introduced a corporate-sponsored Diversity, Equity and Inclusion (DE&I) training program for hospitality leaders, as well as staff to help establish new DE&I standards across the travel and tourism industry. The end goal is to have travelers share with their friends and family that they visited one of the most inclusive and diverse destinations in America. The following is just a sample of Visit Baltimore's recent work in the DE&I space:
Upcoming – Warm Welcome Program. With research showing that diverse populations are making travel decisions based on whether they feel seen, heard and welcome in a destination, Visit Baltimore is preparing to launch a project called the Warm Welcome Program to foster an inclusive community for all travelers. Visit Baltimore is asking local hoteliers, restaurants and attractions to sign a one-page declaration to show their commitment and participation in DE&I training modules created specifically for the tourism community in Baltimore. Once a business confirms that their frontline staff has completed the training, a Warm Welcome tool kit will be sent including a window cling that can be placed in the front window as a sign to travelers that they are welcomed at that place of business.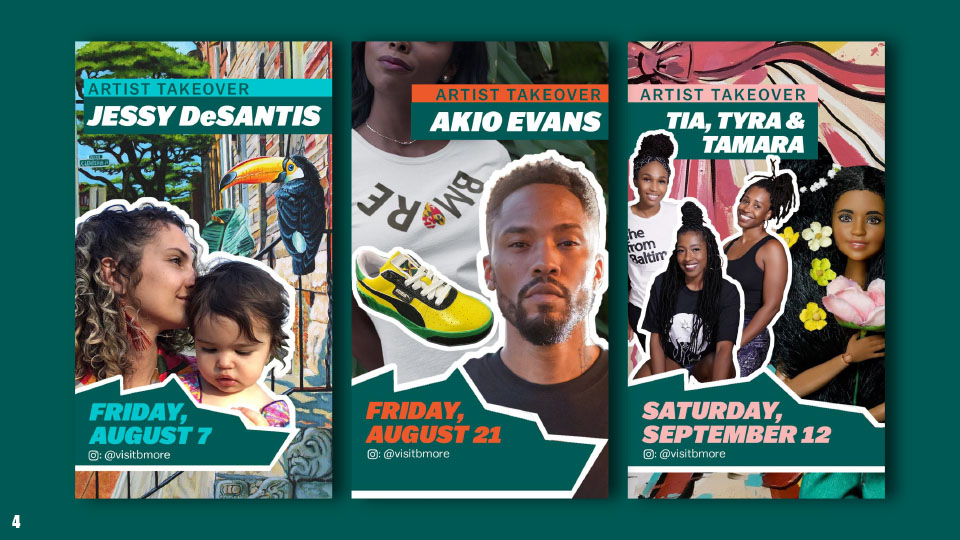 Rebranding Process. To authentically represent the majority Black city and showcase the intersection of people and places that makes the city so special, Visit Baltimore underwent an intensive rebrand in 2020. To capture a more accurate and holistic picture, the rebrand began with a process of deep research and community engagement. The first six months of the stakeholder-driven initiative were spent speaking with and listening to local residents, civic leaders and cultural influencers. The process included conversations about what matters to diverse communities, and how they want to be represented. Over 150 community stakeholders participated in the rebranding, and Visit Baltimore partnered with diverse talent to serve as writers, photographers, musicians, models and more.
Diversity Apprenticeship Program. As part of Visit Baltimore's allyship work and goal of bringing more people of color into the travel and tourism career path, they partnered with the Guinness Open Gate Brewery to reinvigorate its Diversity Apprenticeship Program as part of the organization's Education and Training Foundation. As a result of the generous funding from the brewery and its Guinness Gives Back Baltimore Fund, the 600- hour paid apprenticeship offers a three-part immersive learning experience within the tourism and craft beer industries. The selected apprentices shadow at Visit Baltimore, Guinness Open Gate Brewery and another local tourism entity to explore various roles and career paths within each organization. They will then be guaranteed employment by Visit Baltimore or a partner organization upon completion of the program.
"The challenge we are facing across the country and globe is systemic racism. Over the past several months, eradicating racism has been at the forefront of our minds globally. Not one person can solve this problem alone, but Visit Baltimore wants to do its part in fostering a more inclusive, equitable industry."
Jessie Walker
PR Manager
Visit Baltimore
Complimentary Diversity Membership. To assist and support minority-owned businesses in the hospitality and tourism industry, Visit Baltimore offers complimentary membership for two consecutive years with reduced membership in year three. Businesses located within Baltimore City are eligible to take advantage of the opportunity which also provides access to sales leads, educational sessions, listings on Baltimore.org and visitor publications year-round.
Customer Experience. The Visit Baltimore Sales and Customer Experience team is committed to spotlighting Baltimore's diversity through dedicated staff to drive diverse meetings and conventions clients, financial incentives for diverse meetings and conventions, sponsorship of educational industry events with local DE&I expert Dr. Kaye Whitehead of Loyola University, and stewardship of a Customer Advisory Board subcommittee to further advance the importance of DE&I.
To learn more, visit: baltimore.org/guides/guide-to-baltimores-african-american-culture