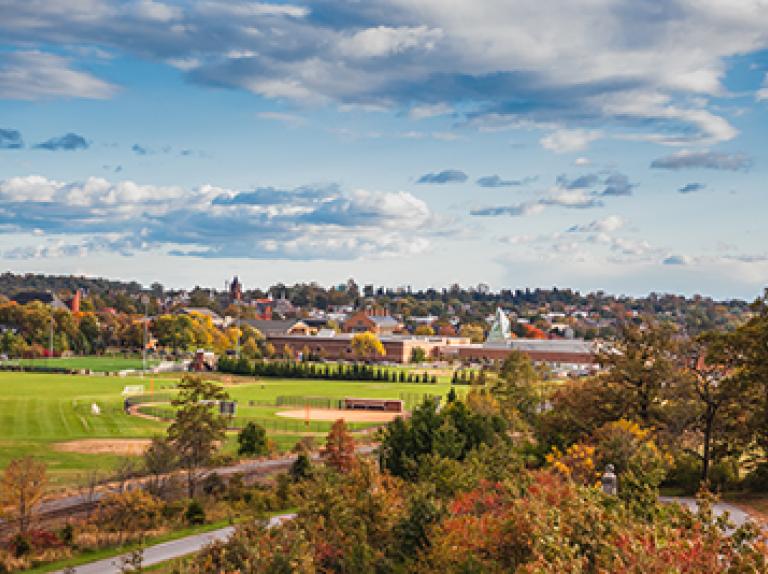 For many destination organizations one of the most daunting parts of getting a mobile app is the massive investment in time and staff resources required to get it set up. For destinations that support hundreds or even thousands of local businesses, there is no avoiding that going mobile is a huge project. But by partnering with WishTrip, Destination Gettysburg was able to get their app up and running in just a few weeks leveraging work that had already been done as part of their website development to save time.
Destination Gettysburg is the official destination marketing organization for Gettysburg and Adams County, Pennsylvania. While Gettysburg is most famous for its National Military Museum and Civil War sites Gettysburg has several other museums, mapped trails, a world-famous cemetery, and an extended region with many options for recreational activities.
Tasked with bringing together almost 300 businesses and organizations, Destination Gettysburg aims to present the best possible visitor experience to over one million guests every year. Going digital has been part of the marketing strategy for several years, and they have invested in creating a comprehensive and appealing website. Building an app, however, had not been as successful. Marketing Director Rick Kennis had tried several iterations over the years including  a generic app for community activities, and using a tool that replicated the website as an app. However both of these solutions fell short as neither included the kind of functionality Rick was looking for such as GPS navigation, interactive digital maps with the ability to include multimedia content, and pre-mapped trails. In 2022, Rick began the search anew for a mobile app solution and that was when he found WishTrip.
The Challenge
Coming into his search Rick faced two main challenges:
Budget: building a native app can be both costly and time-consuming. Previous budget-friendly white-label solutions had proved to be lacking both in functionality and in content.
 
The scope of the project: Destination Gettysburg represents almost 300 individual businesses and a total area of 1,352 km². Being able to present visitors with a choice of trails, a comprehensive list of local shops and restaurants, and information about the many museums and visitor attractions would require considerable resources.
The Solution 
Having already worked with previous apps, once Rick came across WishTrip, he was confident that the platform offered all the tools he felt Destination Gettysburg needed from an app. Being a SaaS product, It would not only be more affordable than a native app or white label product, but also include ongoing customer support, which neither of the other options do. Since WishTrip's plan does not put any limit on the amount of spots, trails and other content that can be included, Destination Gettysburg would be able to showcase the full extent of their offerings
Still, Rick and his team were worried about gathering all the information from their many partners, and loading it all into the app. However, the WishTrip customer success team were able to help Rick break the process down into manageable steps so that he could gather the materials he needed at each stage without becoming overwhelmed. As Rick explained: "Matt and the customer success team have been very helpful…The response time has been very quick."
The Destination Gettysburg team had already put in a good deal of effort when creating the website, so much of the data for the partner businesses was transferable. The extra work was to ensure that previous information was still accurate and that each location was mapped correctly.
The surprise win during the onboarding process was that having collated all that information, the input process was a lot easier than Rick had anticipated. The simple UX employed by WishTrip is designed to make it simple for a marketing team to include information from multiple businesses in order to help cut down the set-up time and to ensure that the entire process is successful with a low level of troubleshooting.
Each business can be assigned a category when the information is added to the app, making it straightforward to manage so many partners in one platform. It also makes it easy for visitors to find the type of business or facility they are looking for.
The same ease-of-use extends to other areas of the app, including trails. There are several ways to upload a trail and the Destination Gettysburg team was guided by WishTrip customer success manager Matt, to ensure they understood the best method for their particular trails. Weekly meetings meant that any glitches could be ironed out quickly which kept the onboarding process on schedule.
SaaS products have the additional benefit of the ability to update as often as needed. This took the pressure off Rick to produce a complete app in one go, as features can be added, changed, edited, and updated at any time. Once there was a basic level of information within the app, it could already be launched, with refinements being made over time.
The Result 
Once Rick and his team got into a rhythm with gathering and inputting the information, they were able to identify a launch date that gave them an incentive to complete the initial set-up.
The customer success team at WishTrip provided guidance for marketing the app, as well as a customized QR code for visitors to scan. Rick welcomed this support, and as the launch date approached, the Destination Gettysburg homepage included a spotlight feature about the app and a link to a dedicated page that includes a brief video on how the app works.
The app also provided a solution to other issues experienced by the Gettysburg visitor center:
The digital brochures on the app can be updated quickly and easily, including for different seasons, and can incorporate information and multimedia, whereas previously, printed brochures were sometimes out of print or had details that were out of date.
 
The WishTrip app includes instant translation to any language as opposed to the printed brochures which were only available in English.
The launch went smoothly and visitors have already been downloading the app. Rick has now passed the reins on to team-member Joel who is continuing to add more treks to the app.
Rick was happy with the launch version of the Destination Gettysburg app, but already has plans for making use of more of the app features, in particular the game-builder. He hopes to create a scavenger hunt in time for the summer season. He also plans to include cycling treks alongside the walking treks. Rick summed the experience up by saying: "We're excited about the future with the WishTrip app, excited to see what we can do with it."