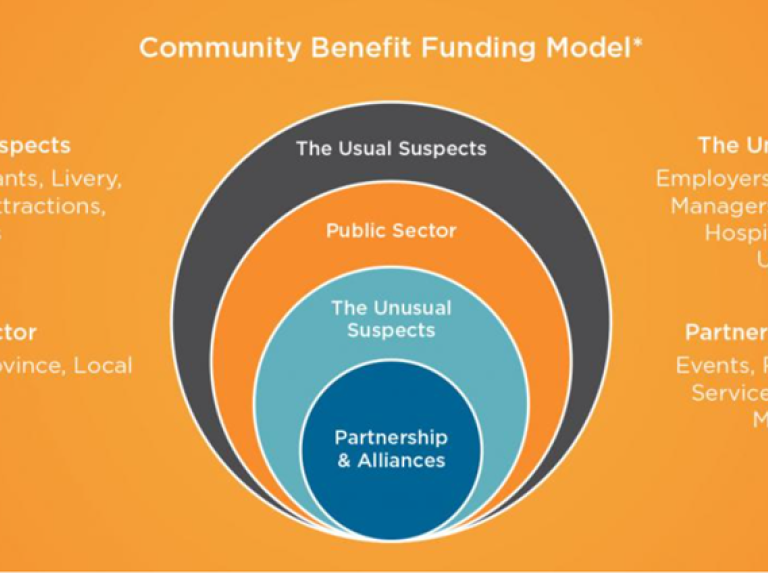 Destinations International continues to advocate for Community Shared Value by providing our members with the tools needed to achieve success in their respective communities. By identifying core values, destinations can review their underlying beliefs about where they will operate from and create priorities that move forward with intention. To be sustainable, destination organizations must go beyond ROI statistics, visitor numbers, and government support and instead focus on the community that is the center of any destination, the residents. There are eight key community values (not including Relevance, which is the culmination of the eight) that form the basis for our industry's overall priorities and can be utilized to gain increased awareness and funding. Considering that every destination's character is distinct, our industry's core values set out to address the characteristics and responsibilities of every destination organization.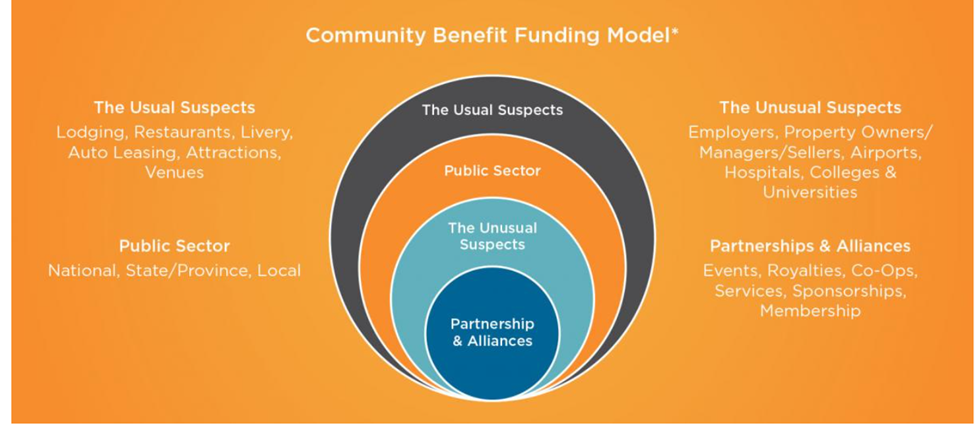 The values-based roadmap is designed to be adjusted when necessary and to identify areas for milestones and accomplishments. Destination organizations should use the roadmap to assist with creating their vision, about us, and mission statements. Community shared value is more than a definition, it is a strategy for advocating a destination organization's purpose and being viewed as an asset by the residents of their communities.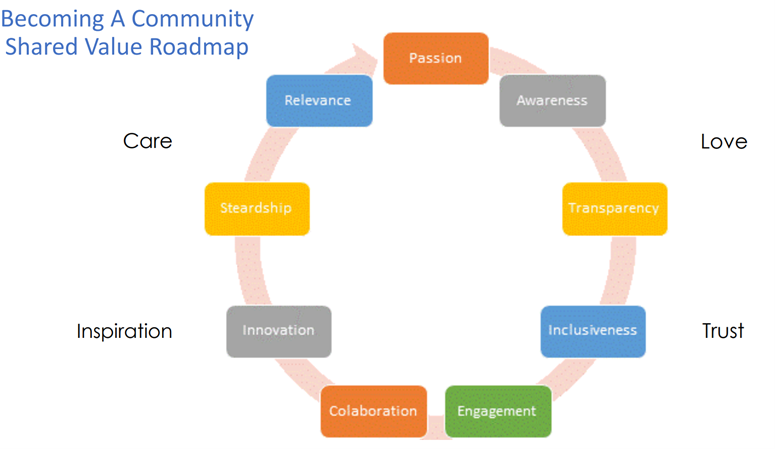 Passion is the enthusiasm that an organization shares about its destination, community, and residents who call it home. Most personal of all the core values, passion is the pride that the community feels about their destination allowing them to tell their story authentically. Highlighting destination strengths and sharing love of community produces storytelling in a way that ignites creativity, talent, and love of community. Articulating passion of own community encompasses local culture, traditions, history, unique local attractions, and gastronomy to name a few. Passion grants the destination to celebrate their strengths and tell their story to others which embodies love of community. 
Creating destination awareness focuses on telling the history of a destination authentically, increasing knowledge of one's own destination, and fostering advocacy in others. Awareness is the next natural step of building destination framework allowing for research, observation, and listening resulting in a more informed community. Destinations with increased awareness have a responsibility to understand the perceptions of their own communities. Moreover, it is important that destinations engage with their community on calls to actions which highlight the value of their community. 
Destination transparency is a core value that increases interaction in a proactive manner aimed at increasing trust with community stakeholders. It is vital that organizations be transparent about what they do, how they operate, and return on investments. Transparency is sharing both the victories and the failures holding destinations accountable without any probing. Increased transparency gains the public's trust that the funds allocated will be used in the best interest of all stakeholders. In addition to gaining trust, increased openness facilitates a dialog that is proactive about what a destination does and how it operates, sharing this information openly with the public.  
Inclusiveness is a priority focused on the inclusion of everyone within the community rather than a specific segment of the population. Equity, diversity, and inclusion advocates for the telling of an authentic story which does not exclude the history, cultural, and tradition of a destination. Cultivating a destination where everyone is welcome helps to gain trust amongst the public, reshapes existing power structures, and represents an industry that includes individuals of all levels. By participating in meaningful conversation, stakeholders can conduct strategic planning and program development focused on five key priorities: self-awareness and personal investment, education and awareness, community engagement, workforce development, and branding/promotion. 
Engagement is a priority in which destinations commit to listening to others within the community on issues that affect the well-being of all stakeholders. The number one customer of a destination organization is its residents who are front-line ambassadors, beneficiaries of destination promotion and can articulate the value of their destination in a way that no one else can. Advocating for the best interest of the community encompasses quality of life standards, making a difference in our destinations through the power of travel, and addressing issues that affect the well-being of the community in a destination.  
Effective collaboration with stakeholders in the community helps to spark innovation of new ideas, contributes to the success of reaching goals, and improves the capacity to solve key issues. Working to create a broad coalition of customers, members, community members, and suppliers' destination can continue to advance, develop, and sustain the vision and mission of an organization. Collective shared goals keep the community informed, nurture its partnership relationships, and ensure accountability. 
Destination Innovation presents an opportunity to proactively change a community for the benefit of all members while keeping its values intact. Innovative ideas bring on fresh perspectives on how to improve technologies, increase destination relevancy, and reset the industry for a better tomorrow. Key areas of concern including sustainability, providing more seamless travel experiences, and making improvements to existing technologies presents an opportunity for building solutions around them innovating into the future.  
Destination stewardship is aimed at balancing economic, societal and environmental sustainability, contributing to an improved quality of life for community stakeholders. Building value for the betterment of the destination must be achieved in a way that preserves the environment, maintains community assets, and preserves the brand while providing an opportunity to grow in the future. A concept known as our common future highlights the need for development that meets the needs of the present without compromising the sustainability of future generations. Sustainability is an integrated approach that focuses on environmental conservation, economic opportunity, and providing societal equity for all citizens.