A Case Study in the Value of Passion
The Art Fresco Project from Explore Waterloo Region
By Jack Johnson, Destinations International
Passion is the energy that keeps us going, that keeps us filled with meaning, happiness, excitement and anticipation. Passion is a powerful force in accomplishing anything you set your mind to, and in fully experiencing both work and life. But most important for successful destination promotion is that passion drives traits needed for success. When you are passionate about something, you will become creative with it. You will want to produce greater results doing it because you love to do it. help us tell the story of our destination and, they drive us to promote it. The following is a case study in how passion drove one destination to engage with its community, its local artists to provide work for many artists, and give incentive to locals to go and visit local businesses to get food and "rediscover their own backyard." And in the end, it will drive tourism.
Explore Waterloo Region
The Waterloo Region in Ontario, Canada, has been known predominantly for its tech- industry hub, hosting many large institutions such as Shopify, Blackberry and Microsoft and nature-based tourism. The number of hiking and biking trails throughout the region rival their fellow Canadian destinations, but, sadly, many of the trails were not used for much of the last 12 months. With the COVID-19 pandemic hitting the entirety of the tourism sector since March 2020, destination organizations have struggled to ensure that their jobs, employees and communities have been able to thrive and survive. Engaging local people in tourism efforts to support the food and beverage sector was, and continues to be, paramount to keep as many businesses open for as long as possible.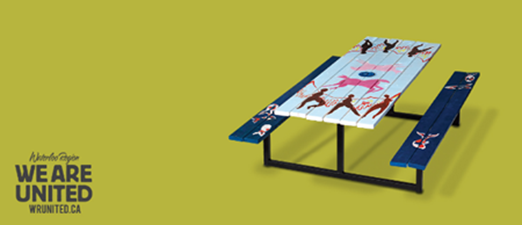 Explore Waterloo Region, the regional destination marketing organization, explored various options to maintain the tourism and hospitality sectors. Through various initiatives that encouraged residents to make use of outside spaces, they have been able to keep establishments running through take-away initiatives and more. With this collaboration with the food and beverage sector, The Art Fresco project then came to fruition.
The Art Fresco Public Art Project initiative engaged with the community on a more intimate level. Having invested in 50 picnic tables, local artists from across the Waterloo cities and townships were contacted and asked to design and paint on the benches. These were then distributed around the region, being "showcased" at different eateries and outdoor spaces for the local community to enjoy. Not only did this provide work for many artists, but it gave incentive to locals to go and visit local businesses to get food and "rediscover their own backyard."
In the future, the aim is to provide a platform where people can "collect" each of the picnic tables from across the region to encourage local tourism. As highlighted by Minto Schneider, CEO of Explore Waterloo Region, the project incorporates the core values of Waterloo: community, inclusivity and creativity.
The impact of the project has been seen predominantly by the restaurants and establishments that host the benches. This project has given the organization the opportunity to engage with local stakeholders and transmitted their passion for their destination to visitors — whether it be their local citizens or from further afield in the region. The destination organization intends to create some kind of "scavenger hunt" platform where a visitor can download an app and scan a QR code on the bench to "collect" it. This could encourage visitors to explore the region more to try and find all 50 of the benches. This initiative will certainly increase visitation numbers across the area, especially once the lockdown has ended.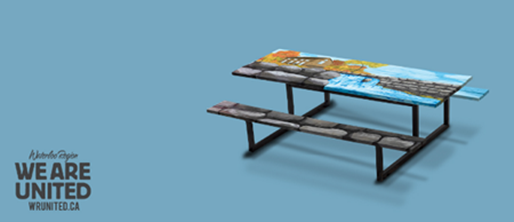 About Explore Waterloo Region
With a population of over half a million, the Waterloo Region is made up of three vibrant cities — Cambridge, Kitchener and Waterloo — and four pastoral townships: North Dumfries, Wellesley, Wilmot and Woolwich. Each one of these locations add opportunity for residents to share with you how they work and interact with each other.
The mission of Explore Waterloo Region is to increase visitation, by capitalizing on the inherent strengths of events, outdoor experiences, and the thriving knowledge sector within Waterloo Region.
Founded in 2007, Explore Waterloo Region is the Destination Marketing Organization for the Region of Waterloo. They are a nonprofit organization responsible for marketing our destination to increase the number of visitors and length of stay. They also work with our partners to promote festivals, events, attractions, restaurants and hotels and to develop new product offerings.
Explore Waterloo Region is an initiative of the Region of Waterloo and its seven member municipalities. The goal: to deliver a single, focused message that Waterloo Region is a dynamic, year-round destination with much to offer the individual traveler, families on vacation and corporate visitors. The mission is to increase visitation, by capitalizing on the inherent strengths of events, outdoor experiences, and the thriving knowledge sector within Waterloo Region.
Additional Information and Resources
About the Author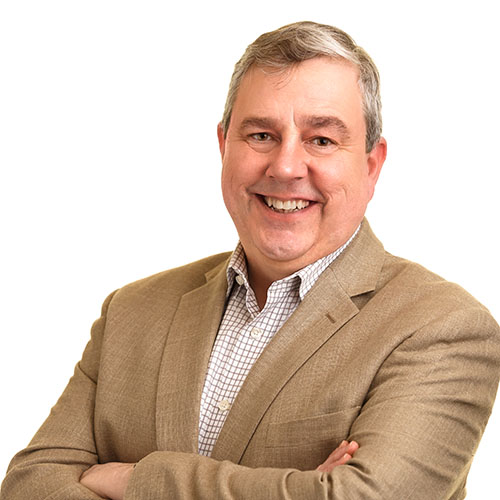 Chief Advocacy Officer
Destinations International
About the Author
Jack manages the overall public policy operations at Destinations International including member advocacy education and training, development of destination tools and best practices, coalition work with peer organizations, industry research and related public affairs activities.