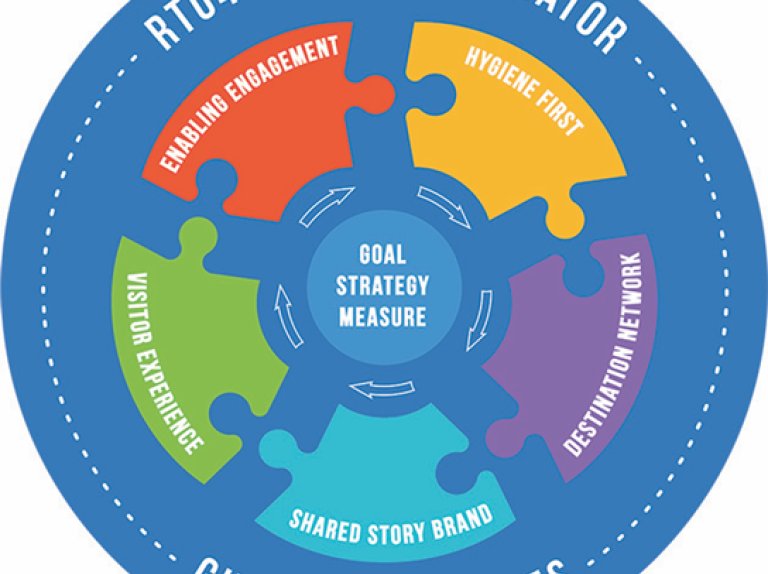 by: David Peacock, Simpleview
Ten years ago in the province of Ontario in Canada, Regional Tourism Organization Four (or RT04 Inc.) was established as a tourism development incubator to understand and address the changes taking place in tourism in the face of a rapidly globalizing world and pervasive digital disruption.
RTO4 began its work by doing A/B testing, comparing investments in traditional DMO activities such as marketing and promotion to alternative Investments such as building stakeholder and member digital competencies, fixing digital hygiene issues with key stakeholders and tourism and generators, and creating destination networks with partners who would build, guide and fund sustainable and regenerative destination development and animation.
Over that same decade, a number of key developments were happening elsewhere in the tourism industry. DestinationNEXT, commissioned by Destinations International, shone a bright spotlight on one of the most important and pressing aspects of destination management — stakeholders and how meaningful and ongoing engagement with them was essential to the future of successful destinations.
Jack Johnson and his team at Destinations International took that a step further when they created a lexicon of tourism that led us clearly to the truth that shared community values and the rapid adoption and integration of a resident- and community-based approach may well be the biggest existential challenges we face as organizations and destinations.
The COVID-19 pandemic has accelerated all of these challenges, the need for digital excellence, the pressing need to support and equip our stakeholders as partner players, and the need to build a foundation of shared community values.
"The key to successful tourism destination development is highly engaged communities that take an active role in shaping their collective future." Andrea Gardi ED, RTO4 Inc. https://rto4.ca/
In April 2017, Multibriefs, on its tourism-industry-specific news channel, wrote an article on RTO4 entitled Canadian DMO brings Silicon Valley Approach to Tourism Marketing. The article focused on RTO4 using DMAI's DestinationNEXT as a springboard for a proprietary destination development model that focuses on creating vibrant destinations by emphasizing capacity building, a culture of innovation, and the transfer of key skills, especially digital skills with destination network partners in order to unlock co-investment opportunities with traditional and non-traditional stakeholders. In essence, a virtuous loop of continuous destination Improvement.