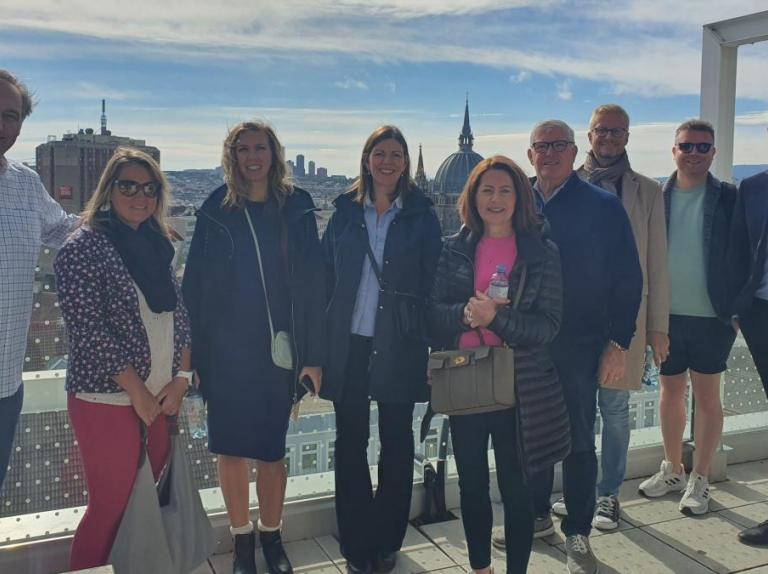 FOR IMMEDIATE RELEASE    
Media Contact:
Caitlyn Blizzard
[email protected]
1.202.835.4202
Destinations International Launches European Pathfinders Industry Brief on Global Challenges and Collaboration
Washington, D.C., USA (May 24, 2023) – Destinations International (DI), the world's largest resource for official destination organizations and convention and visitors bureaus (CVBs), today announced the launch of the European Pathfinders Journey Global Challenges Call for Global Collaboration industry brief. The brief was launched during IMEX Frankfurt on May 24, 2023, during a press conference. To learn more about the DI Pathfinders and to download click here.
The DI Pathfinders are a forward-thinking group of European destination professionals committed to tackling key issues facing destination organizations today. Since the programme's launch at IMEX Frankfurt 2022, the European Pathfinders have been working with partners and the DI team to bring key trends in European destinations to light and understand how leaders in the industry are stepping up to address these challenges and opportunities. 
"The Pathfinders are a diverse group of future-focused leaders across Europe who have a variety of roles within their organizations," said Don Welsh. "Since our launch in 2022, the group has been focusing on community alignment, destination stewardship and values-based action. Through a collaborative approach, the Pathfinders have identified key areas where DI can support destinations and contribute to a regenerative economy." 
Key areas include:
•    Development of best practices.
•    Support the evolution of digital platforms.
•    Amplify the need for all sustainable development choices.
•    Create tools to measure social and environmental impact.
•    Industry research for data-based, strategic decision making.
"We are constantly looking for new tools, networks and knowledge to be able to develop our internal organisation and the city of Malmö," said Johan Menso, Director Malmö Convention Bureau and Destinations International European Pathfinder. "It is vital that we remain relevant, and focus on talent attraction and job creation to make sure that the city of Malmö continues its sustainable and inclusive path to generate future investment opportunities."
The Pathfinders also continue to help develop a framework to elevate the collective voice of destination organizations in Europe, and better communicate the impact of a destination organizations' work in communities. Key opportunities include:
•    Supporting the development of a community indicator.
•    Global knowledge sharing.
•    Deeper dive into interest areas.
•    Understanding of Destinations International tools and resources.
•    Supporting a research project that would benefit the community.
"If we are to create a value proposition for the diverse needs of European destinations, we need a variety of destination organizations on the journey with us," said Jane Cunningham, director of European engagement at Destinations International. "Collaboration and participation are needed to advance the challenges our industry is facing."
"Taking part in such a comprehensive exchange of ideas, research and knowledge, touching on hot topics such as sustainable and responsible tourism, EDI as well as creating legacy truly made me feel that destination organizations and their teams can make a difference, helping to solve global challenges together," said Antonia Koedijk, Director North America Netherlands Board of Tourism and Conventions. 
DI's European engagement is supported by DI's key partners working together to increase European engagement including MMGY Global, Simpleview, Expedia Group Media Solutions, SearchWide Global and IMEX Group.
To learn more about the DI Pathfinders click here and to download the industry brief, click here. DI is pleased to invite European destination leaders to join the DI Pathfinders Programme.
###

About Destinations International:
Destinations International is the world's largest resource for official destination organizations, convention and visitors bureaus (CVBs) and tourism boards. With more than 6,000 members and partners from over 600 destinations, the association represents a powerful forward-thinking and collaborative community around the world. For more information, visit www.destinationsinternational.org.