Celebrating Australia Day
by: Andreas Weissenborn, Vice President of Research & Advocacy, Destinations International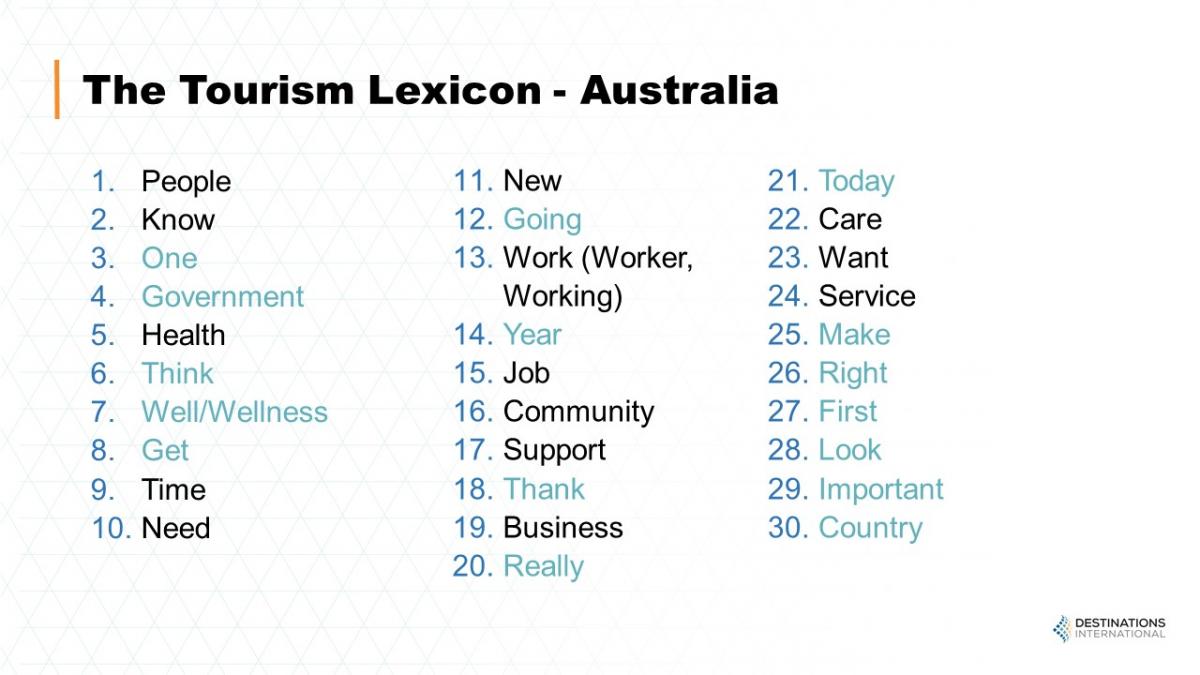 It felt appropriate this year to celebrate National Australia Day (January 26) with sharing our Australia Lexicon we did in partnership with Association of Australia Convention Bureaux. To recap, The Tourism Lexicon was first released in 2018 by Destinations International for the United States to help its members be successful when changing the narrative surrounding the travel and tourism industry. The association utilized Quorum, the world's most comprehensive database of legislative information, to build a list of keywords that were used repeatedly by elected officials in the United States when talking positively about travel and tourism and other public goods. The Tourism Lexicon has been updated annually as language evolves and updated for the United States, Canada, and Australia with expansion to others.
The lexicons are based on the idea that relying merely on ROI numbers to defend the value and relevancy of a destination organization is no longer a viable advocacy strategy. Destination organizations need to support the message of ROI with an emotional and value-based appeal to convince political leaders and community stakeholders that without a destination organization, these returns will inevitably vanish.
A key part to implementing the lexicon is first adopting the core values for our industry to provide lasting beliefs or ideals shared amongst your organization and members of your community. The eight core values we have identified are:
Awareness, Passion, Relevance, Transparency, Collaboration, Inclusiveness, Innovation, Sustainability. We have outlined a set of the eight core values and their definitions which can you learn more about here. (pages 1 and 2)
What sets Australia apart with its lexicon is the quantity of unique words that are not present in our other countries list. Certainly, our top words of the year appeared within here (people, know, health, etc.) but words like 'today', 'make', and 'right' instill a different personality entirely amongst the data. In the graphic at the beginning of page, all the words highlighted in blue are unique to Australia. When you sort out the rest, you get the sense of how politicians down under speak about themselves and their common goods across the government in a more succinct or deliberate manner (while even including the word 'government' as part of their words).
Australians are looking to make right and more importantly, looking towards their government make today count. Many of these words will carry over into 2021 as has the pandemic has loomed over also. Yet, Australians and more importantly destination organizations within, can hopefully start to use these words to begin a new chapter in how they articulate their value to the communities they serve. On this special holiday, I hope all our destination friends down under can feel proudly to what they represent below.
Experiencing our community is paramount, tourism provides opportunities to our local families, friends, and neighbors. (and mates!)
Our organization provides a service to the community we represent, our work is shown through brand stewardship, promotion, and placemaking.
Our work keeps our destination healthy, represented through new home sales, new business, and new memories created.
Happy 233rd National Australia Day.