Image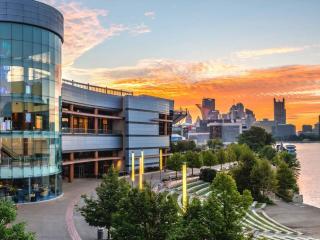 Accommodating the goals of event planners
VisitPittsburgh understands the importance of long-term connections cultivated by CVBs in their local communities, and how these in turn can benefit planners and their events. VisitPittsburgh regularly accommodates the goals of event planners by acting as connectors and engaging with its own vibrant tech community.   
Value propositions evolve to benefit planners
Events can bring big pay-offs to a destination, making a huge positive economic impact on the local community. But it's not always clear what the value of a CVB is for planners.
"We always try to be advocates for our clients and influencers within the community, and it comes back to providing value. If we do that, they'll come back and engage with us again, and everyone locally benefits," says Karl Pietrzak, Vice President of Convention Sales for VisitPittsburgh.
Part of that changing value has involved educating stakeholders on the value of events. To that end, Pietrzak says his team uses the Destinations International Event Impact Calculator as a tool to educate local politicians and the media about the value of events in Pittsburgh's industries. VisitPittsburgh also shares the information with planners. "It's a very useful tool not only for local politicians, our members and our community, but also for the planners as well. Again, it goes back to providing value," Pietrzak says.
The next step is educating planners about all of the services the CVB provides - many for free. Ask what tools a CVB has that might be pertinent to your event. You may find they have data, or have access to tools, that you can use to measure the impact of your event in new ways.
Acting as a connector for event-specific needs
VisitPittsburgh provides specialized event-specific services, like the Bring It Home campaign. The campaign develops connections between the CVB and locals who are members of national associations, with the end result of making contacts at the University of Pittsburgh, Carnegie Mellon University, the Allegheny Conference on Community Development, and many other corporations and foundations. These contacts are invaluable for crafting an event. As Pietrzak puts it, "we can help connect them [planners] with whatever their industry would benefit from in our city."
For instance, when the largest international science and engineering fair in the world needed around 1,000 judges with a PhD at its event, VisitPittsburgh knew just who to turn to. Drawing from local connections in its higher-education community, VisitPittsburgh put together a local host committee that recruited judges.
CVBs likely have more varied contacts within their destination than any other event planning entity. And they are staffed with problem solvers ready to tackle requests for events, no matter how specific or unique. Planners can challenge CVBs to find contacts that work in tandem with their event's needs and goals.
Leveraging a rich technological community
Intellectual capital is a buzz phrase that can mean many things, but in Pittsburgh it's all about the tech. "From steel city to smart city" is a popular catch phrase, and VisitPittsburgh has embraced the tech community for event opportunities that can't happen anywhere else.
For example, VisitPittsburgh connected an event with the theme of high-tech innovation to tech companies that have a big local presence, including Google, Uber and Carnegie Mellon University. Such connections make it possible to source thought leaders, speakers, content and experiences - all things that drive up attendance and make for a successful event.
"We're uniquely positioned to understand where the opportunity lies to make those connections," Pietrzak says.
Don't hesitate to ask a destination what special connections it has and what its community is known for. Engage CVBs on every aspect of an event and it's likely they have the connections to handle, or at least help with, even the most unique of requests. They're positioned to find speakers, judges, entertainment and more.
Plan your next meeting in Pittsburgh. Read more here.