Image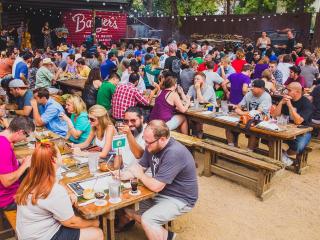 Visit Austin is working strategically at a high level to help clients achieve their event goals
The driving force behind Visit Austin is working strategically at a high level to help clients achieve their event goals, utilizing local resources that center around intellectual and cultural capital. For some planners, the opportunity to engage a CVB at this level may be surprising.
Steve Genovesi, Executive Vice President of Convention Sales for Visit Austin, explains "You're not only looking at hotels and convention center space. You're meeting with local leaders and reviewing opportunities related to the programming of your conference. This can't [be achieved through] a simple 'yes' or 'no' question on a digital RFP. It requires a conversation around the goals of the conference and taking it from there to determine the best local resources we can provide."
Leveraging a destination
"We truly believe a destination helps attract attendees by leveraging unique attributes and experiences within the community," Genovesi begins. To this end, from the moment an event is confirmed in Austin the planner is connected with a convention services expert. The expert explores the planner's event goals and begins making connections to achieve those goals.
Conversations between his experts and their clients explore a central question: "What can my attendees experience in Austin that they can't experience anywhere else?" As Genovesi sees it, "When an attendee leaves a conference, they shouldn't be able to say, 'I could have had that experience in any city.' [We] want them to say, 'Only in Austin.'"
The pay-off for planners? Leveraging unique attributes and experiences in an event destination elevates the event for attendees.
Serving as a community connector
Music is undoubtedly one of Austin's unique assets, and Visit Austin has a Music Director on staff who will research and facilitate integrating live music into clients' events. While these integrations complement Austin's brand, for planners they present another way to enrich the attendee experience. This example may be simple, but when you explore the myriad ways in which CVBs can serve as community connectors for clients, you'll discover success stories built on more complex collaborations.
"Having the who's who of an industry come to town has natural advantages for making connections [on all sides]." He cites the city's new Dell Medical School that trains next-generation doctors, noting "They are quickly becoming very influential because the people they've hired are some of the nation's foremost experts in their [respective fields]. As we have medical conferences coming to town, they're very interested. Showcasing the new school might lead to other opportunities for [them]."
Any event with this kind of networking potential makes it that much more vital to attendees. All the planner has to do is engage the local CVB to set the connections in motion.
Linking planners with local intellectual capital
In addition to music, tech is a signature Austin asset. The U.S. Army, Merck and Walmart have all established tech divisions in the city, and the University of Texas is a premier computer science school. The city's Capital Factory tech incubator features a lab that allows companies to explore ways to advance through technology.
Being well-versed on local developments is a service all CVBs can provide—not only for the sake of empowering planners with that knowledge, but to allow for making connections with local intellectual capital on the planner's behalf.
What does that look like? In Austin, it could mean connecting groups with local tech sector speakers, university professors and campus visits—even mobile workshops featuring lab time at Capital Factory.
What should your takeaway be here? Always ask the CVB what unique intellectual capital their destination offers, and how they can connect those local assets to your event goals.
Visit Austin provides a case for engaging CVBs to explore and achieve your event goals. With their proprietary knowledge of your target destination, and deep and varied connections to local intellectual and cultural capital, CVBs are uniquely positioned to elevate your event.
Plan your next meeting in Austin. Learn more here.