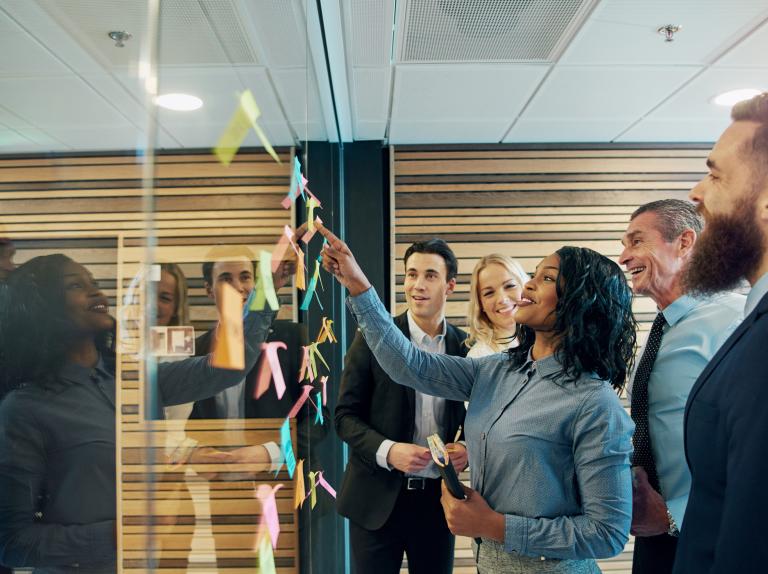 A Win for Maximum Meeting Results
One of a meeting planner's biggest pain points is finding the right location, budget, space, etc. for their meeting.  Even in a world of mass information at our fingertips, planners still need a way to filter and narrow down the selection, get advice on how to make their RFP destination specific, as well as help with sending and tracking hotel responses. And that's all before the meeting is even booked! After the meeting is booked, there are additional service and marketing expertise needed to help ensure a successful meeting outcome.
But savvy planners know they don't have to do this alone. They have a team behind them that is committed to their meeting's success. By working with destination experts who have comprehensive knowledge, local expertise, connections, and resources, they can help planners achieve maximum meeting results. When planners effectively leverage the unique resources of working with their best combination of resources, (DMO/CVB or GSO/NSO and the planner, in cohesive collaboration) they will never go back to the old way of planning a meeting!
It Takes a Team to Build a Successful Meeting Experience
There is a unique set of benefits and strengths that comes with each type of planning partner a meeting professional or organization might choose to engage to help them find a location and plan a meeting or event. There is also often a misperception that the relationships are mutually exclusive and that planners have to choose to work with one or the other. Instead, they can all work together as a team to ensure a meeting's success.
Hotel NSOs or GSOs, independent and third party planners, CVBs, all can help planners in different ways to find what they are looking for and achieve a meeting's goals in any destination.
The Meeting Planner's Partners – Who's on the Team and How They Can Help
Many planners have voiced confusion over just what each of these resources brings to the table and how their efforts can be combined and collaborative verses competitive.  Below is a quick break down of each planning partner.
The CVB sells the destination, but that doesn't mean indiscriminately offering up every hotel and attraction. Instead it is their responsibility to fully understand what the meeting planner requires in terms of space, budget, venues, local flavor and amenities, and then create the package that best fits the bill.
The NSO sells a brand within potentially competing destinations, and must prepare their proposals to realistically meet the needs of the group. The NSO's relationship with the meeting planner is continual because they have hotel product in a myriad of destinations.
Hotels sell the specific property (brand or independent), guest rooms, meeting space, food and beverage and all hotel amenities.
Third parties represent the client and provide various aspects of meeting management. They are increasing their clout by expanding internationally and forming partnerships with other types of providers such as technology and management companies.
How to Ensure the Team is in Sync
Think of the meeting planner as the coach. It is the meeting planner's responsibility to set the parameters and exercise control. Partners and planners emphatically agree that communication, transparency and openness from the beginning are essential; problems and in-fighting occur when the partners are blindsided with after-the-fact information.
A meeting planner can do the following to ensure everyone on the team is working harmoniously:
Always be upfront about the fact that you are working with a 3rd party, and explain the extent or limits of their role and authority.
Make your expectations clear, and let all the partners know where they fit into the process.
Be transparent; all partners should have the same information.
Stay informed about each partner's activities on your behalf.
Keep the lines of communication open.
CVBs are a Meeting Planner's Quarterback
Meeting planners are the coach of the team. They set the schedule, the tone and decide who is on the team. The first point of contact for the coach is the quarterback, or in this case, the CVB.
The local CVB is the best first point of contact to help planners find the right fit for any size meeting. Because no one knows the destination better, your local CVB sales expert is best qualified to help you determine the most suitable hotels for your room block.  And because of their in-market relationships, no one can work with the convention center and hotels on your behalf better than your CVB sales professional. If you use a housing company, once your meeting is confirmed, the CVB is happy to work with them - just as they would work with you - in finalizing and monitoring the block. In the event that you need additional overflow rooms, the CVB will reach out to the community to find them for you.
Meeting planners have a whole team behind to ensure their meeting is a complete success. From the CVB to DMC's and hotel partners, everyone is committed to a memorable meeting experience for attendees.
Looking to connect to a CVB partner in a destination you are considering? Begin the search with our Destination Finder, an online tool that serves as the virtual national sales office for the CVB industry. Search and compare over 150 destinations through a single web portal, free of charge.
Planners can also check the accuracy of their all-important Post Event Report (PER) history through the site. It's one more strategy for helping everyone get a handle on the room block dilemma!