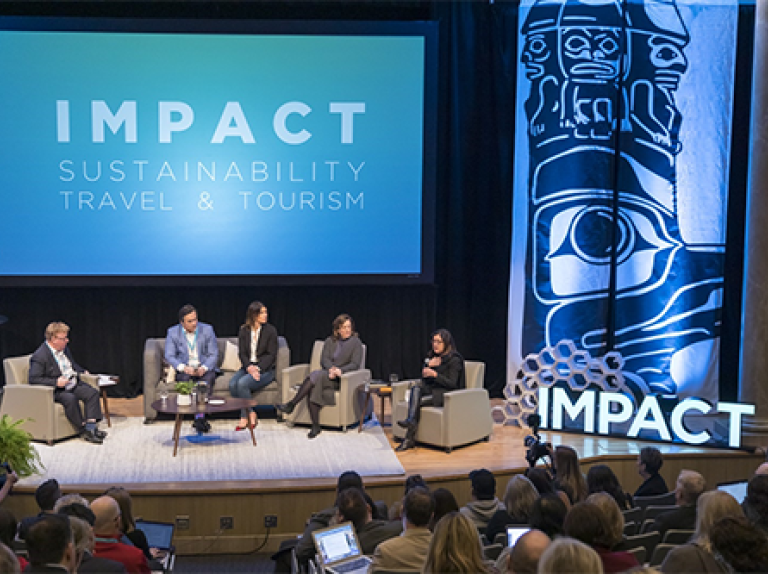 By: Alyssa Poulin, Destinations International
Impact Blog: Part 1 Text
This year's IMPACT Sustainability Travel & Tourism Conference, set in the traditional territories of the Lekwungen peoples (Victoria, BC) is all about action and collaboration. In its fifth year, the conference aims to answer some big questions, namely: how do we ensure tourism is sustainable and inclusive, all while being commercially viable? Decarbonization, reconciliation, biodiversity, and trust-building may seem like heady topics for a tourism conference, but the three-day event promises to bring the necessary leaders and delegates together to tackle them.  
Taking place in Victoria, BC May 9-11, IMPACT Sustainability Travel & Tourism Conference was created with the goal of aligning the Canadian tourism industry, as well as stakeholders and communities touched by tourism, behind a vision to achieve economic, social and environmental sustainability. 
What separates this event is the wide variety of leaders gathering from travel and tourism, government, academia, First Nations and NGOs to share knowledge and practical takeaways around sustainability and innovation in Canada. As Paul Nursey, CEO of Destination Greater Victoria, told me: the secret sauce is that it brings tourism and non-tourism participants together so that those in the visitor economy can learn from experts in the domain in a friendly, supportive and collaborative environment. 
Not just theoretical, the conference offers practical solutions and candid conversations. It is a safe place where theory meets practice, and where all voices and levels of expertise are welcome.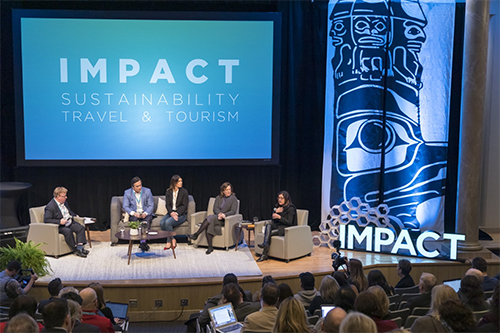 IMPACT's focus is on creating a collaborative space to learn, innovate, and discover practical solutions toward the positive legacy we want from the tourism and travel industry in a modern and progressive Canada.  
Impact Blog: Video - Video
April 22, 2022
Impact Blog: Part 2 Text
Here are four top tips about the 5th Annual IMPACT Conference:   
Who is the conference for? Anyone in the visitor economy who wants to improve the sustainability of their community and ensure that tourism is a force for good. This event is perfect for folks who design policies that affect tourism, teach a tourism and hospitality course, care about tourism's positive or negative impacts on communities, and/or believe the positive, sustainable growth of tourism in Canada is a key economic driver. 
 
What can participants at the conference expect from the content and speakers? The events are always interactive. Key for destination professionals will be a variety of practical sessions including master planning, de-colonialization, biodiversity and many others. Having strong Indigenous and new Canadian voices at the conference is also a critical component of the discussion.   
 
Why Victoria? Co-founded in part by Destination Greater Victoria, the event is held annually at the Victoria Conference Centre, a certified carbon-neutral facility in Victoria, BC. Destination Greater Victoria is the first destination management organization in Canada to become fully accredited as carbon neutral, a significant feat accomplished during the last 18 months. Victoria is a global tourism destination with sustainability at the core of its tourism product offering. The city boasts LEED-certified hotels, carbon-neutral hotels and airlines, attractions with advanced sustainability and give-back programs, and unique small business stories where profitability is driven by sustainability. 
 
How will this year's conference differ from previous years? It will be slightly more intimate as numbers have been reduced to always support the comfort of guests as we recover from Covid-19.  
 
What safety precautions are the conference organizers taking?  IMPACT is being held at the Victoria Conference Centre, where staff, contractors and suppliers have all been trained on creating the safest possible experience for delegates, as per WorkSafe BC's Safety Plan. All delegates are requested to be fully vaccinated. Delegates will be asked to show proof of vaccination when they pick up their registration package.   
Gabe Seder and I look forward to connecting with attending leaders on the importance of tourism as an economic, environmental, and cultural driver. And we will be sure to share our own takeaways in the weeks to come. For more on this event, visit https://www.tourismvictoria.com/impact.