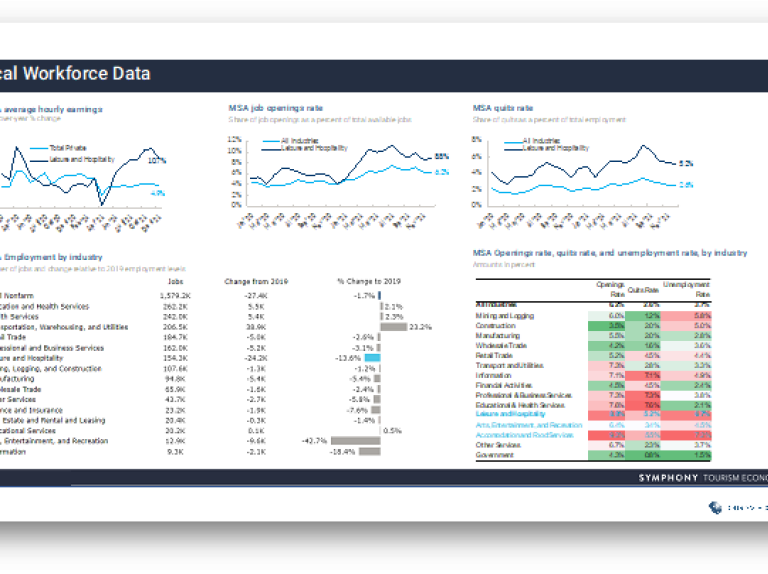 By: Andreas Weissenborn, Destinations International
"The travel industry faces an acute workforce crisis that stands in the way of full recovery, and we must answer the call to support that recovery." 
In the beginning of 2022, Destinations International outlined eight strategic issues and opportunities facing our sector for the year. Of the eight, we knew workforce disruption and development was especially important for the travel sector and critical for DMOs to address. To sustain future growth, our greatest currency will take the form of workforce development and opportunities that can attract new minds, families, and residents to our destinations. Failure to invest in talent acquisition means communities falling behind in building local visitor economies. 
As a starting point, we need to outline just how hard travel-related industries have been hit.  
As of the latest BLS data release, the U.S. has lost 1.5 million leisure and hospitality jobs, representing 93% of all jobs lost since February 2020. 
Lodging sector employment remains 20% below pre-pandemic levels. 

1.7 million job openings with an open rate of 10% (1 opening for 10 existing jobs).

A quit rate (5.6%) of nearly double the overall economy.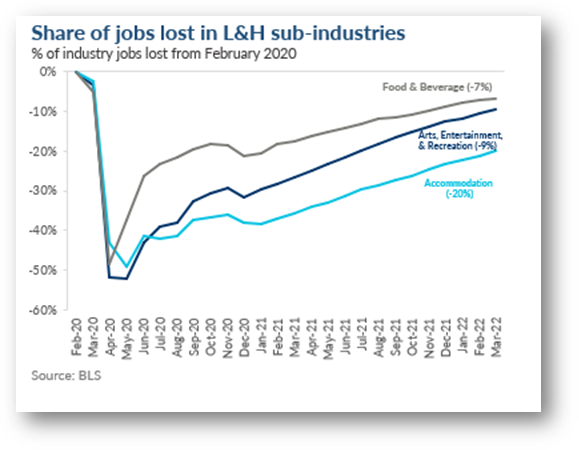 We knew that to tackle this issue, we needed to provide the tools to enable our members to actively monitor and predict the recovery of the travel industry workforce. We are pleased to begin an expanded partnership with Tourism Economics and their Symphony platform with a dedicated module for Destination International members on workforce intelligence for their communities. Here is what is to come and what it will cover for your destination. 
As with every Symphony client, you obtain proprietary destination-specific data and analysis by Tourism Economics with monthly updates covering industry performance, economic trends, visitor intelligence, and DMO KPIs. Our partnership offers a new dedicated module focusing on workforce intelligence with proprietary data unavailable from any other source. 
Employment Trends and Analysis 
Exclusive wage and occupational analysis of your community's workforce including Demographics, Job Openings and Quit rates, and Position analysis. 
Average and total income by industry subsector along with employment and average wages by major occupational groups (e.g. management, maintenance, sales, etc.). 
Three Year annual forecasts of Leisure and Hospitality sector 
Provide a sense of how your destination's travel recovery will unfold and share these insights with your critical stakeholders.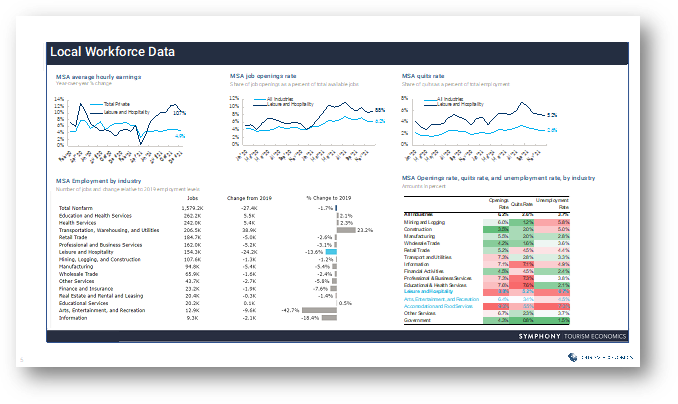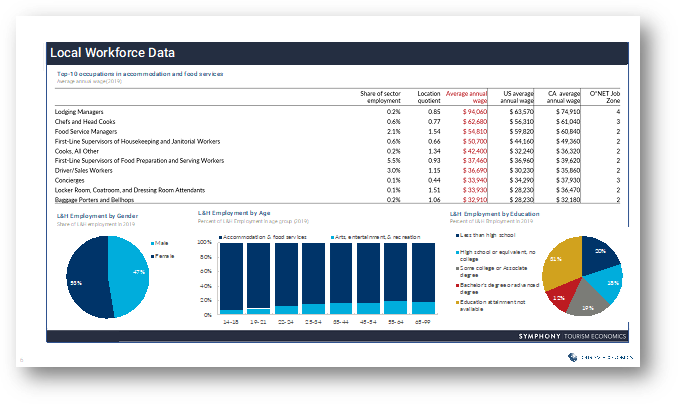 We are excited to bring this new workforce development tool to the membership of Destinations International to help provide tools and insights for destination organizations on this critical and timely topic. We will be launching and showing the tool and further insights at our upcoming 2022 Annual Conference in Toronto. If you have any questions on Symphony or the workforce module, feel free to reach out to either: