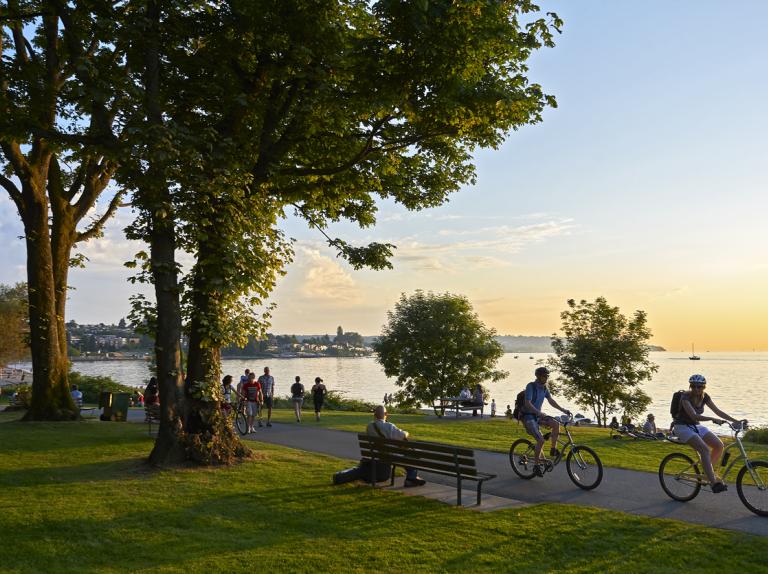 Bottom Line:
This Awareness Campaign is not just about raising the profile of destination organizations; it's about championing the spirit of discovery, unity, and growth they bring to every corner of the world. It is a movement to ensure that every destination organization gains its essential place at the center of a community's efforts to thrive.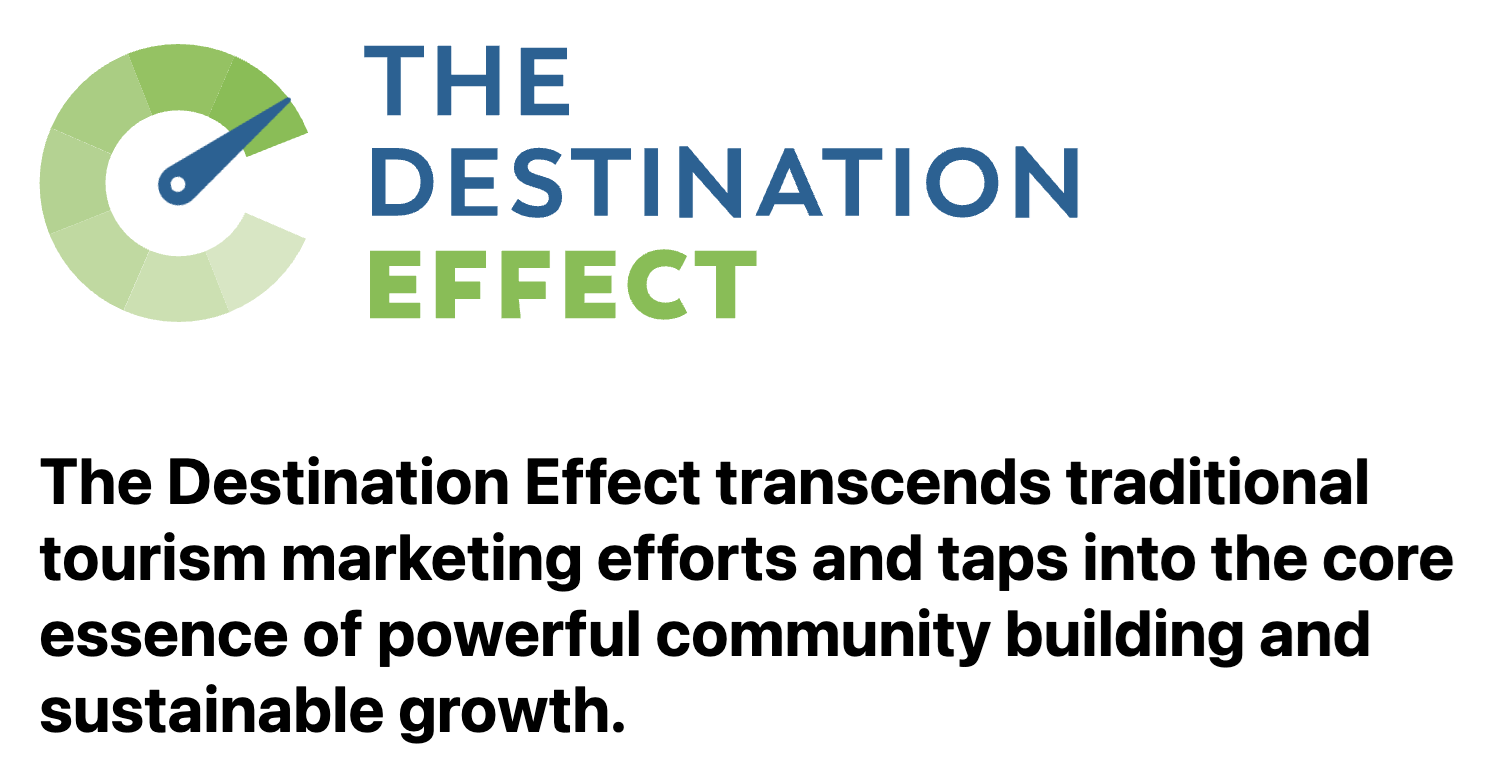 The fabric of every community is woven with unique stories, cultures and experiences waiting to be discovered by residents and visitors alike. At the heart of this discovery is the vital work of destination organizations, whether they are convention and visitors bureaus (CVBs), destination marketing or management organizations (DMOs), tourism bureaus or government tourism offices.
Our world is vast and diverse, and the role of destination organizations is to serve as a bridge that connects people to places, allowing them to explore, celebrate and appreciate the uniqueness of each community. Their purpose is not just to attract tourists, but also to cultivate an environment in which a community thrives as an ideal place to visit, live, work and play. And they do it for the benefit of the community. 
The Awareness Campaign
Destinations International has called often over the past few years for the creation of an advocacy -focused awareness campaign for destination organizations. We have spoken long and often about how way too many people, including way too many policy makers, do not understand the significance of a destination organization. They could not describe, with any level of specificity, what a destination organization is or how it does what it does. Much of that has been on us as an industry sector as we have failed to recognize our communities as destination organizations' ultimate customer and act upon that. We have spent a great deal of time since 2019 addressing that through the lens of being a community shared value and how destination organizations can and must integrate that concept throughout their whole organizations.  
That is why we believe that it is imperative now, more than ever, to elevate the profile of our member organizations. Here are just three of our reasons why: 
1. Purpose & Role: Destination organizations are the custodians of a community's brand. They actively engage with local businesses, cultural institutions, and residents to promote sustainable tourism, driving economic growth, and enriching the lives of the local populace.
2. Achieving Goals: Through strategic marketing, partnerships, and community engagement, these organizations not only draw visitors but also instill pride among residents, fostering a sense of belonging and unity. Their efforts ensure a balanced growth that respects the environment, culture, and heritage of a place while harnessing its potential for future opportunities.
3. Recent Achievements: Despite the challenges faced in recent times, destination organizations worldwide have showcased resilience and adaptability. Many have pioneered digital transformations, offered platforms for local businesses to thrive in challenging circumstances, and curated virtual experiences allowing people to travel from the comforts of their home. Their unwavering dedication is a testament to their essential role in community development. 
In recognizing the significance of destination organizations, we do not merely celebrate their contributions to the travel industry, but we acknowledge their pivotal role in shaping the identity and future of our communities. This awareness campaign is not just about raising their profile, but it's about championing the spirit of discovery, unity, and growth they bring to every corner of the world. It is a movement to ensure that every destination organization gains its essential place at the center of a community's efforts to thrive.
Why a movement? A political observation I made many years ago that I often use is "Money is important and can win elections. But organization can, and most often does, beat money. And the only thing that can beat organization is a movement." The definition of a movement is a loosely organized effort by a large group of people to achieve a particular goal, typically a social or political one. A political movement is a collective attempt by a group of people to change government policy or social values. Political movements are usually in opposition to an element of the status quo and are often associated with a certain ideology. 
The status quo that we wish to eliminate is that idea that destination organizations are just marketing organizations and therefore are nonessential, unnecessary, and unimportant. We aim to destroy that notion. Instead, we will advance our "ideology" that is summed up in our Cornerstone Statement:  
"Every community must compete with every other community for its share of the world's attention, customers, and investment. To compete, people need to know about a community, have a positive impression, and want to visit to experience the community and meet its people.

This is achieved by clearly developing, articulating, and managing the community's brand. Efforts must be made to promote, market, sell, and engage potential visitors.  And all of this must be reinforced over and over again. Destination organizations are uniquely positioned to do this.

Addressing this need for destination promotion is for the benefit and well-being of everyone in a community. It is a common good. It is an essential investment in developing opportunities and building a quality of life that benefits all residents of a community."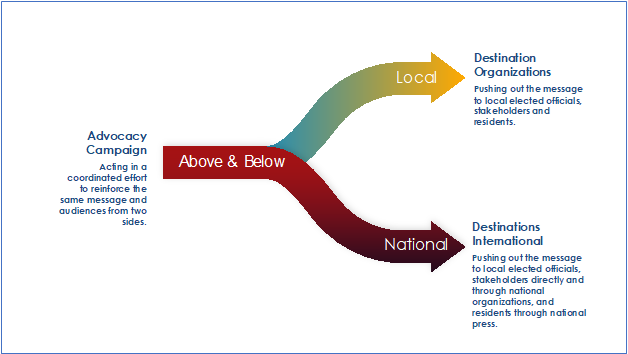 The Destination Effect Campaign will bring everything Destinations International has created to date, as well as the delivery of several things in development, to bear on the campaign. From our broad concepts and research, we will create campaign messaging and toolkits. We will approach it from a grassroots approach at the local level wherever our members are present to work on a national level throughout Canada and the United States. And we will add the one thing we have not had before – a campaign home in the form of a stakeholder-facing, interactive website full of our messages, our real-life examples and our research and data. We will develop an outreach component to elected officials and media. 
We previewed this concept at the Advocacy Summit in October in Little Rock, Arkansas. The website will go live in the first quarter of 2024. And the campaign will run through 2024 & 2025. But the movement begins now. 
Our Starting Point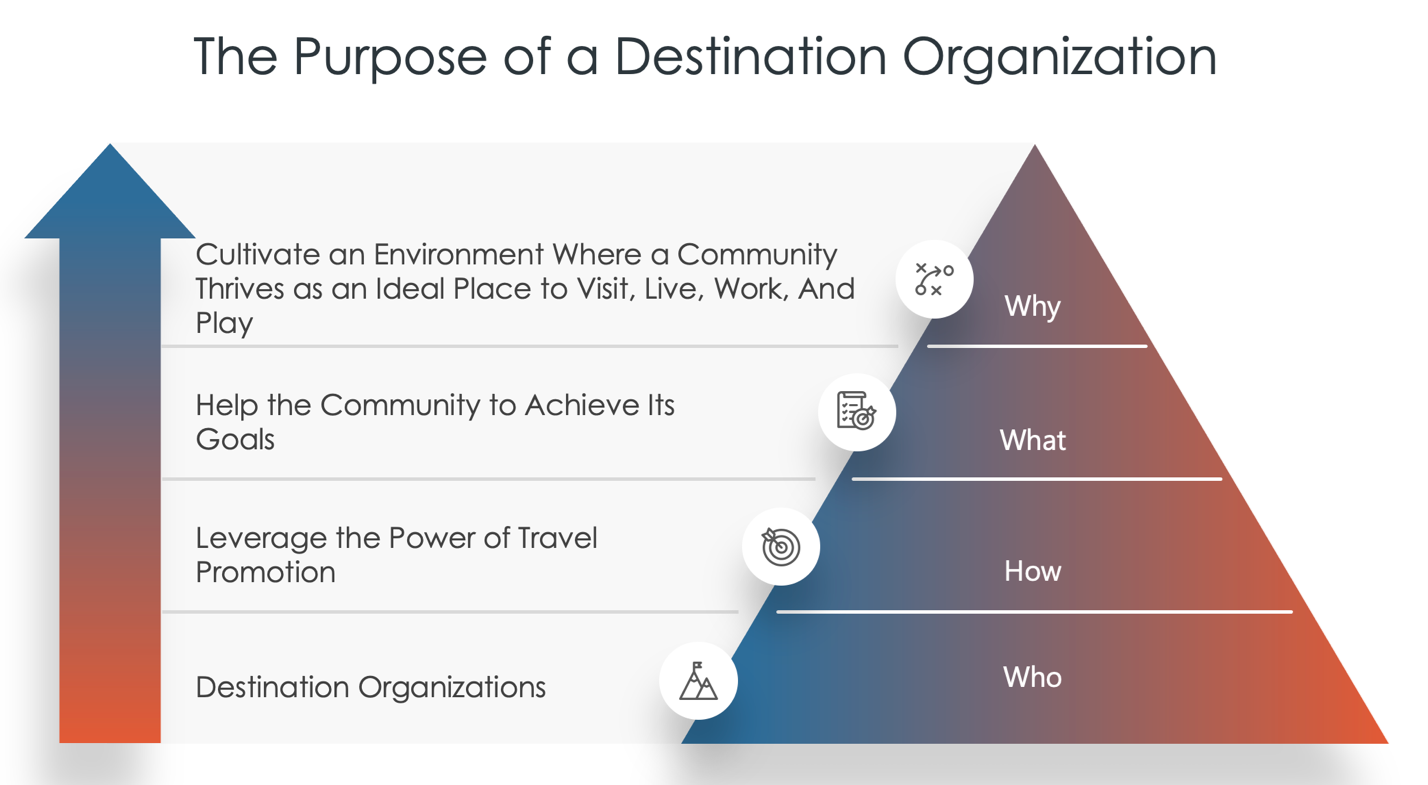 In building out this campaign, we needed to create a definitive purpose statement for our industry sector. We followed a simple model to create it and released this at our most recent Advocacy Summit in Little Rock, Arkansas. The model is to fill in the blanks of this sentence = The purpose of <WHO> is to <HOW> to <WHAT> in order to <WHY>. In our case, the purpose of destination organizations is to leverage the power of travel promotion to help the community achieve its goals in order to cultivate an environment where a community thrives as an ideal place to visit, live, work and play. That is our starting point. And it is what we call "The Destination Effect." 
Step Two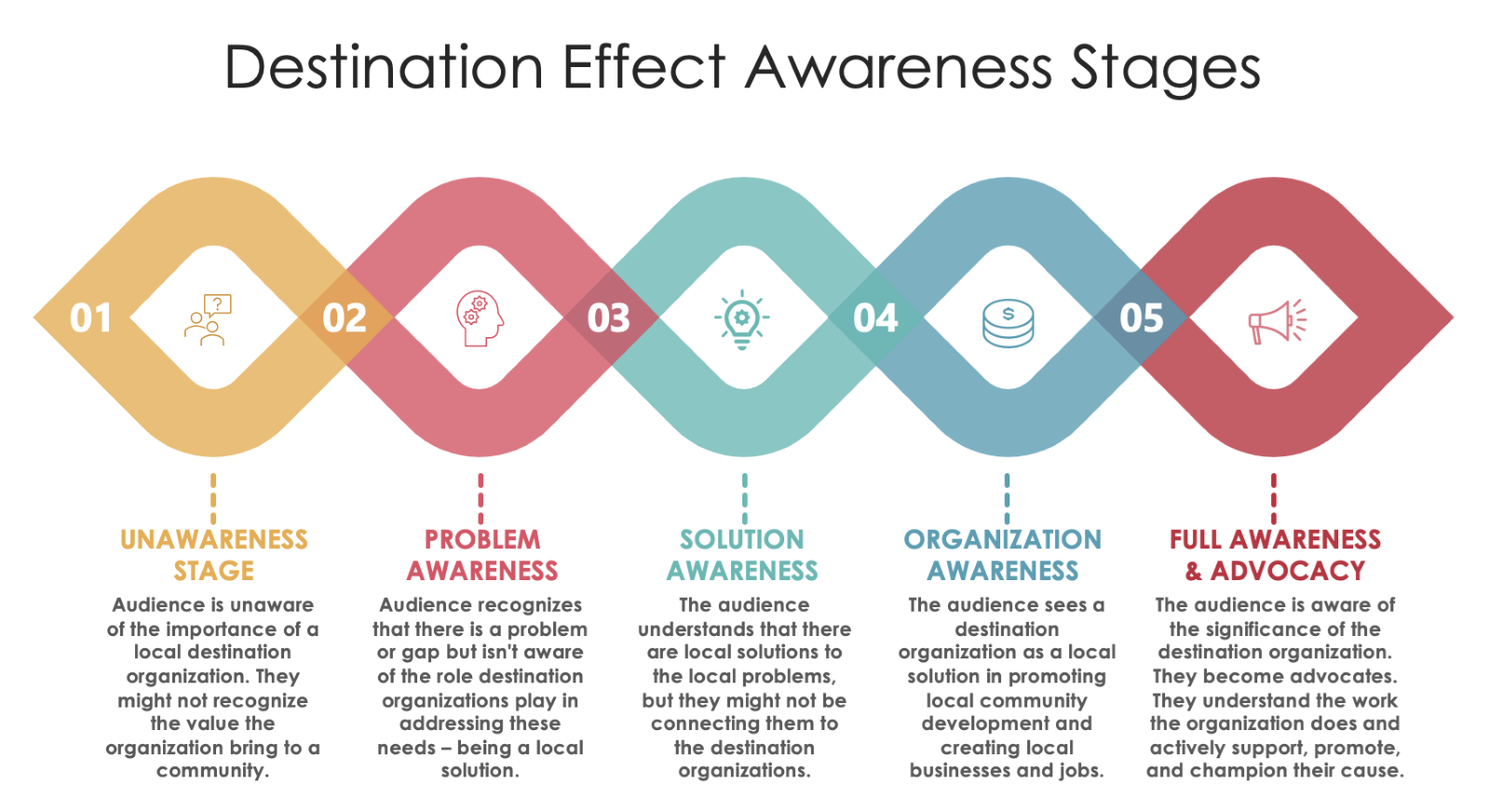 Our second step was to map out the stages of awareness. In both the marketing and psychology worlds, there are recognized steps or phases of awareness that individuals progress through when becoming familiar with a concept, brand, or product. Here is one general breakdown that we worked on to help think through "The Destination Effect" advocacy awareness campaign for destination organizations. We are assuming a fairly low level of awareness of the value destination organizations bring to a community. We feel that this is a good place to start given how many of our key stakeholders do not have a working understanding of what a destination organization does, how it does it and the complete impact of those efforts. This is a problem for all stakeholders including hoteliers.
Once again, we leaned upon our "community shared value" concept and approach and we focused on addressing community or civic issues and portraying the work of a destination organization as part of the solution. More importantly – it is a local solution to local problems. We seek to move stakeholders and eventually our residents, from recognizing just the problems to also seeing the solutions that destination organizations can foster. From there we want to connect those solutions to the work of the destination organization and through that, underscore the significance of the destination organization. In the end, our ultimate goal here is not just to inform and move our audiences from ignorance to understanding, but also to develop them into advocates that actively support, promote, and champion the destination organization. 
Step Three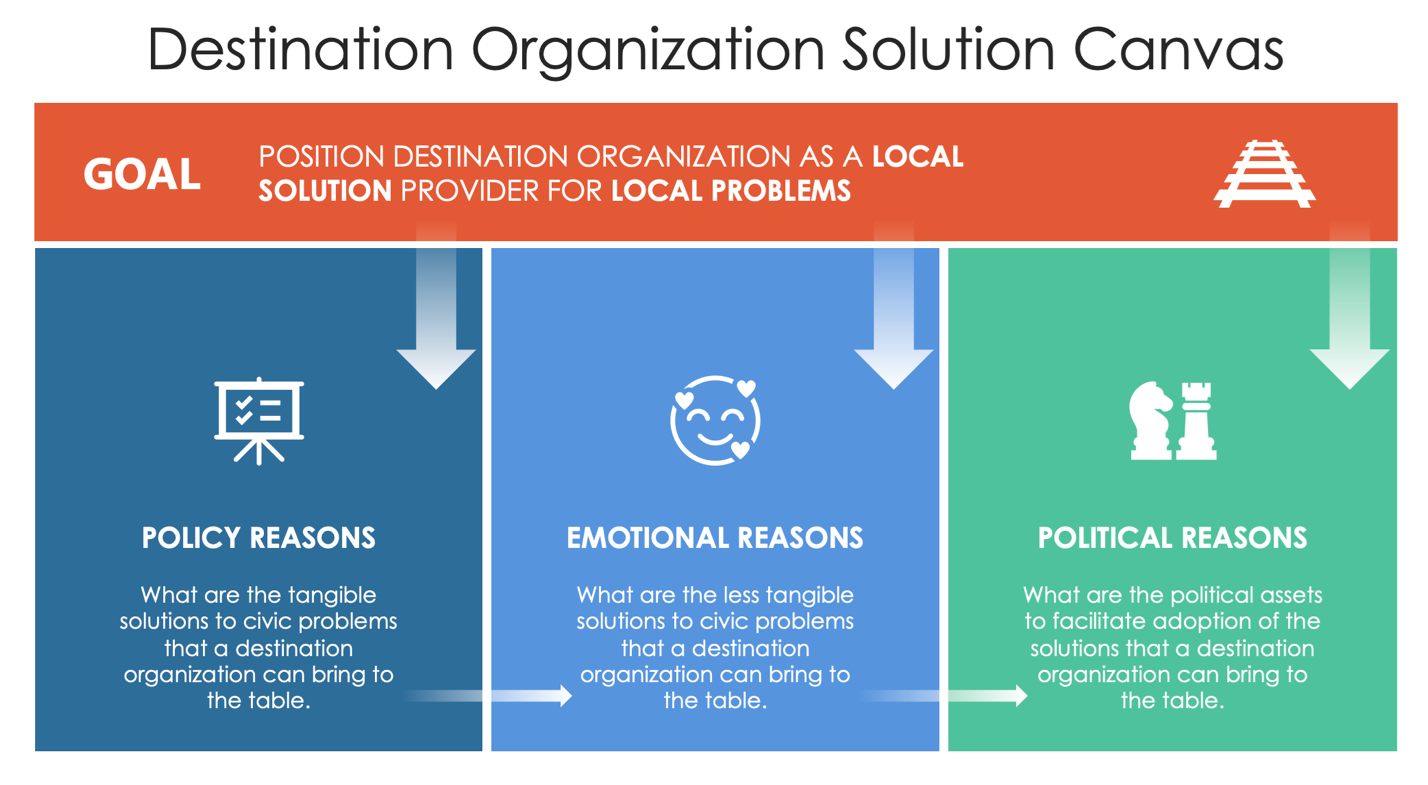 To make the full connection, we need to understand that our importance – our ability to provide solutions and the argument for destination organizations as part of a solution, breaks out into three areas. To help us understand these better, we create a solution canvas. We continuing to pull from the "community shared value" concept and approach, but we also pull from the thought process behind both the New Tourism Lexicon and the Community Indicator Project. By this I mean understanding that there is a left brain and a right brain element, a rational and emotional element. We also need to understand that there is a political element at play.  
On that canvas, we plot our policy (or rational) reasons we can argue for the essential nature of a destination organization. These are tangible problems and solutions such as the need to create a range of jobs from entry level to executive to match the qualifications of our workforce or to spur economic activity that will result in the creation of local, small businesses. Next, we plot emotional reasons we can argue for the essential nature of a destination organization. This can include the development of civic pride to the creation of a sense of place. Finally, we add the political reasons we can argue for the essential nature of a destination organization. These are reasons that will resonate with stakeholder as they evaluate approaches. At a high level these are reasons we are the best solution (cost effective, quick return on investment, options for visitors and residents) and at the low end, these are solutions that will serve stakeholders well in a political environment (connects an elected official to an identifiable and reachable constituency for example).
Step Four
Our next step is to build out all the reasons under these three headings. Each will be backed up by research, data, and real-life examples. The January 2024 release of the report, Destination Promotion: A Catalyst of Community Vitality will be a major portion of this work. After that comes key messaging.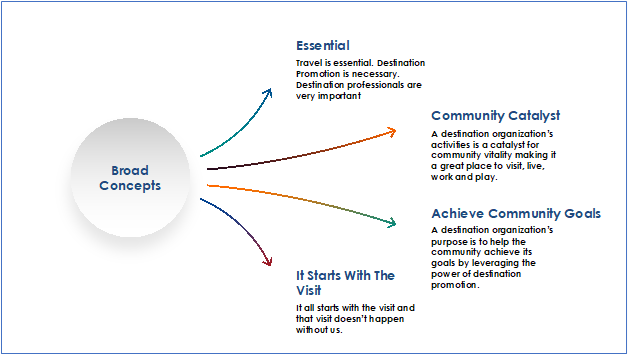 We know several of these already: "It all begins with a visit and that visit doesn't happen without destination organizations" and "Destination promotion is a catalyst of community vitality" and "Travel is essential, destination promotion is absolutely necessary and destination professionals are very important." We will work on these and others and build out toolkits for each round of messaging.  More on that in Part 2 of this blog coming soon.