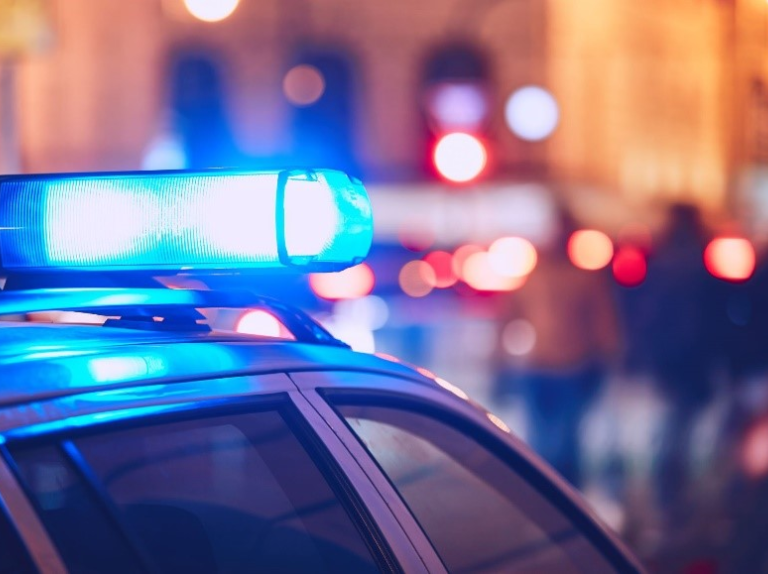 By: Jack Johnson, Destinations International
We here at Destinations International have called and advocated for the expanded mission of a destination organization. Destination Organizations are a community asset responsible for programs promoting their community as an attractive travel destination and enhancing its public image as a dynamic place to live and work. Through the knowledge of the destination, brand management, promotional programs, and the resulting impacts of visits by people, we strengthen the community's economic position and vitality which provides opportunity for all the people in the destination. 
With residents as their primary customers, destination organizations have had new leadership roles to play within their communities. But this also means that destination organizations must step up and play a supporting role in efforts led by others on issues that affect our destinations. Issues and efforts that for too long we have avoided and claimed that they were within our scope of services. This post is about those supporting roles and those issues that are our issues and call for our assistance in an effort led by others.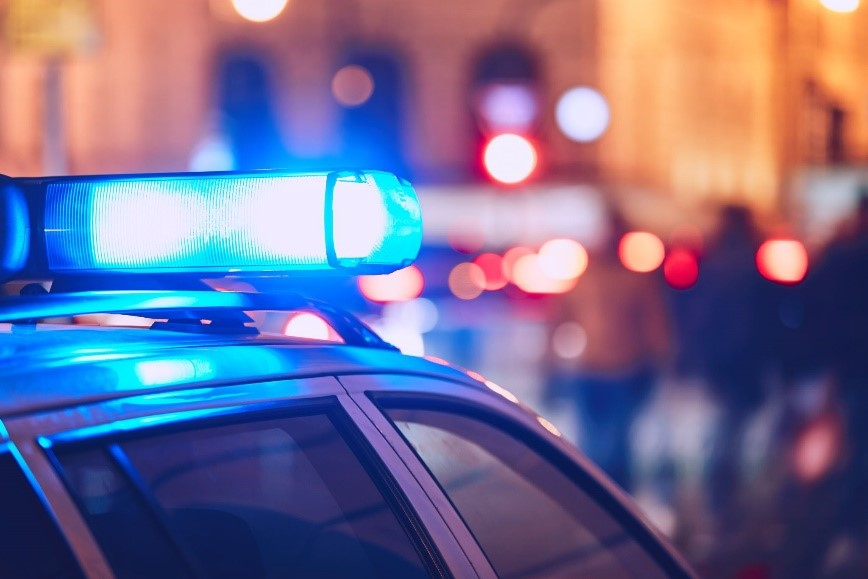 The Issue of Violent Crime
To set the stage, let me quote a recent Washington Post article (April 21, 2022) that paints the picture here in the United States better than I can. 
"The shootings rippled across the country this month, a steady drumbeat of tragedy stretching from coast to coast. Six people killed in downtown Sacramento. More than a dozen shot at a Dallas concert. Two killed, and more wounded, in a Cedar Rapids, Iowa, nightclub. Ten shot aboard a Brooklyn subway train at the height of the morning commute. Then, this weekend, nine people were shot at a shopping mall in Columbia, S.C. And hours later, two teenagers were killed, and more injured, during a shooting at a house party in Pittsburgh. The stream of shootings comes amid a grim backdrop of increased gun violence nationwide, and at a time when mayors, police chiefs and mediators working on the streets to curb the bloodshed were already reporting a disturbing shift. Grievances or minor slights that might have once led to fistfights, they said, were instead suddenly escalating to gunfire. In some of the recent shootings that left numerous people dead or injured, officials said the gunfire appeared to be tied to disputes among people or groups gathered in public or crowded areas. But this violence underscored that shootings leaving several people injured or killed are up significantly compared with before the pandemic, and the ongoing toll has public officials and others fearful heading into the summer months." 
This problem is not confined to the traditional shootings that occur in the United States. A recent article in the Baltimore Sun pointed out that increased violence in many areas is already apparent. 
Reports of road rage shootings hit a record high last year. As the advocacy organization Everytown for Gun Safety noted, "a person was shot and either injured or killed in a road rage incident every 17 hours, on average, during 2021." 
Last year was also the worst year on record for unruly passenger behavior on flights. People are not only spitting, cursing, using racial slurs and punching the backs of seats, they are also punching other people. One Southwest Airlines flight attendant even had a few of her teeth chipped after a passenger attacked her last year. 
In January, CNN published an article about the number of unruly-passenger incidents that rose to the point of needing to be investigated by the Federal Aviation Administration. 
"From 1995 to 2020 an average of 182 investigations were initiated per year," the network reported. "In 2021 the FAA initiated 1,081 investigations — a 494% increase over the historic average of investigations." 
We have also seen a surge in violent crime, especially gun violence. Countries such as Spain, Britain and Germany have not had the same surge, a disparity that an article published in Time magazine  (Violent Crime in the U.S. Is Surging. But We Know What to Do About It) in January attributed in part to the hyper-politicization of American politics." 
[It is also worth noting that violent crime in Canada and Mexico are also not seeing a similar increase to what is occurring in the United States.] 
And this is not new, as another article in the Washington Post entitled "We don't know why violent crime is up. But we know there's more than one cause." from last July explains. 
"The United States saw about 25 percent more homicides in 2020 than in 2019, based on preliminary data released by the FBI — the largest single-year increase in the homicide rate since reliable tracking began in 1960. The current rate — 6.2 homicides per 100,000 residents, if the same 25 percent increase is applied to last year's rate — is the highest recorded in the United States in more than 20 years. In America's largest cities and, in particular, the most economically disadvantaged neighborhoods within those cities, the rise in violence has been the most pronounced."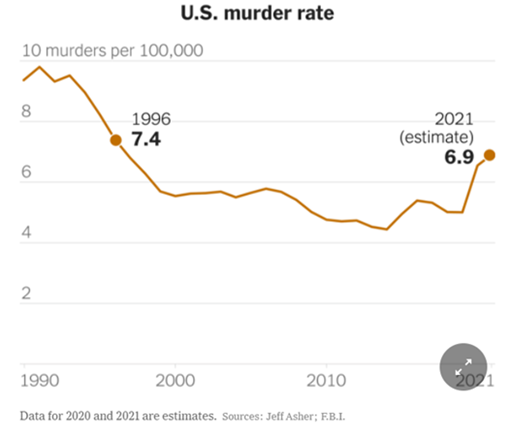 And finally, while perceptions of violent crime and reality are not always the same, the murder rate and the identification of violent crime as a big problem are following the same increased curve according to the Pew Research Center.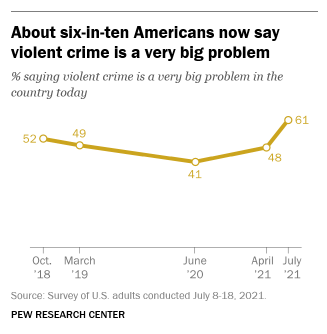 And, from the people at Gallup.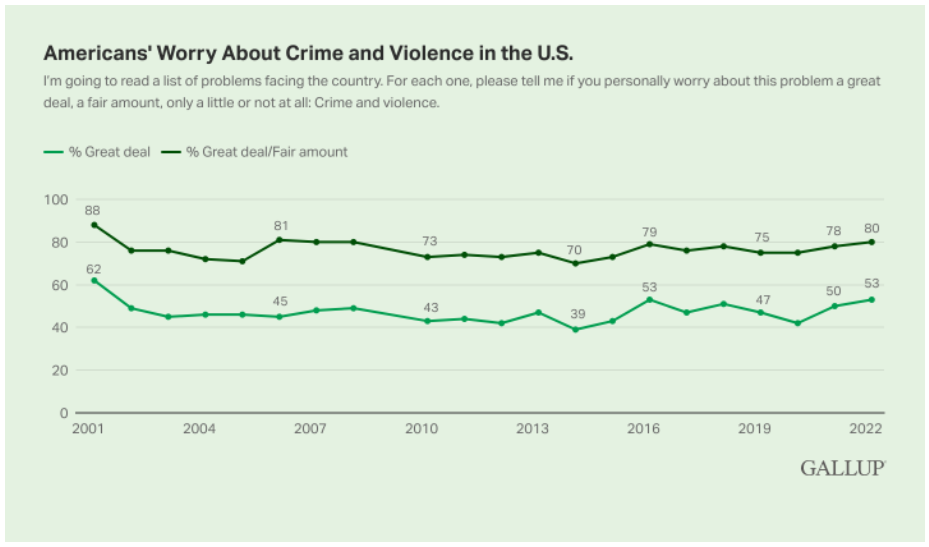 What Are Destination Organizations to Do?
The causes and solutions of violent crime are many and not always easy to deduce. And it is fair to say that both the causes and traditional solutions fall outside of a destination organization's wheelhouse. This is clearly not an area where destination organizations should be expected to play a leading role. We will leave that to the experts on crime and its causes. But this is something that affects our communities and therefore, our brand, our product and let's face it, our home. We may not have a leading role, but we have a supporting role in our community's response and in the development of solutions. 
Destination organizations are increasingly having a seat at more tables than ever before to influence policy and contribute to long-term solutions beyond just the visitor economy. As the 2021 DestinationNEXT Futures Study states, "Destination organizations are expanding their roles in many directions. They are aligning with government and community organizations more intentionally to support initiatives designed to improve social issues and local quality of life; fuel priority sector development; attract outside investment and high-value talent; and elevate the overall destination brand beyond a tourism lens." 

The Destinations International Foundation's Significant Issues and Opportunities Challenge
To help destination organizations anywhere in the world, but particularly in the United States, the Destinations International Foundation, in its role as our industry's think tank, will address the issue of violent crime in the United States and elsewhere and the role destination organizations can play in helping their communities respond.   
As in all its endeavors, the Foundation will use a grassroots approach. This is an approach that uses the people in the destination organization community as the basis for a problem-solving effort. An effort that empowers every individual to share the responsibility of achieving excellence. 
Starting today, as part of its 2022 Destinations International Foundation's Significant Issues and Opportunities Challenge, we will seek to accomplish the following. 
Start a conversation among destination organization professionals concerning the issue of violent crime from the destination organization perspective. This is consistent with our focus on community that leads us to foster a strong, global community of destination organization professionals and promote the exchange of information, knowledge, and best practices. 
Our conversation will start through our established committee and taskforce structure that will include the Advocacy Committee, Membership Committee, Membership Committee Small DMO (Destination Marketing Organization) Sub-Committee, Equity, Diversity & Inclusion Committee, Professional Development Committee, and the Public Relations Taskforce. An ongoing conversation will be held via the Destinations International Online Community. 
Identify areas where the issue intersects with a destination's reputation and operations and look for roles consistent with the strengths of the destination organization and their ability to contribute to a community effort. 
This will pull from our focus on advocacy where we use our collective voice to elevate and advance the mission, goals, and efforts of destination organizations. And where we address problems and issues on both a local and global level through member education, industry mobilization and public policy advancement. 
Search for existing community based best practices and work to create new ones. These will include current practices that have formed naturally after years of trial and error, making it clear that following a certain procedure is better than any other procedure.  
We will also seek to establish new practices identified through destination organization research to set new guidelines or benchmarks for destination organizations to follow. This draws from our commitment to add to the existing base of industry knowledge, deepening our understanding of issues, and introducing innovative ideas. Through research, we seek to facilitate learning and understanding, disprove falsehoods and discover facts, and identify future trends and opportunities. 
We will work with outside organizations such as the US Conference of Mayors, among others. 
Communicate best practices, make the innovative ideas and practices clear to understand, and publish them on a regular basis in easy-to-access places. This will include learning sessions at our in-person events, webinars, newsletters, use of the Online Learning Center and the issuance of white papers and tools. 
We will share our work with outside organizations such as the US Conference of Mayors, among others. 
This approach is consistent with our understanding that education is a continuous process and therefore we provide a variety of meaningful learning programs and opportunities using multiple platforms to extend our members' knowledge, strengths, and capabilities so that they are empowered to help their destinations succeed and our industry excel.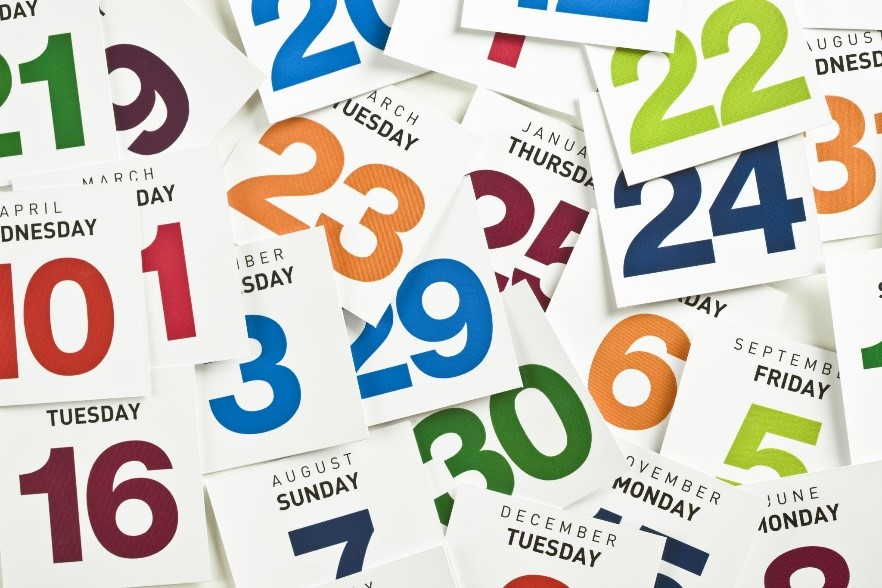 Our

Approach and Timeline 
The 2022 Destinations International Foundation's Significant Issues and Opportunities Challenge will consist of six-months of conversations, research, brainstorming and explorations on identified topics followed by advocacy and education. As stated earlier, we will use the following. 
Committees and Taskforces 

Destinations International's Online Community 

Summits and Annual Convention 
We will convene a body of experts providing advice, ideas and solutions on the issue and use them to process ideas, drive research, analyze strategies, and help staff formulate a policy agenda. This group will consist of 60 people as broken out below that will meet at our Annual Convention in Toronto. 
30 Destination Organization and Business Partner Leaders. 
30 Emerging Leaders from the 30 Under 30 Program 
Our timetable is roughly the following. 
April: Kickoff and Discussions 

May & June: Research and Discussions / Begin Releasing Best Practices 

July: In Person Subject Deep Dive / Continue Releasing Best Practices 
August & October: Test, Continue Releasing Best Practices/ Modify, Finalize and Present Final White Paper and Best of the Best Practices.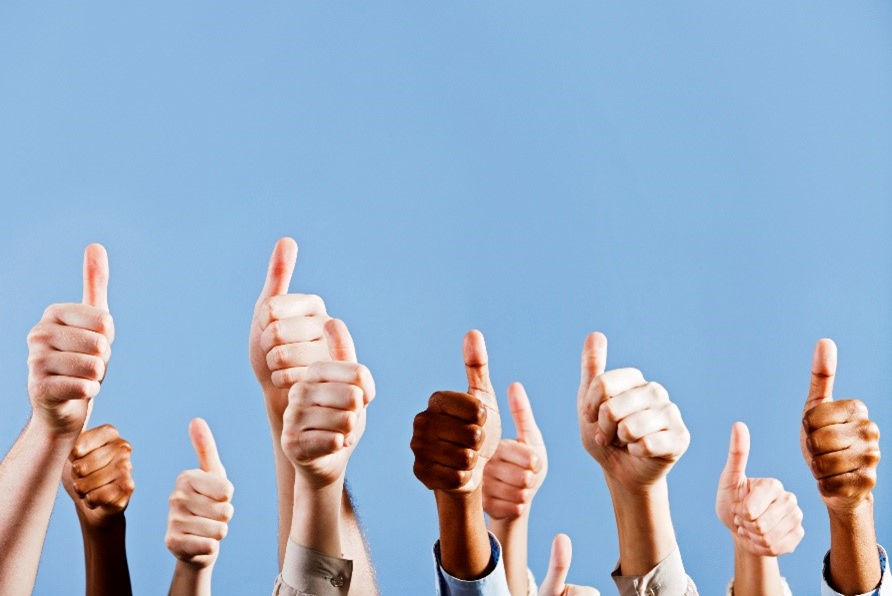 Vision, Mission, and Our Promise to You
The vision of Destinations International is that our members are essential to the success of destinations worldwide. Our mission is to empower our members, so their destinations excel. And our promise is to inform, connect, inspire, and educate our members to drive destination economic impact, job creation, community sustainability and quality of life through travel. These govern our projects, and this initiative is no different. Helping address violent crime is key to maintaining and growing destination economic impact, job creation, community sustainability and quality of life. 
Will you join us in this endeavor? Contact us at [email protected] to express your interest, provide any thoughts or ask any questions.  Thank you.