Working Towards a Better Web Experience
by: David Breisch, Director of Marketing Technology, Destinations International
Having a website can be a double-edged sword for many organizations. Websites can become large, unwieldy, and difficult to update or maintain. On the other hand, I'm sure you know – being tourism industry professionals – that having a visually-interesting and easy-to-navigate website is literally critical in attracting visitors to your destination.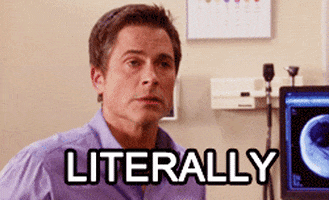 That's why we're investing resources this year in rebuilding many aspects of our website to help you, our members and destination professionals, find the information and resources that you are looking for to help your destination excel.
While you may not notice anything different right at this moment, we've spent the past few months working on the back-end database to prepare for some exciting new features. Over the coming year, we're going to be focusing on some key areas to improve our digital experience:
Easier to find content. We're completely rebuilding our tagging database to allow us to better identify and surface content related to whatever you're reading.
Technology integration. Our web team is working on integrating content across our suite of technology platforms – including the Online Community and Online Learning Center.
ADA accessible. We're consulting with Americans with Disabilities Act specialists to make sure the content is accessible to anyone, regardless of device or capability.
Visual refresh. Finally, we're also working on new designs for the navigation and landing pages to help you navigate to find the resources you need.
We'll be working over the next few weeks to launch the first few phases of our work and you'll be able to see some nifty changes very soon. In the meantime, we're prepping for the upcoming updates with a reorganization of our Advocacy section. This was one of the oldest sections of our website and was in desperate need of a better way to find information. Starting now, you can easily find and access all of the great resources that our Advocacy team have been working on for the past three years.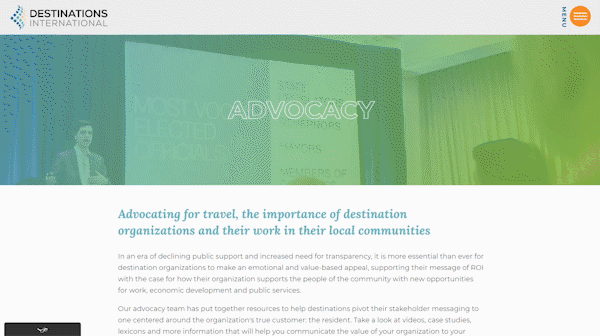 Advocacy landing page. Get quick access to all of the top-level resources from recent summits and Annual Conventions.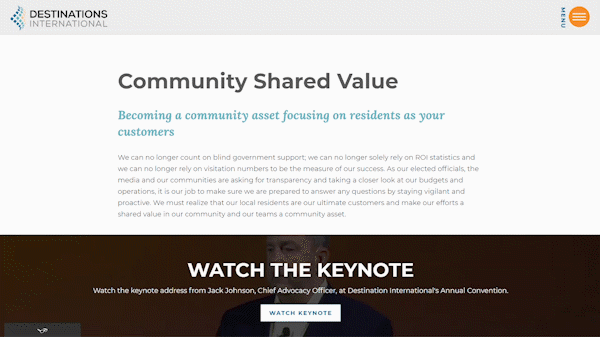 Community Shared Value and Community Benefit Funding Model. Access blog posts and policy briefs providing best practices on how to implement the Tourism Lexicon and new funding models in your organization. Related session recordings from recent summits are available to watch, complimentary for Destinations International members.
Tourism Lexicon. Download the latest United States and international versions of the Tourism Lexicon.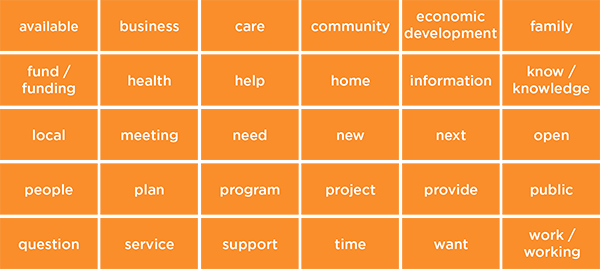 Blog. Access all the latest thoughts and research from our advocacy team – and don't forget to read the biweekly Advocacy Insights newsletter to make sure you stay up to date on the latest content!
We hope that you find this structure easier to navigate and search. Stay tuned to the website, our Online Community and our Online Learning Center to stay updated on the latest developments and resources available on our website!
About the Author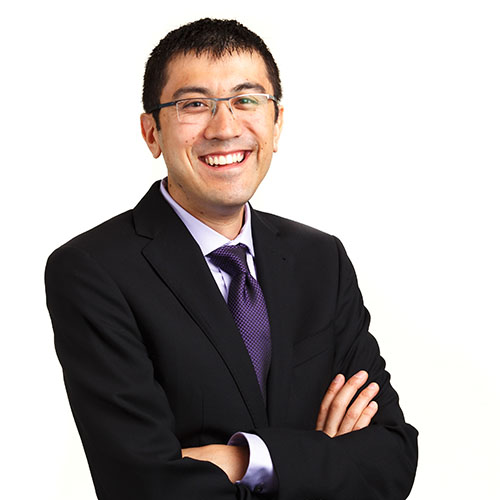 Senior Director of Marketing
Destinations International
About the Author
David spent nine years as the Multimedia & Web Manager for the Quad Cities CVB in Illinois and Iowa, leading all facets of digital marketing including website, social media and video production. Today, he supports the development and promotion of the association's products, services and virtual events across all digital channels.