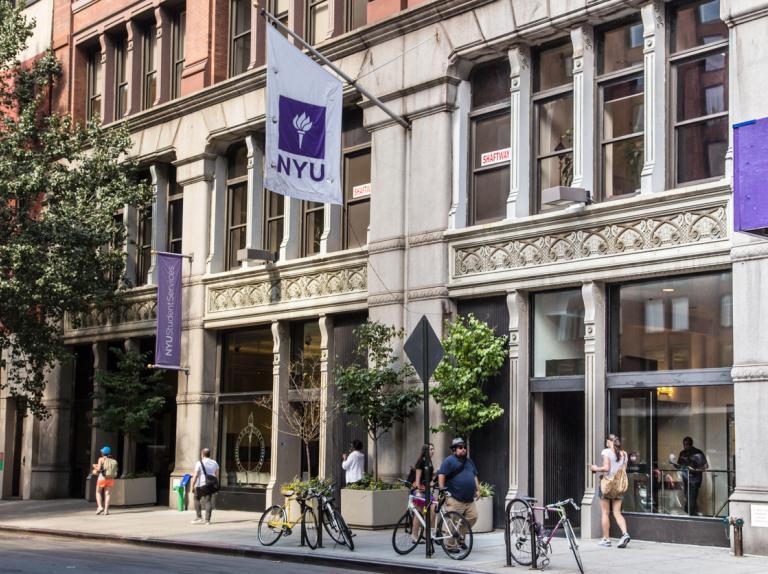 Press Contacts:
Gathan Borden
[email protected]
Michael DeMeo
[email protected]
NYU SPS Tisch Center of Hospitality and Destinations International Collaborate to Create Career Pathways into Destination Organizations Worldwide
Opportunity to Earn a Certificate in Destination Management as Part of The Tisch Center's Placemaking and Destination Branding Course
New York, NY, and Washington, DC, October 18, 2023 -- The NYU School of Professional Studies (NYU SPS) Jonathan M. Tisch Center of Hospitality and Destinations International (DI), the world's largest association representing destination organizations and tourism boards, have announced a collaboration agreement. As part of the agreement, NYU SPS and DI will collaborate on course-specific curriculum, provide an opportunity to earn a DI Professional in Destination Management (PDM) certificate, and give students a chance to participate in select DI events.

DI's PDM certificate provides those looking to deepen their understanding of destination marketing, management, and sales fundamentals with cutting-edge tools and innovations to start or further their careers in travel and tourism. Students will be offered the opportunity to earn the PDM certification as part of the NYU SPS Tisch Center's Placemaking and Destination Branding Course in the Spring 2024 semester. In addition, a select number of NYU SPS Tisch Center students will have the chance to be NYU SPS Student Ambassadors at DI events, gaining valuable trade show and networking experience.

"We look forward to working with Destinations International to help prepare our students to lead and innovate in the world of destination management, marketing, and sales," said Richie Karaburun, MBA, DPS, clinical associate professor and director of the HI Hub Incubator Program. "With the help of leading industry organizations, like Destinations International, we continuously strive to be the go-to school to help individuals thrive in the travel and tourism industry."

Destination organizations are responsible for promoting their community as an attractive travel destination and enhancing its public image as a dynamic place to live and work. Through the impact of travel, they strengthen the economic position and provide opportunities for people in their communities and for those attending incoming business events. Through their marketing and collaborative approaches, they inspire and engage travelers to visit their destination.

"Strategic collaborations are critical to our organization's vision and mission," said Don Welsh, president and CEO of Destinations International. "As our industry deals with recovery and workforce development, we are excited to tap into the global reach and academic excellence at NYU SPS to help with career paths into the travel and tourism industry for future generations."
###

About Destinations International 
Destinations International is the world's largest resource for official destination organizations, convention and visitors bureaus (CVBs), and tourism boards. With more than 6,000 members and partners from over 600 destinations, the association represents a powerful forward-thinking and collaborative community around the world. For more information, visit www.destinationsinternational.org.
About NYU SPS Jonathan M. Tisch Center of Hospitality and Its HI Hub
The NYU SPS Jonathan M. Tisch Center of Hospitality, celebrating more than 25 years of academic excellence, is a leading center for the study of hospitality, travel, and tourism. Founded in 1995, the Tisch Center was established in response to the growing need for hospitality and tourism undergraduate and graduate education. Its cutting-edge curricula attract bright, motivated students who see to become leaders in their fields.

Through its undergraduate degree in hotel and tourism management, its graduate degrees in hospitality industry studies, tourism management, and event management, a plethora of Professional Pathways continuing education programs, and its world-renowned hospitality investment conference, students gain the knowledge and the skill sets that enable them to manage change, to communicate, to thrive in complex work environments, and to advance the business of hospitality, travel, and tourism.

The Tisch Center launched the Hospitality Innovation Hub (HI Hub), which will foster entrepreneurship and creative solutions for the industries it services. The state-of-the-art facilities offer students, start-ups, and established industry partners and opportunities to learn, discover, innovate, and invest. For more information about the NYU SPS Jonathan M. Tisch Center of Hospitality, visit sps.nyu.edu/tisch.