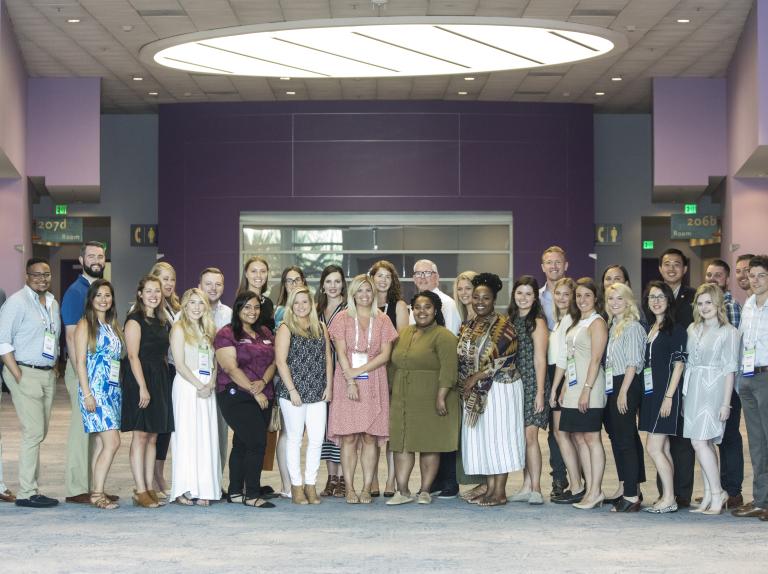 Global awardees range from Asia, Canada, Europe, Latin America and the United States
FOR IMMEDIATE RELEASE
Media Contact:
Caitlyn Blizzard
[email protected]
1.202.835.4202
Washington, D.C. (April 4, 2023) – The Destinations International Foundation and Destinations International (DI), the global trade association for official convention and visitors bureaus (CVBs) and tourism boards, today announced the 2023 30 Under 30 class, which is a group of highly talented young professionals in the destination organization industry. To learn more about each honoree, click here.
Destinations International is committed to investing and preparing the leaders of tomorrow and developing future industry leaders that represent a diverse set of backgrounds and perspectives. Each year, 30 individuals under the age of 30, are selected to gain valuable industry networking opportunities and increased thought leadership throughout the year. The honorees originate from a variety of destination organizations of all sizes and countries.
"The 30 Under 30 program remains critical to our organization's vision and mission," said Don Welsh, president and CEO of Destinations International. "These talented individuals represent DI's global footprint, with representation from Asia, Canada, Europe, Latin America and the United States. We can't wait to recognize and celebrate them this summer at our Annual Convention in July."
"The Destinations International Foundation believes in building up the leaders of tomorrow," said Vail Ross, senior VP of sales and marketing at STR and chair of the Destinations International Foundation. "We are proud of our 30 Under 30 Program and are grateful for the foundation investors who make programs like these possible for our industry."
"I am thrilled to recognize this year's emerging leaders. Their achievements and contributions to their respective organizations are truly remarkable.", said Mike Gamble, president & CEO of SearchWide Global and Tourism Diversity Matters. "We remain committed to this program and to supporting the growth and development of future leaders who will undoubtedly shape our industry for the better."
The 2023 30 Under 30 Class Includes:
Joey Bell, public relations and social media manager, Visit Tampa Bay
Elizabeth Boylan, sales manager, New York City Tourism + Conventions
Tom Carton, strategy and operations, Hello Burlington
Demi Cimiaskaite, senior marketing manager, Visit Eau Claire
Tim Crouson, CRM administrator, Destination Ann Arbor
Kathryn Shea Duncan, director of social media, Visit Lake Charles
Karly Dwenger, senior marketing manager, Travel Butler County, Ohio
Molly Evans, senior manager, business events, VisitPITTSBURGH
Ari Hamilton-Gery, corporate communications manager, Visit Baltimore
Joy IM, assistant manager, Goyang Convention & Visitors Bureau
Jerry Joseph, convention services manager, Destination DC
Patti Krausert, director of research and data strategy, Tulsa Regional Tourism
Catherine McCooey, marketing manager, Tourism Burnaby
Katie Rhoads, marketing manager, Visit Loudoun
Enya Rice, assistant marketing manager, VisitScotland
Coralis Rivera, manager, integrated marketing and social media, Brand USA
Yuliana Ruiz Velasquez, meetings industry executive, Greater Medellin Convention and Visitors Bureau
Lauren Saizan, editorial and online content manager, New Orleans & Company
Becca Schmiegel, marketing manager, Visit Indy
Zoey Shircel, associate manager, media relations, Visit Mesa
Megan Temple, senior director of partner and community engagement, Travel Lane County
Julia Thomson, specialist, destination development, Ottawa Tourism
Anjelica Uthe, executive director, Visit Watertown (Watertown, SD CVB)
Mai Der Vang, human resources Specialist, VISIT MilwaukeeAndrew Vela, project specialist, Visit Dallas
Lydia Wilder, director of operations and service, Frankenmuth Chamber of Commerce and Convention & Visitors Bureau
Austin Wingle, graphic design manager, Visit Tri-Cities
Cody Wiseman, creative marketing manager, Visit Rapid City
Glorianna Yamin, marketing director, Discover Puerto Rico
Madison Yohn, Content Coordinator, Springfield Convention & Visitors Bureau
Now in its 13th year, the 30 Under 30 program is supported by founding program partner, SearchWide Global and sponsored by Fired Up! Culture, Northstar Meetings Group and PCMA.
The Destinations International Foundation is also grateful for the support of USAE for the "Anne Daly Heller USAE 30 Under 30 Scholars Fund." The fund is intended to provide exceptional continuing educational opportunities for participants of each year's class of Destination International's 30 Under 30 honorees. To learn more or donate, please click here.
For more information on the 30 Under 30 Program and the 2023 30 Under 30 class, please visit destinationsinternational.org/general-information/30-under-30.
###
About the Destinations International Foundation:
The Destinations International Foundation is a nonprofit organization dedicated to empowering destination marketers globally by providing education, research, advocacy and leadership development. The Foundation is classified as a charitable organization, under Section 501 (c)(3) of the Internal Revenue Service Code and all donations to the Foundation are tax-deductible. For more information visit www.destinationsinternational.org. 
About Destinations International:
Destinations International is the world's largest resource for official destination organizations, convention and visitors bureaus (CVBs) and tourism boards. Destinations International is about serving destination marketing professionals first and foremost. Together with more than 6,500 members and partners from over 650 destinations in 23 countries, Destinations International represents a powerful forward-thinking, collaborative association that exchanges bold ideas, connects innovative people and elevates tourism to its highest potential. For more information, visit www.destinationsinternational.org.