Wes Rhea, president and CEO of Visit Stockton, talks to us about his time in the U.S. military and the skills and knowledge gained that put him on the path to being a great destination leader. Wes shares his experience during his time in service and provides intel on why more destination organizations should consider veterans as part of their growing workforce. Those that chose service over self, make the perfect candidate for those who serve our communities.
Featuring
Andreas Weissenborn
Vice President, Research & Advocacy
Destinations International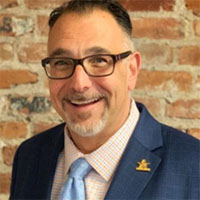 Wes Rhea
President & CEO
Visit Stockton
About the Architects of Destination Advocacy
The Architects of Destination Advocacy Podcast is a part of the Destination Marketing Podcast Network. It is hosted by Andreas Weissenborn and Jack Johnson and produced by the team at Relic. 
Podcast: All Episodes
List Type
Text with Multiple Buttons
Subscribe
Subscribe to the Architects of Destination Advocacy with your favorite podcast app.