The Event Impact Calculator (EIC) in 2022
"Witnessing the return of business events through the Event Impact Calculator"
By: Andreas Weissenborn and Emily Scheiderer, Destinations International
Happy New Year, EIC subscribers. We hope this past year was fruitful for your organization and the beginnings of a 'next normal' for the events industry. As is customary for us to reflect on the EIC and its implications in data, the trends we saw this year warranted a closer look to lend their insights. We hope you enjoy the data and thoughts below and look forward to your continued involvement and the evolution of the tool in 2023.
Business Events

: Onwards and Upwards!
AW: About 12 months into the pandemic, we saw the headlines of event cancellations and postponements. Meanwhile, our own EIC data saw the shift to destination organizations beginning a more proactive and measured approach to their sporting related events. This makes logical sense given the restrictions and implications in place to house indoor in-person events. The rise of outdoor, socially-spaced sporting events became de facto for many communities.
2022 saw this trend reverse, with the lion's share of all calculations performed in EIC for business events (both occurring in the year and in future years). Read below to hear our colleague Emily Scheiderer, Director of Education, Sales & Services, on some of her accompanying thoughts.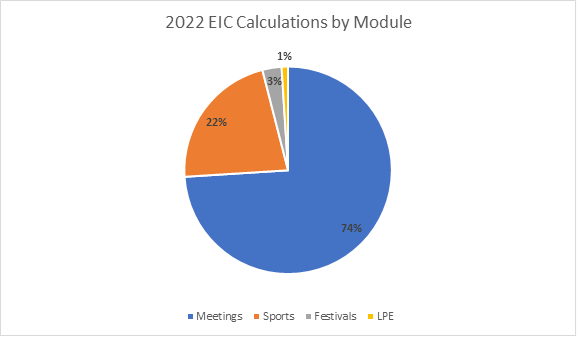 ES: The shift we are seeing in the EIC data will come as no surprise to convention sales teams across the globe. In fact, some destinations have found themselves in a position where the non-sporting group lead volume is starting to outpace their staffing abilities. Though we do still see a discrepancy in the return rate of association compared to corporate meetings, the overall influx of the return of meetings in 2022 had many contributing factors, some of which are outlined below:
Pandemic Booking Displacements: The pandemic brought with it cancellations and rebookings that contributed to disruption in the typical booking cycles for non-sporting group business and ultimately brought us to a place of less date availability. Many meeting planners spent countless hours working through the contractual complexities of their rebookings and as they come out on the other side, they are still in a position where they must find placement for future events. With the supply being lower, there is more urgency to book.
Pent-Up Demand: Due to the nature of the event, it is true that many amateur sporting events were able to continue to function at some capacity during the pandemic. However, corporate and association meetings were not able to do the same, some being in a position where they were forced to press pause for two years. Meetings are a strategic tool and revenue source for organizations, but they are also a necessary function for attendees and exhibitors to maximize success in their field. Though many organizations saw structural changes to their events, the desire to get back to face-to-face was there.
Event Evolution: For many organizations, the need to redesign aspects for the sake of future-proofing their events meant taking time to assess their event before jumping back into sourcing, taking them into 2022 before that return started to take place. Many planners saw transitions in their own roles or the roles of their team. Regardless of whether they had moved to a new organization (and a lot did) or remained with the organization they were with pre-pandemic, the RFP process was no longer a copy-and-paste scenario. Event history was no longer accurate. Some planners now had to consider shifts to regional events, floorplan redesign, integration of virtual platforms, sustainability commitments, rising costs and financial impacts from the pandemic, or take a deeper look at their RFP and contracting processes and clauses. The complexities of the evolution of events produced different timelines of return for different types of events.
AW: Furthermore, when we break it down by the specific event type, you'll see conventions and business meetings combined represent 71% of all calculations run. Either of which on their own are calculated more than any other event type combined.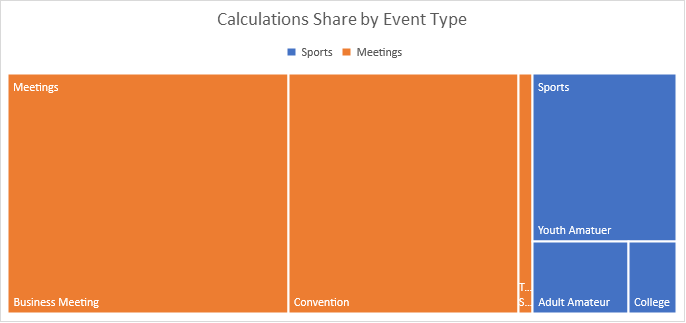 ES: Naturally, the influx of sourcing paired with the booking cycle displacements has created a shift in the supply and demand dynamic in the destination selection process. Though it seems like a relatively short period of time from when destinations went from begging groups to meet, to turning them away for a lack of availability, the swing in the supply and demand dynamic has resulted in the need for destinations to review the best business options more carefully and has also forced many event strategists to include more destinations in the selection process.
Though the demand has tipped in the favor of destinations for the time being, another consideration is that they still have an obligation to serve as an advocate for both their community and the host organization. Having a clear understanding of the value of the business is imperative for destinations because they are navigating conversations that need to make financial sense, while simultaneously keeping meetings financially sustainable for groups who are facing increased hotel rates, supply chain issues, inflation, etc. It is a balancing act for any destination looking to maximize their success and many see EIC as one of the most important tools and an integral part of their meetings and conventions strategy.
Finally, when we look at the size of EIC clients, destination organizations large and small are participating in the tool in 2022. With 55% of clients having an operating budget of less than 3 million, small destination organizations are using the tool to measure the value of business events in parity with their larger peers.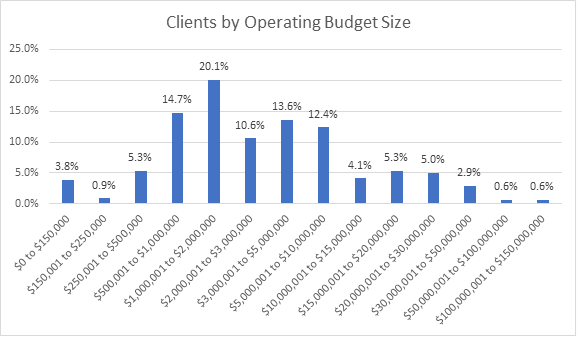 ES: The value of the EIC tool is relevant to destinations of all sizes and market makeups. Destination organizations are in a rare position where they have minimal control and maximum responsibility. Because of that, one of the biggest keys to success is the power of data-backed persuasion with civic leaders, industry partners and customers alike. Destinations of all sizes are dealing with meeting and convention complexities, increased costs, and expired COVID-19 relief funding. Now, more than ever, all destinations need to educate their stakeholders on the value of the business they prioritize for the destination and what support is needed to sustain that impact.
About the Author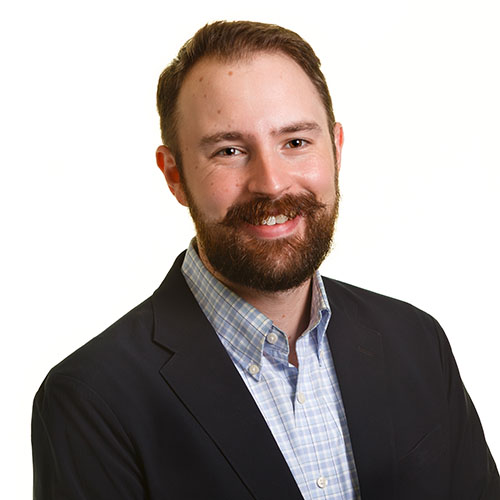 Vice President of Research and Advocacy
Destinations International
About the Author
Introduced to the world of destination organizations by a random internship application to Visit Baltimore (then known as Baltimore Area Convention & Visitors Association), Andreas Weissenborn began an unexpected career into hospitality that left him with a continued passion towards the tourism industry.

Weissenborn spent just short of 11 years with Visit Baltimore helping with its Research, Technology, and Information Systems across the organization. In 2017, he joined the Association on behalf of a Destinations International Foundation initiative to be a dedicated research source for Destinations International.

As part of his responsibilities, include supporting our core advocacy and research initiatives such as the community shared value, the tourism lexicon, the event impact calculator, and various reporting platforms, and our belief of destination promotion being a common good for the greater good.
About the Author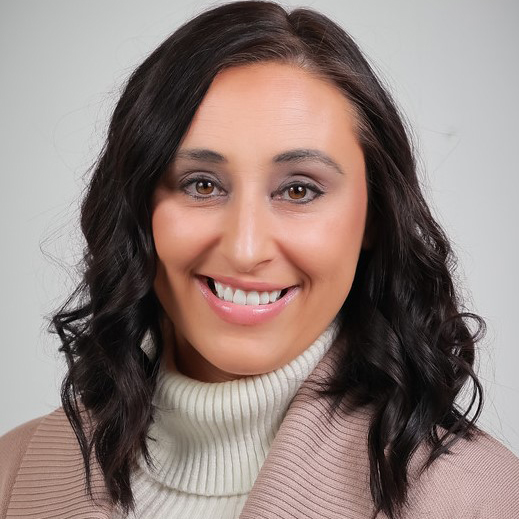 Senior Director of Education, Sales, and Services