Destination Marketing Accreditation Program (DMAP) Frequently Asked Questions
How much does it cost to become accredited?
For Destinations International members, there is a one-time application fee of $2,500 to begin the application process. Once your organization becomes accredited, there is a $750 annual fee to maintain your accreditation. Invoices for the annual fee go out each spring along with invoices for membership dues. There is no additional fee for reaccreditation. Fees are slightly higher for non-members:
Initial Application Fee
Annual Maintenance Fee
How do I apply for accreditation?
To earn accreditation, you must demonstrate that your organization complies with approximately 120 accreditation standards. Destinations International uses an online accreditation management system, meaning that the process is completed entirely online. The first step is to create an account in the accreditation management system and complete a form to determine your organization's eligibility for accreditation. To get started:

1. Visit dmai.learningbuilder.com
2. Click "Register as a new organization"
3. Follow the on-screen steps to complete the form

A member of the DMAP staff will then determine your organization's eligibility for DMAP and issue invoice for your application fee. When payment is received, an online accreditation application will be added to your online accreditation management portal.
Who is eligible for accreditation?
To be eligible for accreditation, the destination organization must meet the following criteria:

• Destination organization or CVB is a legal organization or entity
• Destination marketing and management is the primary function of the organization
• The organization has two or more years of destination marketing and management expertise
• The organization is the official governing entity authorized to provide destination marketing and management services for the jurisdiction
• The organization agrees to abide by the DMAP Code of Ethics
What is the process for earning accreditation?
To earn accreditation, an organization must complete an online application to demonstrate compliance with DMAP accreditation standards. The application process requires the organization to submit documentary evidence of compliance with each standard. For example, Standard 1.1 states "The DMO or its parent organization has articles of incorporation (or similar legal documentation) filed with its government jurisdiction." In order to meet this standard, the DMO must share a copy of articles of incorporation.
A list of all accreditation standards is available here.
How are DMAP applications reviewed?
Once your application is submitted, it will be assigned to two reviewers from the DMAP Board of Directors. These reviewers will remain anonymous to you throughout the process. These two reviewers will take 60-90 days to review your application individually to establish whether each response is compliant or non-compliant with the accreditation standard.
If your reviewers find one or more standard non-compliant, the application will be returned to you with detailed notes and you will have an opportunity to revise and resubmit the application. This process may repeat as many times as necessary. Once both reviewers are satisfied that all standards are compliant, your application will be referred to the full DMAP Board for unanimous approval at the next quarterly DMAP Board meeting.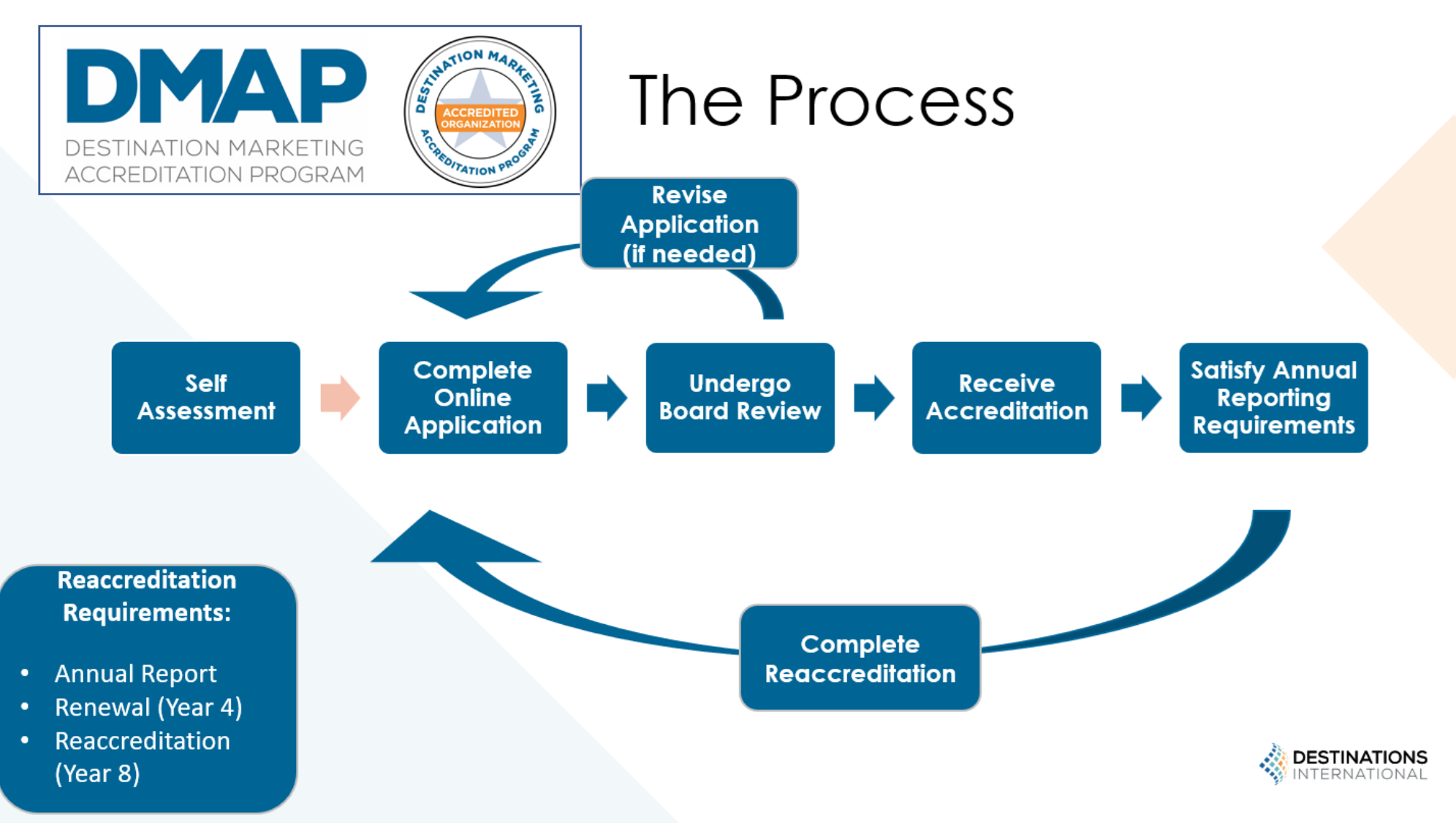 What is Accreditation with Distinction?
Beginning in 2020, Destinations International began recognizing select outstanding destination organizations with a new tier of accreditation, Accreditation with Distinction. This is intended to recognize destination organizations that set the bar of excellence for our industry. To become Accredited with Distinction, an organization must meet three criteria:
Meet all 100+ accreditation standards with no standards marked "Compliant with Opportunity for Improvement"
Have at least one standard where the applicant is marked "Compliant Exemplary", meaning the documentation submitted is truly outstanding and could be used to set the bar for the industry at large
Meet at least 10 of the 20 Aspirational Standards.
What are Aspirational Standards?
The accreditation standards include 20 optional Aspirational Standards. These are standards which are not necessarily established as best practices in the industry, but which are quickly becoming the norm. It is the expectation that Aspirational Standards will become required standards at some point in the future. The applicant does not need to meet these standards to become accredited, but must meet a least 10 of the 20 standards to earn Accreditation with Distinction.
Is there a deadline to apply?
Organizations may begin working on their accreditation application and may submit their applications at any time throughout the year. Applications are reviewed on a rolling basis.

Organizations that wish to complete their accreditation prior to Destination International's Annual Convention each July must submit their completed applications by April 16th. Applicants will receive feedback on their initial applications and will be given an opportunity to revise their application if necessary. Applications that are not approved for accreditation may be revised and re-submitted following the Annual Convention.
Organizations that wish to complete their accreditation by the end of the calendar year must submit their completed applications by October 1st. Applicants will receive feedback on their initial applications and will be given an opportunity to review their application if necessary. Organizations that are approved for accreditation during the fall/winter review cycle will be recognized at the following Annual Convention in July.

Applicants are not penalized for revising and re-submitting their applications.