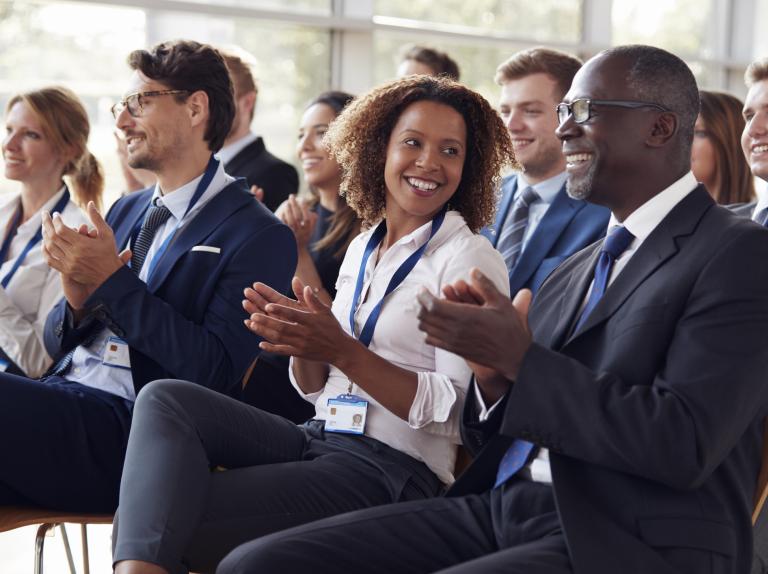 Q&A with Mazda T. Miles, CMM, Chief Event Strategist, Perfection Events, Inc., Antwone Stigall, CMP, DES, Chief Events Officer, Antwone Stigall & Co., and Former International Chair, Diversity & Inclusion Task Force for MPI 
Meetings are a place to bring together people and ideas. And in order for meetings and events to be fruitful for all, diversity should be considered as a strategic and deliberate part of the planning process. Diversity is about more than just who is invited to the meeting.  It is about who is given roles of participation, content and leadership. When diversity is infused throughout the meeting, inclusion thrives.
Mazda T. Miles, CMM, Chief Event Strategist, Perfection Events, Inc. and Antwone Stigall, CMP, DES, Chief Events Officer, Antwone Stigall & Co., and Former International Chair, Diversity & Inclusion Task Force for MPI give their insight about how to ensure diversity is front and center in your next meeting.
What do you perceive as the most common gaps, mistakes and/or assumptions made by the meetings industry with regard to diversity and inclusion within meetings and events?
Mazda: One of the most important things to do when looking to increase diversity and inclusion is to be collaborative. Consider getting feedback from others regarding your ideas and ask them for their ideas on how to make your meeting more diverse/inclusive.
It is perfectly fine to be clear you don't expect one person to be the voice of all of "their people," but let them know that you value their feedback, and would love their thoughts on ways to expand the diversity/inclusion of your meeting. Bring various voices to the table and collaboratively work out solutions. Unfortunately, I've attended too many events with all of the right intentions to make me feel included, and what was meant to be thoughtful was actually offensive. My first question was: "who collaborated on this approach?" and I inevitably found out that one person, or a group of non-diverse persons, made all of the decisions.
Antwone: The most common mistake in meetings and events is that we as planners and suppliers don't recognize our own biases during the planning and execution process which in turn pushes us to ultimately fail with diversity and inclusion. Additionally, some of us are working toward being more diverse and inclusive, but we are not thinking about equity which ties it all together and sustains it.
What would you suggest as some actionable steps for planners who are interested in creating more diverse/inclusive meetings? 
Mazda: I always like to suggest planners think of diversity and inclusion holistically. Think about all the different ways attendees will interact with you and with each other, and think of ways to make ALL of those experiences inclusive - from inception to execution.
There are the most obvious things like making sure speakers and panelists are diverse, including a designated prayer room and/or culturally diverse menus. There are also less obvious things such as how you ask about gender during the online registration process. Every time you touch an attendee, you should think about how to be inclusive.
Most recently we worked with a venue to institute an inclusive restroom policy. The following message was posted on the restrooms: "All are welcome to use the restroom that best matches their identity, or that feels safest and most comfortable to them. Please help hold a safe space for everyone by not challenging or questioning others' restroom choices." This was a strategic decision due to the makeup of the audience, but we pushed ourselves to find a solution that would end up providing a safe environment for everyone involved.
Antwone: Clearly define what diversity means for you as the professional, your company, and then you personally and make sure you get senior leadership involved. Next, figure out what inclusion looks and feels like in your meetings and events. Try surveying your audience. Lastly, set up systems and processes to ensure equity.  It's fine to do a home run in diversity and inclusion one time, but how are you sustaining a culture of it and ensuring its continuation.
What things should you consider as an event planner if you want to be sure your meeting location will support greater inclusion of all participants?
Mazda: I would review the diversity and inclusion policies of the venue as well as look at the climate of the city/locale—are there known tensions and concerns re: discrimination and intolerance in that destination? Ask about the diversity and inclusion ratio of staff and vendors and then finally look at the accessibility efforts outside of generally accepted ADA guidelines—does the venue, or is it willing to, go above and beyond guidelines to make all attendees feel considered?
Antwone: Become well versed in what's going on in the world and who's in your membership. When selecting a location, research, research, research and then ask the tough questions to those selling you the destination.
How would you suggest that planners begin to set objectives and apply metrics for measurement of their diversity/inclusionary efforts?
Mazda: Set expected inclusion across for all 360 degrees of the event planning and process. Get specific… not just "do we have one person of color, one LGBT, one woman…" truly being diverse means shifting the mix from majority to equal footing. So, be intentional—at least 50% of the following mix of these categories should be filled with individuals representing a diverse/minority community. Considerations include: ethnicity, religion, gender, sexual preference, age, and disability/impairment.
Planning Team (internal staff, vendors, and ad hoc committees)
Marketing Materials
Speakers/Panelists
Hired Vendors
Attendees/Participants
Sponsor Organizations
Volunteers
Antwone: Get clear on whether diversity, equity, and inclusion are part of the agenda. Ensure your senior leadership is on board and is a vital stakeholder to its success. Work with them to set goals and metrics for what you want to achieve because the audience you are trying to include is well aware of what's going on and what's happening.