Image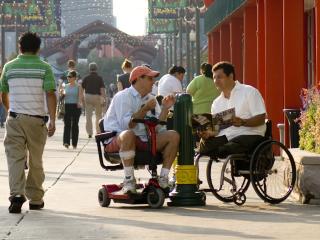 EDI Case Study: Open Doors Organization - Main Content
Open Doors Organization (ODO) is a non-profit organization based in Chicago, IL. Its purpose is to teach businesses and organizations how to succeed in the disability market and make their goods and services accessible to customers with disabilities. ODO approaches every initiative with robust qualitative and quantitative research because the phrase "having a disability" means many different things.
Several ongoing and successful initiatives include:
I Love New York (ILNY) Accessibility Initiative: ILNY worked with ODO to develop a comprehensive, easy-to-use checklist to help New York State attractions inform visitors with disabilities of its accessible features and services. Attractions completed a self-assessment ultimately delivering a comprehensive website with essential details at: iloveny.com/things-to-do/accessibility.
Lyft Collaboration: Lyft has improved the accessibility of its services through driver education, community partnerships and new service offerings. In collaboration with ODO, Lyft developed online driver training courses to demonstrate how to properly assist riders with disabilities, including those with vision loss and those that use mobility devices such as wheelchairs and walkers. Lyft also partnered with local transportation providers to increase the number of wheelchair-accessible vehicles including taxis in Chicago.
Seattle-Tacoma International Airport (SEA) Accessibility Initiative: SEA announced an initiative in 2017 to become the "most accessible airport" in the country. ODO assessed SEA's facilities and services and based on the findings short and long-term recommendations were made to help SEA work toward its notable goal. SEA has since increased physical accessibility throughout airport facilities, created a mobile app with wayfinding assistance and accessibility information and installed new restroom facilities for adults in need of caregiver assistance. SEA was the first U.S. airport to launch the Hidden Disabilities Lanyard program, first introduced by the London Gatwick International Airport.
"Based on a nationwide survey, the disability travel market has a greater economic impact on the travel industry than ever before. During 2018 and 2019, more than 27 million travelers with disabilities took a total of 81 million trips, spending $58.7 billion on their own travel alone (up from $34.6 billion in 2015). The true economic impact is higher, potentially even double, since people with disabilities typically travel with one or more other adults."
Eric Lipp
Executive Director
Open Doors Organization