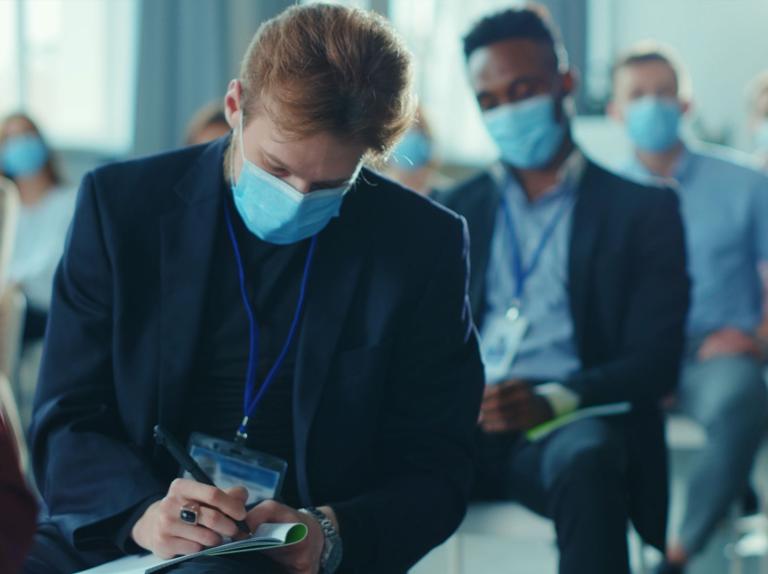 By Mya Surrency, Digital Edge
A Virtual Reality Gone Viral
As the travel, tourism and meetings and conventions industries were turned upside down, virtual capabilities became the industry's safety net. From travel updates, COVID-related website content and outreach emails letting customers know we're ready when you're ready, to the creation of catchy headlines for introducing your consumers to the new normal, your destination has done it all.
Trending Now...
Destination organizations have been hopping on the digitally-focused bandwagon to continue meetings marketing and business efforts, so developing virtual selling skills is critical. Having the capability to properly engage the customer through digital tools can position destinations for success in what has proven to be a challenging present and a changed future.
So, What Now... and What's Next for Meetings?
Destination organizations must maintain proactiveness and strategize how to go beyond the virtual tours and digital FAMs to ensure preparedness for meetings & conventions success, both in the current and post-COVID-19 world, from a safety and cultural perspective.
Now, there's nothing wrong with spending marketing dollars on digital products and tools to virtually sell your destination. Destinations like Branson, Missouri, have done just that and with great success — resulting in 250+ virtual FAM registrations, 171 virtual attendees and a qualified RFP. It's about what a destination can do now and next to capitalize on those virtual assets, showing how the destination is progressing and doing things differently.
The Hype for Going Hybrid
We keep hearing the word "hybrid" being thrown into the meetings and conventions industry mix, so destination organizations need to understand what these types of events entail and how important they are for planners to reap the full benefits. Said to be the path moving forward, hybrid meetings and events are those with an in-person component as well as a virtual component. One thing they definitely are not is new, but they could be to a lot of planners who will need to adapt and need their potential meeting destination on the same page.
One Event, Two Experiences
The value of face-to-face interaction will never go away, but there are times when going virtual is a necessary part of your event program. Hybrid events essentially have to provide two experiences for two different audiences — in-person and virtual — all encompassed in one event. Seems a bit overwhelming, right? But the reality of going virtual can actually be beneficial. Integrating hybrid options into meetings might be the most effective way to get back to group events while being a solution for planners to reach broader audiences and those not yet ready to meet in person. Destinations can help planners navigate this evolution of meetings.
Communication + Collaboration = Can't-Miss Events
Destination organizations need to communicate with meeting planners about the hybrid opportunities they can offer. The key driver for the success of a planner's next meeting or event in your destination is having a strategic, economic model that engages and targets the right audience, delivers the right kind of access, and maximizes profit for your organization.
4 Key Areas in the Hybrid Kingdom
As planners shift from an event organizer role to an event producer mentality for hybrid events, destinations must know how they can accommodate and provide support. This support includes incorporating content, building a sense of community, optimizing sponsorships and gathering analytics from both in-person and virtual audiences.
Incorporate Content
When putting on hybrid meetings and events, it's crucial to incorporate content creatively and strategically for two different audiences to feel included at one event. By providing the technical capabilities and accommodations to support live and on-demand content, both the in-person and virtual attendees can consume the same material, but tailored differently to each experience.
Build a Sense of Community
During a hybrid event, it may seem like an advantage for attendees meeting face-to-face because it's easier to network, build relationships and gain trust. Planners need to work with their destination partners to build a sense of community by creating shared experiences for both audiences. Using technology, such as a mobile application to increase engagement or virtual sessions and breakout rooms to share key takeaways and network, can bridge the gap between in-person attendees and virtual participants.
Optimize Sponsorship Opportunities
The playbook on attracting sponsors has had to be re-written, especially for events that are going fully virtual or hybrid. Allow sponsors to tap into the virtual audience through secure exhibitor buy-ins to participate in a booth, video conferencing options, pre-produced video ad content, sponsored sessions including them in the live discussion, and more. By thinking about how to get back to that level of an in-person-quality event, you can optimize the opportunities to gain leads for you and your sponsors.
Gather Analytics
Before diving into analytics, you must first understand both the in-person and virtual attendees' journeys and know they will be different. By coming up with an overall scorecard to gather web analytics, feedback surveys and engagement scores, you can gain different insights on the experience from two different audiences who participated in your one event. Utilize analytic reports to compare which audience was more engaged, identify potential evangelists, track attendance and be ready for sales and marketing that may emerge.
Digital Edge has developed an invaluable collection of insights and solutions to help destinations develop appropriate meetings marketing strategies. Utilize the free resources or reach out to let the agency help you on the path to recovery.
About the Author
Mya Surrency
Co-Founder

Digital Edge Marketing
Digital Edge is an agency focused on working with CVBs with a specialty in meetings marketing. Mya utilizes her 10+ years of CVB experience create cutting edge meetings marketing techniques from her work with San Francisco Travel, Atlanta Convention & Visitors Bureau and Visit Park City (among others). Mya has led the agency to be honored as Inc. Magazine's 5000 Fastest Growing Companies in America in 2019 and made the Jacksonville Business Journal's list of 50 Fastest Growing Companies three years in a row.