By Andreas Weissenborn, Destinations International
"We wanted to revisit this project a year into this challenging time to reinforce the resilience of LGBTQ+ travelers, and to champion the importance of equity, diversity and inclusion in destination outreach. Again, the results undeniably show that LGBTQ+ travelers are ready to travel, and represent a valuable, loyal audience for tourism businesses that make the effort to genuinely welcome them." – John Tanzella IGLTA President/CEO
In honor of LGBT pride month, our friends at IGLTA, with the support of the IGLTA Foundation, released their 2021 LGBTQ+ traveler sentiment survey of the LGBTQ+ traveler and their intent to travel in the near post COVID world. The survey was conducted over this past spring with over 6,000 individuals participating in over four countries. The survey represents a unique view point to this valuable member of the travel community and it's importance of the visitor economy to our destinations. Let us review some of the key takeaways of this valuable and loyal audience of the tourism industry.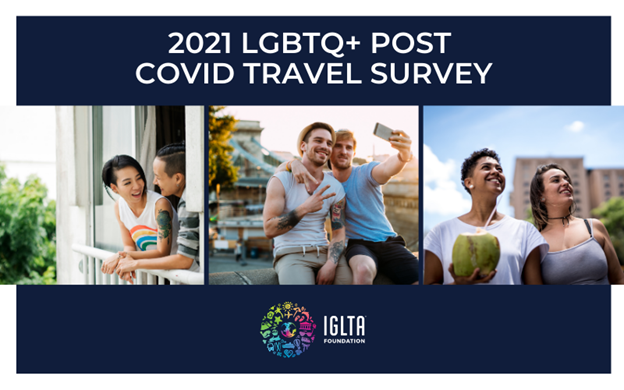 Pent-up demand is real!
Across all participants, 73% indicated they plan to take their next major vacation before years end. However, it is the EU audience with the highest demand, with 82% of the EU participants intended to take a major vacation before the end of the 2021. This is a 5% increase over the next largest segmentation, the US at 77%. With the lowest demand from Brazilian participants at 60%.
Domestic leisure travel is still king, with one exception.
Across all geography segments, taking a domestic leisure trip leads in activity likelihood within the next 6 months. Except for the country of Brazil, where they indicated staying in a vacation home/condo as their most likely activity in the next 6 months. Showing a strong desire from the Brazilian LGTBQ+ travelers the intent to stay overnight in the destinations they visit.
The importance of pride and LGBTQ+ events to your community.
Overwhelmingly, attending a pride or LGBTQ+ festival soon is of the highest activity intentions of participants of the survey. These events not only represent economic drivers of a community but also social and cultural drivers as well. Across the global respondents, attending such an event has an 18% lead over the next likely activity of taking a group trip.
LGBTQ+ travelers are inherently global travelers.
Each geographic segment of LGBTQ+ traveler overwhelmingly has their passport. With 80% indicating 'yes' from all respondents. The lowest percent indicating a 'no' is represented by LGBTQ+ travelers from the country of Brazil with 32% indicating 'no' but still represents a minority in comparison to the 67% who do. This represents an important statistic to the global tourism economy as LGBTQ+ travelers are not only engaging in tourism with their local community but also at the world stage.
Please find the research and other findings from IGLTA at their website location here.