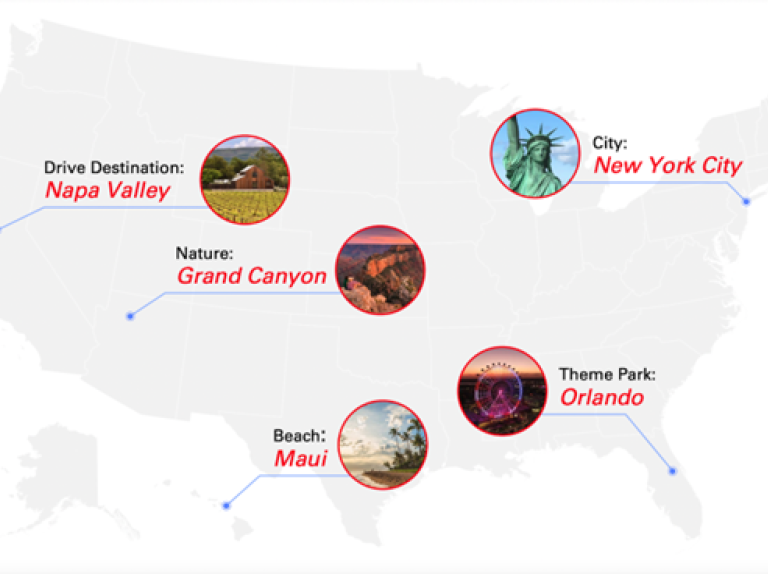 By: Kelsey Waite, Near
In the new world of consumer behavior, many tourist destinations are still finding the new normal. Among all industries, tourism was perhaps the most profoundly impacted by the pandemic, losing billions of dollars in spending. While tourists have been eager to travel in the U.S., those urges have been tempered by continued waves of Covid, rising gas prices, and a looming recession. How have travelers navigated these forces, and which destinations are winning in the new world?  
In our new report, Emerging Trends in U.S. Tourism, Near looked at 5 major U.S. destinations over the last 4 years to answer:
Has tourism returned to pre-pandemic levels in major US tourist destinations?

Where are visitors coming from (domestic vs. international)?  How does that compare to previous years?

How long are people staying at the destinations, and how does that compare to prior years? 

What major points of interest are most popular in each destination?
Here are the destinations we studied: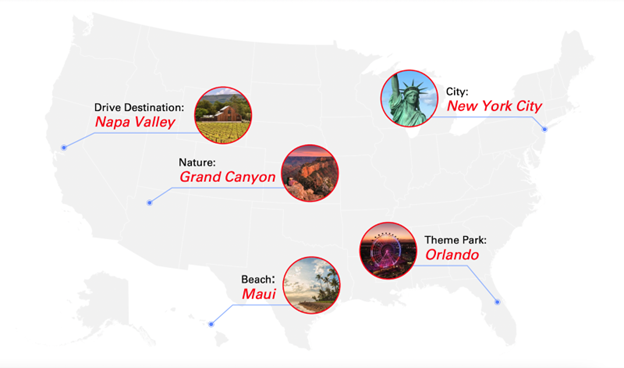 The trends were indeed varied across the different types of destinations, but there were some larger themes that transcended all destinations. Below are two of the trends we identified.
Read the report: Emerging Trends in U.S. Tourism
The Long & Winding Road to Recovery
The destinations analyzed collectively show that they're on a gradual road to recovery. Across the 5 destinations, visitation is 33% lower than it was in 2019, which is higher than the last two years. 2020, in the height of the pandemic, saw visitation across destinations at 72% down from 2019 levels, while 2021 saw visitation at 47% down from 2019.

This shows a steady path towards getting back to normal, though probably not as quickly as many destinations would hope. That said there were very specific and nuanced patterns across each of the five destinations studied.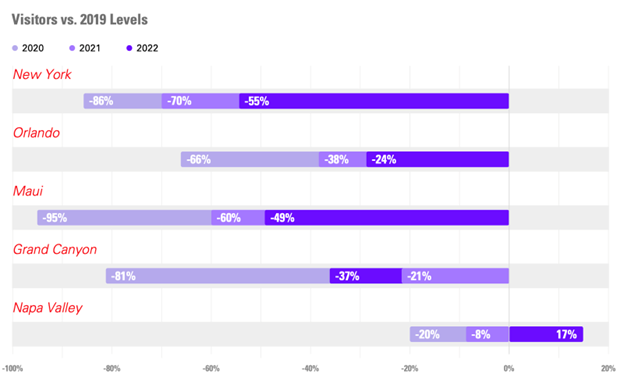 Check out the full report to learn more about the varying patterns for each destination.
International travel is coming back
After very low levels in 2020 and 2021, international visitors started to see an upward trend in 2022. In June 2022 the U.S. lifted a requirement for air travelers to take a Covid test before boarding a flight to the U.S. This restriction was the last main barrier to international travelers coming to the U.S.

Across international travelers, some countries are faster to recover than others. Canada and the U.K. are closest to 2019 levels, while visitors from other countries are slower to come back.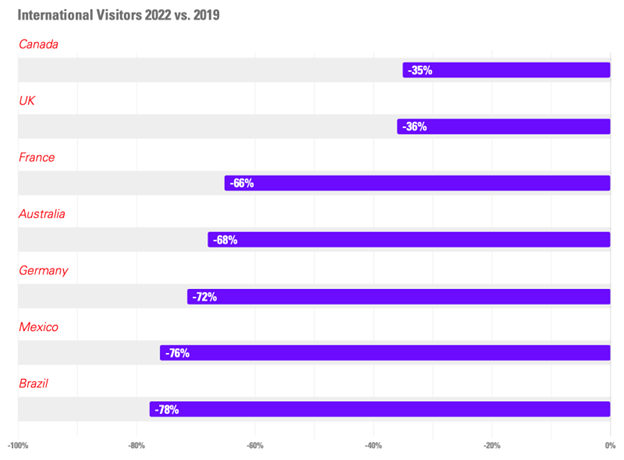 Navigating the new world of traveler behavior
Consumer behavior has changed more in the last 3 years than the preceding 15, and this is especially true of travel and tourism. Destinations need consumer behavior data to navigate this new world and seize the opportunities it presents. While this report looks at 5 specific destinations, these reports can be replicated for any destination to empower traveler insights, market planning, event insights and marketing & advertising efforts.
With human movement data you can:
Analyze evolving visitation trends to understand where visitors are coming from, what they're doing, how long they're staying and more

Get the next level of traveler insights to understand how to market to them and appeal to their interests

Understand the impact of events on your destination, including who came, how long they stayed and what else they did

Maximize the impact of your marketing budget with deep traveler insight and bespoke audience targeting
In today's world, it's crucial for destinations to understand the types of data available to get to know their traveler and improve their experience. Human movement data provides unprecedented, privacy-forward insights into traveler behavior.
Methodology:
Near studied human movement data around tourism in U.S. destinations New York City, Orlando, Maui, Napa Valley and Grand Canyon for April 11- May 31, 2022 vs same time frame in 2021, 2020, 2019. Visitors are defined as anyone who traveled at least 50 miles to the destination. Reports used include Estimated Visitors, CEL (Common Evening Location) Reports, Dwell Time reports, and preference of stay, point of interest, and affinity report.