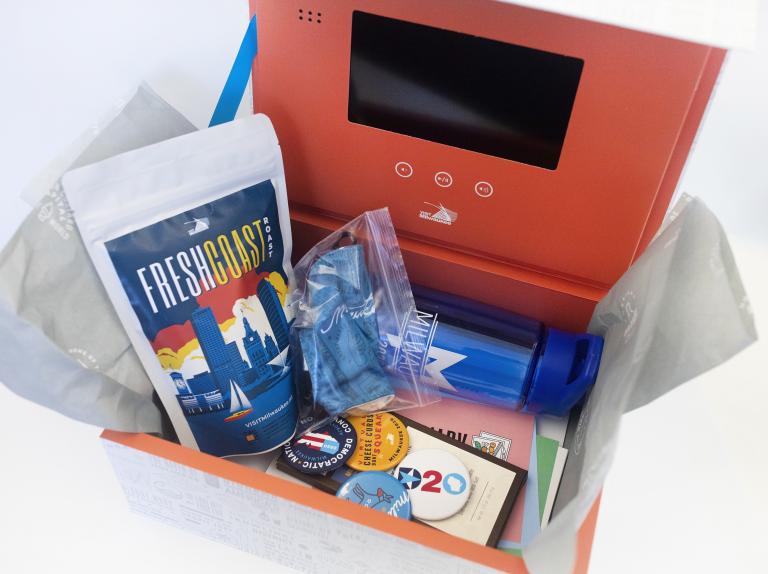 Megan Suardini, VISIT Milwaukee
With the Democratic National Convention, Ryder Cup, USA Triathlon, USA Gymnastics, and Society of American Travel Writers, 2020 was supposed to be the "year of Milwaukee." Here's how VISIT Milwaukee rolled with the punches and made the best of an unprecedented situation. 
In mid-March, the team at VISIT Milwaukee began working from home with the hope that the rising COVID-19 crisis would soon be resolved. After all, there were many events to prepare for, and the team of roughly 50 employees had plenty of work to do. With then-new president and CEO Peggy Williams-Smith at the helm, the company was poised and prepared for a record-breaking year. 
But as we all know now, no one, especially in the tourism and hospitality industries, has returned to a job that looks anything like "normal."
For VISIT Milwaukee's sales team, the pandemic has meant nearly 100 canceled events, equating to a loss of $70 million in economic impact for the community and 91,000 lost hotel room nights. These events are in addition to the drastically reduced Democratic National Convention, which resulted in 4,000 room nights and $3 million in total economic impact -- a far cry from the $200 million in economic impact that the Greater Milwaukee area expected to reap.
Despite all this, the team at VISIT Milwaukee hasn't dwelled on what could have been. In the early days of the pandemic, the team paused regular marketing and began to look inward. How could VISIT Milwaukee best help its own city through this devastating time? The answer included working with hotels to offer deeply discounted rates for first responders, helping to organize blood drives at under-utilized event venues, spreading positive stories through the #GoodThingsBrewing initiative, and pooling digital resources on visitmilwaukee.org so local hospitality businesses would have the information they needed to navigate this unprecedented time. 
As the months crept onward and the DNC neared, VISIT Milwaukee adapted to the constantly changing reality by creating a host of digital tools to market the community delegates should have seen in person. Launched just days before the DNC began, these new digital tools, which we detail below, have now reached over 1.1 million viewers on social and digital channels alone. 
Explore Milwaukee Virtually
Just before the DNC kicked off, VISIT Milwaukee launched a series of 30 short videos that collectively represent a "virtual tour" of the city. With themes from international flavors and old fashioneds to diverse houses of worship and kayaking along Milwaukee's river system, the video series reflect Milwaukee's status as a melting pot of vibrant cultures and activities. Thirty passionate community members narrate the videos, bringing a personal touch and infectious energy to each. The videos were produced by two young local filmmakers, and several are scored by music from Milwaukee band Paper Holland.
Like the virtual tour, VISIT Milwaukee wanted the rest of the world to experience the city we know and love. To that end, the team worked with the talented minds at Milwaukee-based agency Hanson Dodge to create two 30-second commercials called "Powered by the People" and "Unique Unites." Both highlight qualities about Milwaukee that VISIT Milwaukee often hears from visitors and clients: it's a destination that is surprising, welcoming, and unapologetically unique. Both also highlight the city's best asset, its people. 
These videos were pitched to national political media during the DNC, sent to the DNC's caucus groups, and played before each policy roundtable meeting during the convention. They received enthusiastic feedback on social media from locals and strangers alike, excited to see a vibrant, unexpected side of a city too-often hampered by old stereotypes.
From Milwaukee with Love
The pandemic had made it difficult to bring prospective clients and media to experience Milwaukee in person, and when the DNC went totally virtual, the team at VISIT Milwaukee decided to send a little bit of Milwaukee to them. The marketing and event experience teams crafted 400 boxes filled with an assortment of Milwaukee-made treats, like Stone Creek Coffee beans artfully packaged by MKEing Coffee, chocolate from Indulgence Chocolatiers, and candles from Milwaukee Candle Company for delegates, donors, and members of allied groups. Over 100 of the boxes featured a special video message from Peggy Williams-Smith or the "Powered by the People" commercial. The boxes also included a postcard with a QR code to watch the "virtual tour" of Milwaukee.
Once the DNC ended, VISIT Milwaukee's sales team began following up with allied groups that were planning to attend the convention and continued working with the leadership of the Democratic National Convention Committee to encourage them to look to Milwaukee as a city to host future meetings. In recent weeks, the team has been thrilled to once again host meeting planners and travel writers in person to show them the best of the city and all that makes it a wonderful destination.
Put a Pin in It
On top of pitching media, offering Milwaukee experts for DNC caucus meetings, and partnering with local organizations on democracy-themed art installations, the team knew it would still need to commemorate hosting the first virtual political convention in American history, and convention buttons were a natural fit. VISIT Milwaukee's marketing team created eight clever pin designs to show attendees – and locals – that Milwaukeeans still retain their civic pride, and a sense of humor, even in a pandemic. (e.g. "Milwaukee is so rad only a global pandemic could keep me away" and "No shoes, no shirt no problem. Virtual Delegate 2020") 
The buttons proved to be a hit! Buzz on social media about the buttons led to several news articles and even prompted curious locals to stop at the DNC's host hotel looking for them. They were part of what made the four days of the convention an earned media win for the city of Milwaukee – for just Aug. 17-20, VISIT Milwaukee generated 523 million impressions across 318 articles.
Now that the convention has passed, VISIT Milwaukee is proud knowing that it did everything within its power to promote the city to the world during this singular convention. For now, the team is back to work booking meetings business for future years, armed with the new, impressive digital tools and immense knowledge gained in the last six months.
About the Author
Megan Suardini
Chief Marketing Officer
VISIT Milwaukee
Megan has had the privilege of promoting the unique and wonderful tourism industry of Milwaukee for the past seven years. Before joining the VISIT Milwaukee team, Megan worked for Choose Chicago for four years, so she's always been passionate about tourism. Megan also sits on the board of directors for the Westown Association of Milwaukee, Milwaukee Riverwalk Distrcit, and the Olde Hillcrest Neighborhood Association. When she's not cheerleading for Milwaukee, this Xavier University alumna can be found playing a round of golf or enjoying the Milwaukee parks with her husband and son.