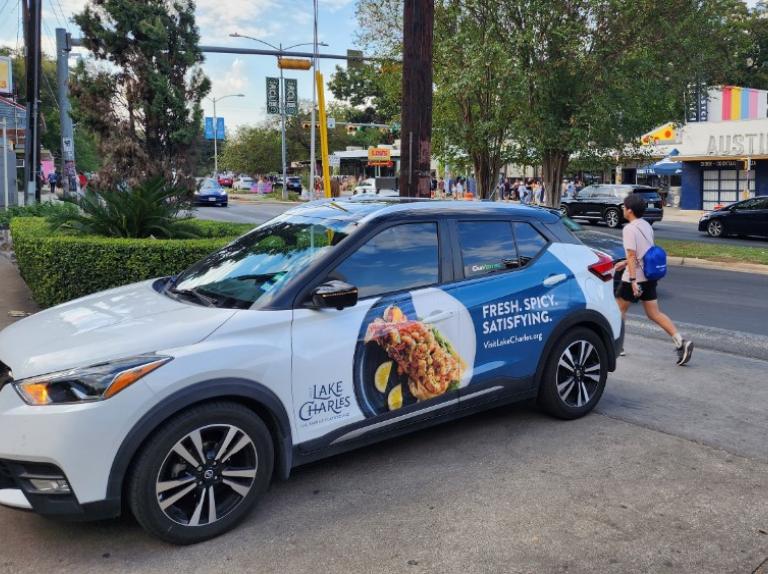 Bottom Line:
It's a question DMO marketers find themselves constantly wrestling with: How can we differentiate ourselves in a sea of sameness?
That's a dilemma we helped our partner, Visit Lake Charles, solve last fall through a clever integrated marketing campaign targeting Austinites that included wrapped vehicle advertising. The results of the campaign were impressive: Visit Lake Charles saw a big spike in overnight stays from Austin residents and received a Louey Award for Tourism Campaign of the Year from the Louisiana Travel Association.
Here's how the campaign unfolded, along with three lessons learned along the way:
Lesson #1: Target smartly.
Visit Lake Charles' marketing team decided to target Austin for its fall campaign after noticing a spike in website visitation from people in that area. After digging into the data, with the help of visitor insights from the Zartico Destination Operation System, the team saw a correlation between people from Austin who visited the visitlakecharles.org website and those who traveled there.
But it wasn't just the apparent interest from Austinites that made the city an ideal candidate for a larger campaign. It turns out that residents of Austin who travel to Lake Charles outspend travelers from Houston — another big market for Lake Charles.
"While Houston is our top performer, we focused this campaign on not just visitation, but also spending," says Timothy Bush, chief marketing officer for Visit Lake Charles. The lesson? Digging deeper into the data might reveal surprising insights that can help identify targets for your next campaign.
Lesson #2: Dare to be different.
With its target audience in focus, Visit Lake Charles and its marketing parters went to work. The team hoped that by emphasizing Lake Charles' exploding culinary scene, it could entice travelers to venture beyond the popular casino resorts and explore more of the destination. The lynchpin of the campaign was tantalizing secret weapon: a fleet of rideshare vehicles covered in stunning images of Lake Charles.
One side of each car featured a larger-than-life image of a mouthwatering shrimp po'boy along with the message, "Fresh. Spicy. Satisfying," while the other side featured a poolside scene depicting Louisiana's playground along with the slogan, "When an afternoon takes an unexpected twist." Both sides included Visit Lake Charles' colorful logo.
The head-turning vehicles, created in partnership with Carvertise, rolled through Austin's streets for three months and even made an appearance at the Austin City Limits Festival, reminding festival-goers that they could enjoy an authentic, tasty po' boy and other delights just a short road trip away in Lake Charles.
The effort was an integral part of a three-month integrated, $150,000 effort that also included an Instagram food influencer, who served up tasty images of the Lake Charles food scene; and digital ads directing hungry travelers to a gourmet-inspired guide of the area. The Carvertise campaign was used as a top funnel tactic which helped complement bottom-funnel initiatives by Adara and Expedia, according to Bush. This marked the first time in the destination's history that it had included so many different elements, including car wraps, in a campaign.
The bottom line: Tantalizing potential visitors with mouth-watering images on cars — along with tasty digital ads and Instagram photos — was a bold approach that worked.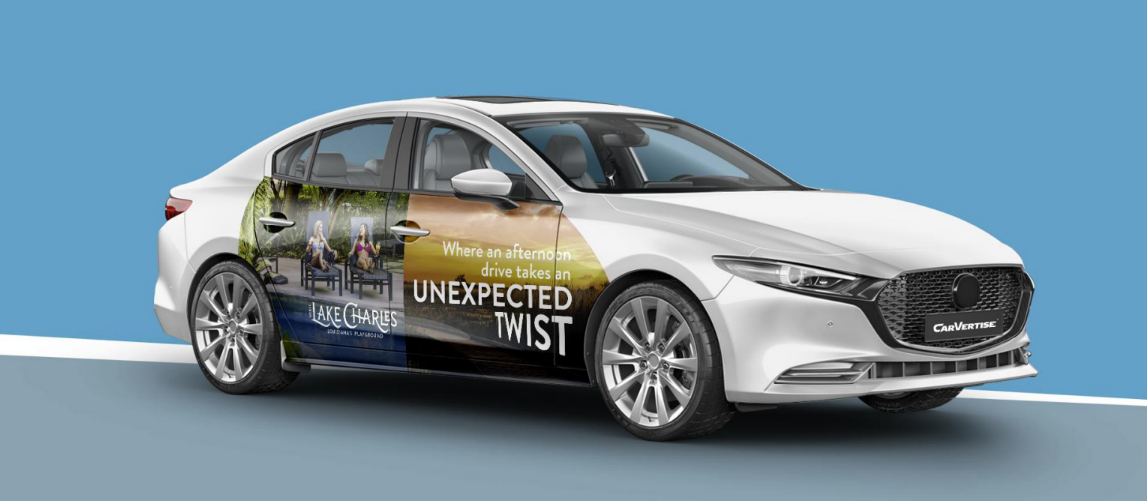 Lesson #3: Examine the ROI
Of course, the proof of any good campaign is in the return on investment, and Visit Lake Charles had all of the mechanisms in place to measure ROI. The results: From August to October 2022, Lake Charles saw a 65% increase in web visitors from the Austin area compared to the previous year. Even better: Overnight stays from Austin increased by 8.5 percent and food spend by 8.5 percent.
And, the campaign gained statewide attention: In January, The Louisiana Travel Association awarded Visit Lake Charles a Louey Award for Tourism Campaign/Promotion of the Year for the campaign.
Bush attributes part of the success of the campaign to the wrapped car initiative. "Consumers are constantly bombarded by so many advertising messages they must filter through," Bush says. "The partnership [with Carvertise] allowed Visit Lake Charles to show Austin travelers the value our community holds as a destination.
Visit Lake Charles is one of dozens of DMOs that are experimenting with wrapped vehicle ads as a way to reach their target marketings in a memorable way. One current example: This winter, Visit Mesa in Arizona deployed a fleet of rideshare vehicles throughout high-traffic areas in Chicago to promote Arizona's winter warmth and sunshine and entice would-be visitors to book their spring vacations there. The cars beckoned travelers with strong visuals of Arizona sunsets and messages like: "Blizzards' Exact Opposite," "Let's Work on That Winter Tan," "Warm Up Your Life" and "Our Winter Layers: Sunscreen."
DMOs that are considering this memorable form of advertising should take notes from Visit Lake Charles' successful approach. By zeroing in on their target audience and closely monitoring ROI — while taking a creative, out-of-the-box approach — they were able to exceed their marketing goals and boldly break out of the sea of sameness.