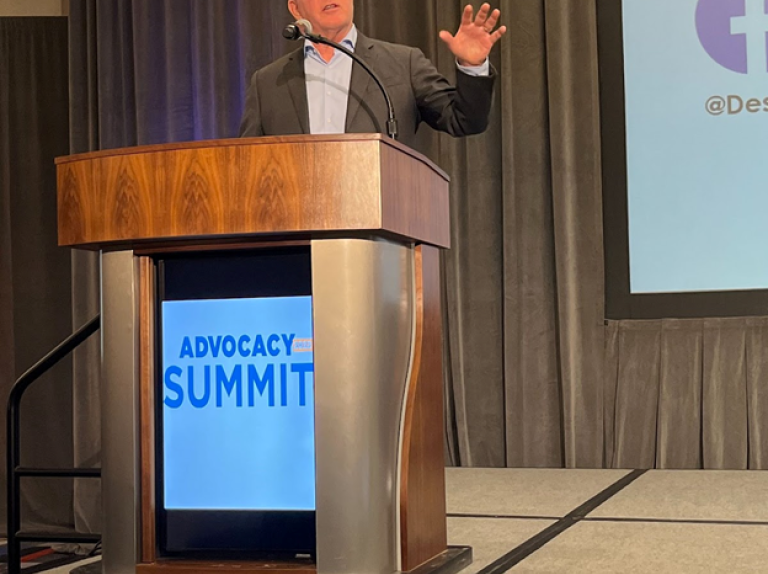 By: Charles Cunningham, Sparkloft Media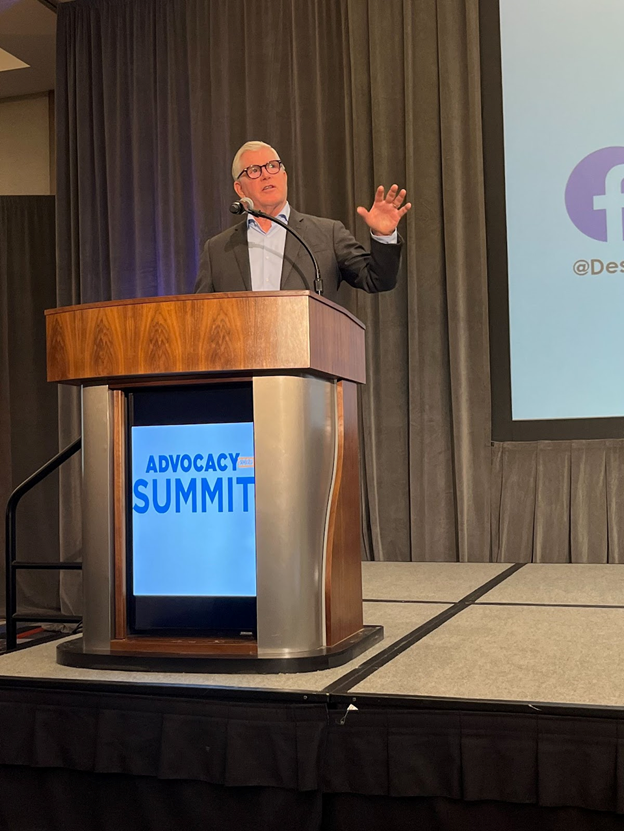 The Sparkloft team had the absolute pleasure of attending the 2023 Destinations International Advocacy Summit in Bloomington, MN the past week. 
This was our first time attending Advocacy Summit, and the intimate format of the conference provided unique opportunities for robust discussion and connections between destination marketing colleagues. 
As a social-first creative agency, advocacy falls under how we approach messaging, creative and community engagement, so it is typically a consideration among how creative programs for our destinations marketing clients. However, Advocacy Summit gave us a deeper understanding of the issues facing destinations and how we can help as part of the broader picture. 
Apart from the great connections we built, and the hospitality we enjoyed at the hands of The Bloomington CVB here are the three takeaways from the summit. 
1. Cannabis Tourism Is fast becoming an accepted part of the destination experience for travelers.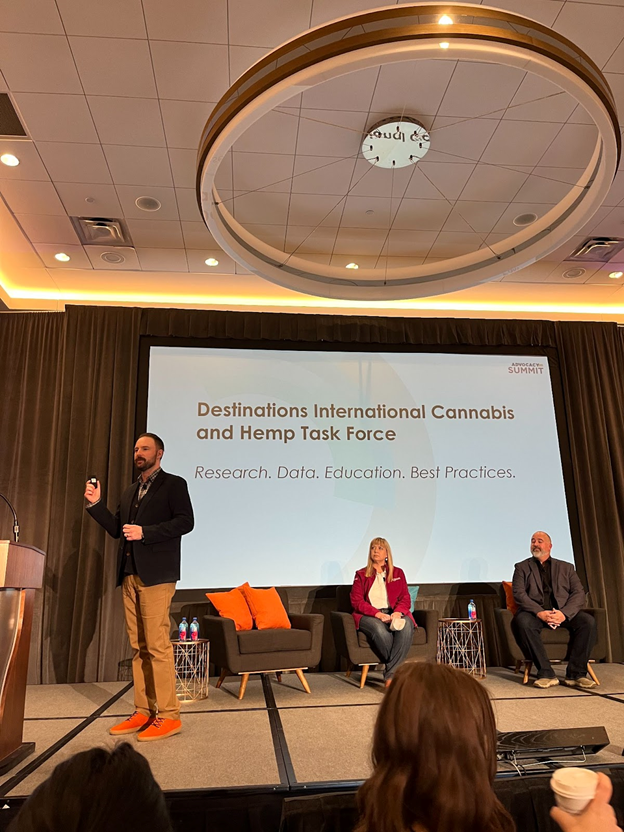 At Sparkloft we ran our first cannabis tourism campaign for a client in California in the mid 2010's, in what at the time seemed like an easy thing to do on the west coast. Back then however, any kind of cannabis marketing was strictly prohibited across most social channels, and some restrictions remain today. 
What has changed has been the number of states and counties that have legalized recreational use of cannabis products and destinations that are now including it in their marketing messaging. 
Andreas provided a great snapshot into the current state of cannabis legalization in the United States with 19/50 states having legalized marijuana(either recreational, medicinal or both). In addition Nebraska, South Dakota, New Hampshire, and North Carolina are pushing for legalization in upcoming legislation. 
Andreas and Brian both hit on economic impact, with figures supporting in California alone in 2011, the legal cannabis industry in California accounted for approximately 800 million in state tax revenue, 300 million in local taxes, and created an estimated 100,000 jobs, even more interestingly that every $1 spent at a cannabis retailer contributing to $2.80 injected into the local economy1
As one could safely assume, when we the panel looked at who the "Cannabis Consumer" was, it skewed younger, but not exclusively(31% of Gen X and 19% of boomers are included in the Cannabis Consumer segment)  and there has been an 8% increase the share of the "active leisure traveler" who consider themselves a cannabis traveler(37%) 2
What this all ultimately points to, is that destinations need to be thinking about how they can facilitate cannabis tourism as when legalized, the cannabis consumer is already visiting your destination. 
The panel suggested the destinations educate, advocate and facilitate cannabis tourism in partnership with local authorities, businesses and content creators. Where we still see a barrier is the acceptance of cannabis marketing across both organic and paid social and digital channels. All mainstream channels currently have heady restrictions for cannabis related marketing similar to other controlled substances such as no paid media, restrictions on certain types of content, strong CTA's and age-gating. 
For now, destinations should remain a resource via collateral, the website and a strong community engagement plan for social media.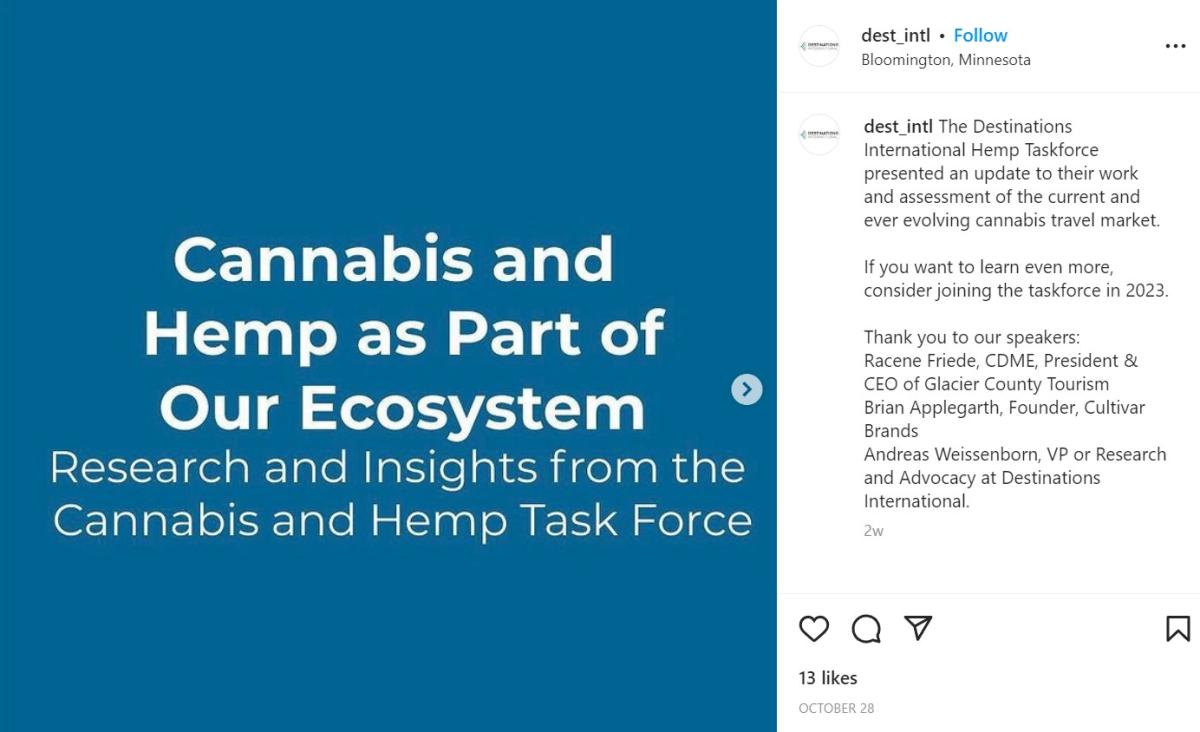 2. Hot tea from Jack Johnson, travel bans don't work. 
Jack hosted a number of sessions throughout Advocacy Summit and garnered everyone's attention with photos of his dogs. It was however his sessions on travel bans that was particularly fascinating. 
Bans and Boycotts are something that the Sparkloft team feel the brunt of when it comes to managing a destination's social presence and the ensuing deluge of vitriol-filled comments when a ban or boycott is launched at one of our partners. Rarely however, do these boycotts and bans hold weight in terms of affecting policy change or impact the organizations/people they intend to. 
Jack showed us initial data showing that as expected, boybotts/bans are a divisive issue and that the split between support and oppose to be 39%/40% respectively. The numbers were similar in terms of perception of effectiveness. 
The reality is quite different, as boycotts and bans are aimed at convincing policy makers to change legislation/proposed legislation the outcome is impact on the hospitality industry and NOT policy makers. The data points to boycotts affecting the hospitality industry at a rate of 72% compared to policy makers at 40%, the hospitality industry by far carries the burden of these campaigns. 
Jack, always the optimist, provided three ways we both as destination marketers and travelers can make constructive change and support the hospitality industry at the same time. 
Be Visible: If an issue is important to you or your organization, bring your stance with you to the destination. 
Empower those working for change: Consider donations in time, resources or money to support those working affect change on specific issues. 
Leave a legacy: Don't only consider your impact towards change as a one off, consider building out an ongoing program to support a cause within a destination. 
From a social perspective we could not stop thinking about the importance of a:
Crisis communications plan.
A strong community engagement framework for social media. 
We are excited to learn even more about this topic as Destinations International releases a policy paper and resource toolbox for destinations in 2023. 
Session: Cannabis and Hemp As Part of the Ecosystem
Speakers: Andreas Weissenborn​, Vice President of Research & Advocacy​, Destinations International. Brian Applegarth​, Founder​, Cultivar Brands​. Racene Friede​, President & CEO​, Glacier Country Tourism​
3. Is it time for destinations to BeReal?
This wasn't on the agenda at Advocacy Summit 2023, but the sessions aren't the only place where strong debate occurs. At numerous times during the three day summit the Sparkloft team was asked about our thoughts on BeReal, the new(ish) social media app that has gone viral and has left brands wondering where their place is. 
Like all new social media channels, we have continued discussions with clients about the opportunities both for testing and longer term investment. 
If you're not familiar with the app, it is a once a day engagement, where at a random time you'll be sent a push notification to "Be Real". You've then got two minutes to take a combination front and rear camera photo. The intention being that this post is as real as it can get on social media. You can of course, post later but you post will shown as "posted late" and no one wants to be that uncool. 
For brands, the opportunities are very limited. There is not brand profile, no paid advertising or analytics. For destinations, you can do one two things: 
Set up an account and BeReal as a destination. This would be pretty unique but you would be at the whim of an unpredictable timed post and could be a resource intense exercise. However if you are a destination marketer who finds themselves in the field a lot a few opportunities present themselves: 
Hand over the keys to a trusted content creator or local personality. 
Utilize a mascot as the personality behind your presence. 
Show the most unedited aspects of your destination. 
The other opportunity is to use BeReal as a content source and encourage your community to create BeReal content and share it with you. 
Either way, BeReal for now should be viewed as a short term engagement opportunity and not likely a long term brand platform. 
You can read more at the Sparkloft blog here.