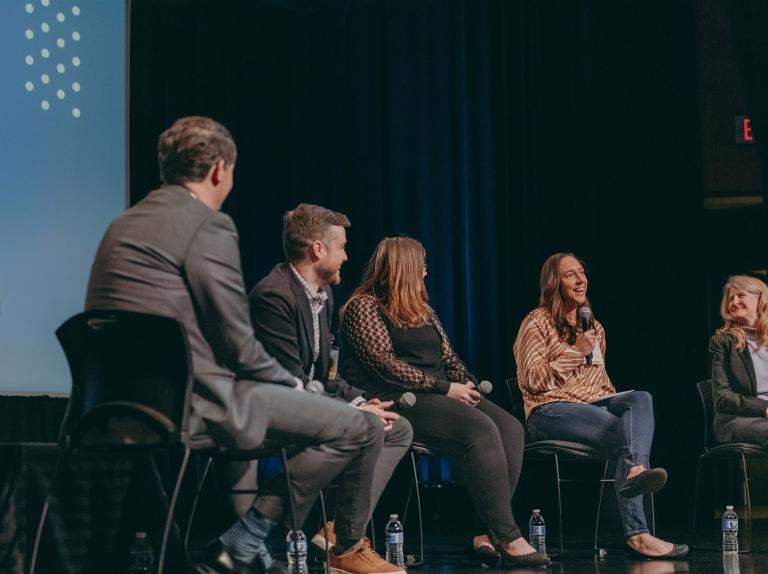 Bottom Line:
Looking to improve upon your destination's accessibility content, but unsure how to get started? Here are a few quick tips that will help DMOs of any size navigate website accessibility, partner engagement, and the development of a destination accessibility guide.
Looking to improve upon your destination's accessibility content, but unsure how to get started? Here are a few quick tips that will help DMOs of any size navigate website accessibility, partner engagement, and the development of a destination accessibility guide.
Why Promoting Accessible Travel Matters
Promoting a destination's accessible features, services, and activities has become increasingly important for DMOs, as they aim to attract individuals of all backgrounds and abilities to experience their destination's attractions, hotels, restaurants and cultures.
A large portion of the population is or will be impacted by a disability at some point in their life. In fact, 1 in 4 Americans have some type of disability — be it mobility disabilities that require the use of a wheelchair or walker, or more "invisible disabilities" that require cognitive or sensory assistance.
Individuals with disabilities travel just as frequently as those without disabilities, and often travel with their friends, family or companions — together contributing to a destination's economy and boosting the economic impact driven through travel and tourism. In fact, accessible travel is also estimated to be a nearly $60 billion market.
How can DMOs better attract this audience of travelers to their destination to further support their hospitality community? How can they leverage their website's authority to establish the destination as a leading contender for accessible travel? Here are a few easy ways to get started…
Improve Your Website's Accessibility
Most importantly, your destination website and its content should be accessible to the widest possible audience. Most modern websites, including all Tempest-developed websites, strive to meet the Web Content Accessibility Guidelines (WCAG) set forth by the World Wide Web Consortium (W3C). Divided into three levels of compliance — A, AA and AAA — the majority of DMO websites tend to fall within the AA level, which allows destinations to maintain many of their branded elements and design features, while still being accessible to a large portion of the public and their devices.
However, launching an accessible website is not the end of a DMO's accessibility work, but rather the beginning. Accessibility plugins, like UserWay, are a great option that allow users to transform your website's content to accommodate specific needs, but they are not a "silver bullet" to addressing all accessibility best practices. Consider folding these quick, easy actions into your day-to-day website operations to improve content accessibility:
Add image alt text to all image files featured throughout pages, blogs and other content on your website. These short, 120-character-or-less descriptions should focus on describing what is pictured within the image, allowing those who utilize screen readers and similar devices to comprehend your storytelling without issue.
Add or enable video subtitles or audio transcripts if featuring a video or audio recording within your content. For example, if you are sharing a podcast recording, consider providing a full written transcript of the episode beneath the audio player on the page or blog.
Check for color contrast issues prior to introducing new branding or creative elements to your website. Try to avoid vivid, bright colors overlaid on top of one another to ensure individuals with color blindness or other visual impairments can view your content without issue. There are several free color contrast tools available as extensions for browsers like Google Chrome.
Add an accessibility statement to your website, indicating where you are currently on your accessibility journey, your website's current compliance status and your accessibility goals, and how visitors can engage with the DMO to offer suggestions or opportunities for improvement within website content.
Engage Partners & Local Businesses
DMOs are only able to promote accessible features if the restaurants, attractions and other businesses within the destination offer them. Consider hosting a casual or formal gathering of partners or local stakeholders centered around accessibility, explaining the significance and potential economic benefits that come with accessible travel, as well as ways those businesses can implement accessible practices and promote those features via the DMO website.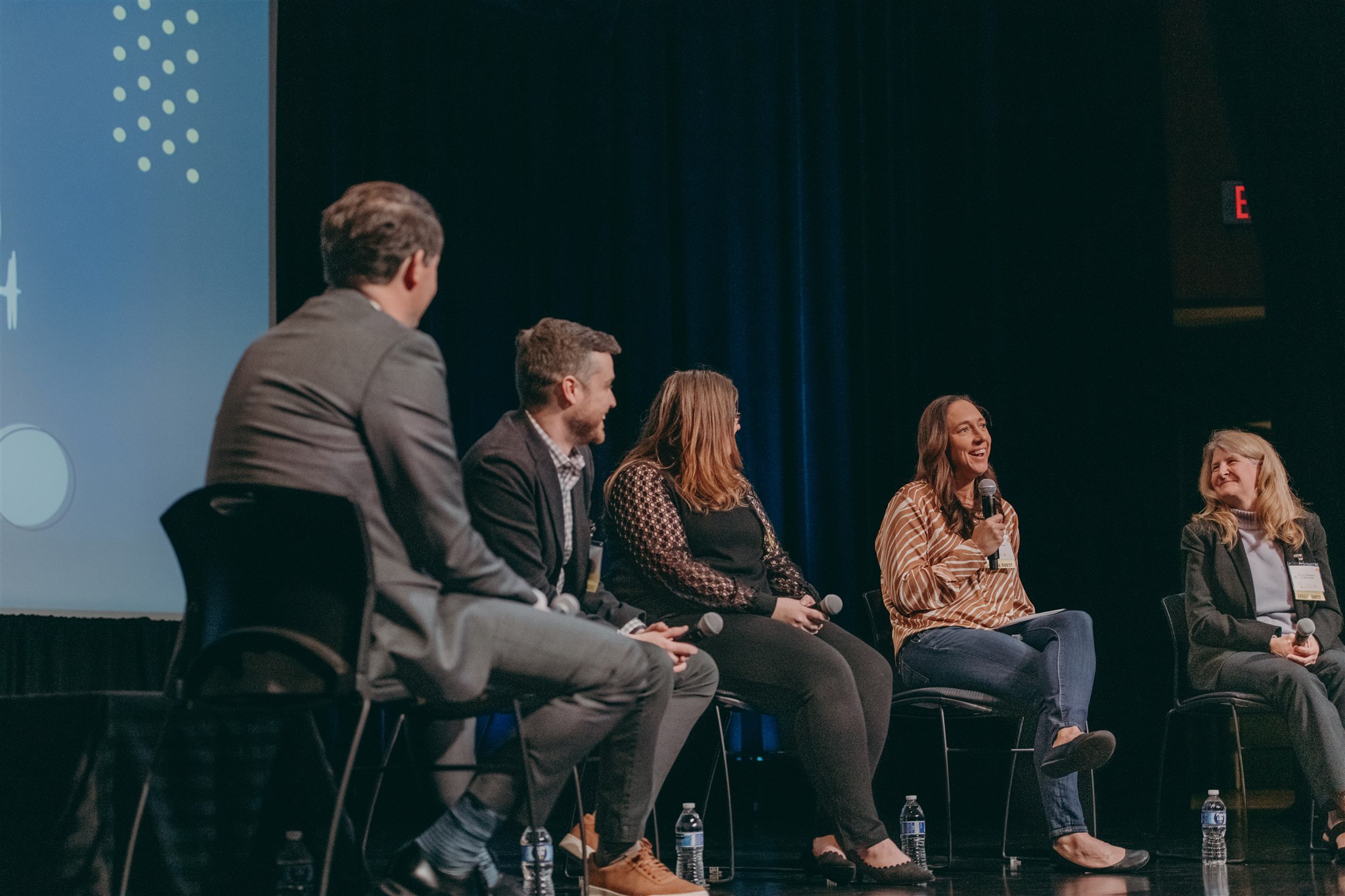 In March 2023, Discover Lancaster gathered local stakeholders for a quarterly partner mixer, with the evenings content focused on accessibility. In addition to providing updates on Discover Lancaster's accessible efforts and content, they also invited a panel of experts — including Tempest's Director of Growth Marketing — to share specific insights into best practices for accessible features, overlooked needs, strategies for promoting accessibility online, and the benefits of working with Discover Lancaster to amplify their services. The partners were also introduced to Alexandria Allen, an influencer based in the Lancaster area who uses a wheelchair. She shared highlights from a recent familiarization trip (FAM) visit hosted by Discover Lancaster and some of the key accessibility features she looks for in destinations.
Build A Destination Accessibility Guide
A 2022 study revealed that more than 80% of travelers surveyed with disabilities would be more likely to consider a destination if there was accessible information available online. Unfortunately, this information is often decentralized and shared across multiple different websites or relegated to a page deep within the sitemap of a local attraction or business. As a DMO, it is your responsibility to efficiently connect prospective travelers with the resources they need to effectively plan their visit, meeting or event. In the realm of accessibility, this often translates to developing a singular accessibility guide for your destination, hosted on your website.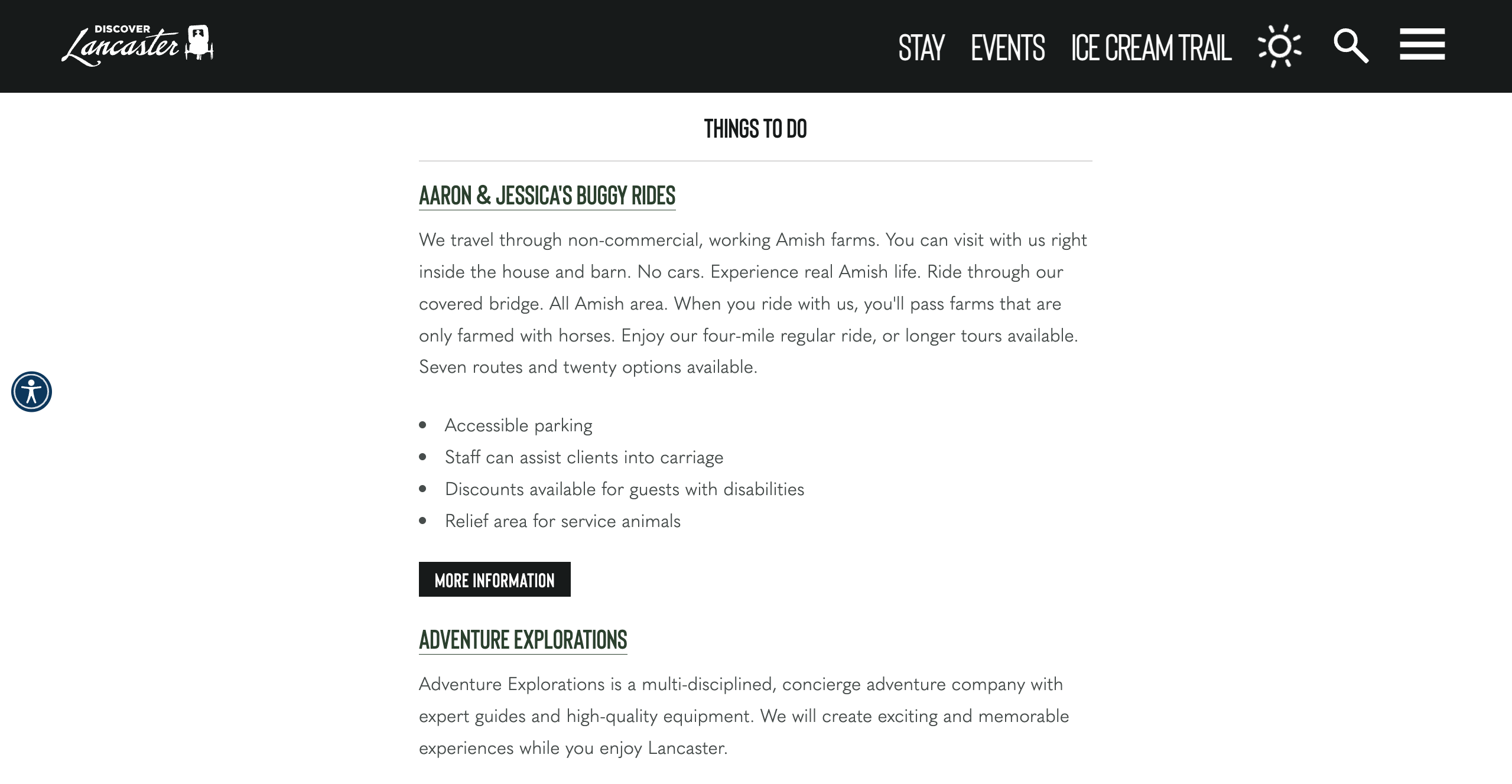 To begin, survey your partners, complete research online, or schedule in-person site visits to compile information about the accessible options available at local businesses, attractions, restaurants and hotels. Leave no stone unturned and try to gather as much applicable information as possible during your research — you never know who it will benefit. Several key items to research and consider highlighting in your guide:
Is the attraction/hotel/restaurant/venue/business wheelchair accessible? Beyond the typical ADA-compliant ramps and parking spaces, also look for doorways wide enough to accommodate wheelchairs, beds that allow wheelchairs to pull underneath of them, and bathrooms customized to accommodate those with mobility disabilities.
Does the attraction provide sensory-friendly experiences and activities for those affected by Autism Spectrum Disorders?
Does the venue/attraction provide ASL interpreters, assisted listening devices, open captioning and audio descriptions?
Does the business provide braille signage, programs or other materials?
Are there benches or seating options available for those who require rest during their visit?
Once you have ample information, begin constructing a hub within your website to house these important details. A few additional things to consider when building your accessibility guide:
Make sure it's easy to find, thoughtfully placed within your website's information architecture and accessible via your site navigation. We'd recommend housing it within the Plan Your Visit section of your website.
Make sure the content itself is easy to read, interpret, and understand. Keep the page light on pictures or videos and instead prioritize the information itself. When presenting the information, use bulleted lists to easily outline what accessibility features they offer and improve scannability for users.
Consider hosting the content in dedicated sections for each business type — things to do, restaurants, services, hotels, and so on — as showcased on Discover Lancaster's accessibility guide.
Add a call to action at the top of the guide, encouraging local businesses, residents and visitors to engage with your organization to collectively work towards a comprehensive, resourceful guide.
Tempest Is Here to Help
Interested in learning more about the benefits of accessibility content on your DMO website? Have questions about how to get started, or need help building out your accessibility page? Contact Tempest today to learn more about their content, SEO and performance marketing solutions available as part of their Growth Marketing services, or to inquire about developing a new, accessible destination website.