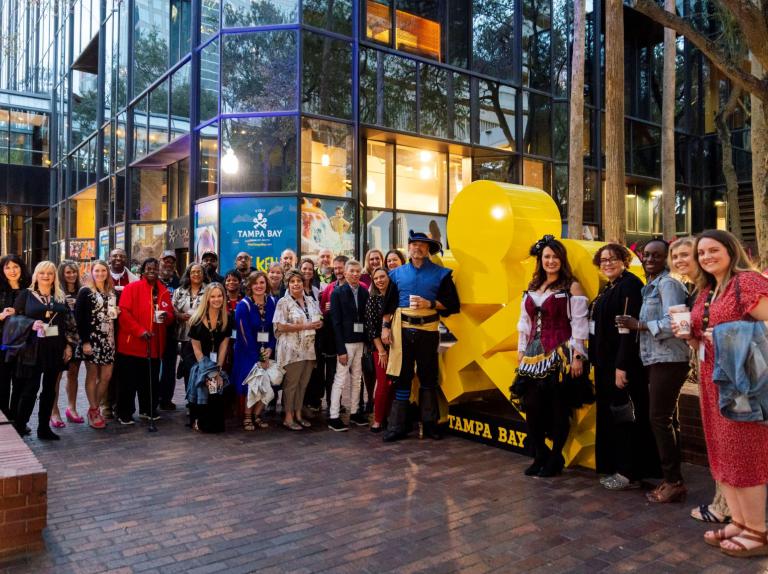 Bottom Line:
Tampa Bay uses EIC to show how event organizers can use EIC data in demonstrating the value of their work – and yours.
The hip, urban heart of Florida's Gulf coast beats in Tampa Bay. Bask in the sun, fun, and culture that make Tampa Bay ideal for your convention. Along the 600,000-square-foot waterfront Tampa Convention Center, the Tampa Riverwalk links hotels, restaurants, and cultural venues like gems on a string. Treasure awaits. 
From VIP retreats to the largest events broadcast across the world's stage, Tampa Bay's attendee appeal, diversity of hotels and award-winning airport allow the destination to welcome events of all types. 
Approach to Using the EIC 
Our goal was to help increase awareness of the EIC among event organizers. There were several intended outcomes including how planners can utilize this data and reinforcing the CVB value proposition. 
Visit Tampa Bay developed an educational session on the topic of event impact calculation. The session included round table discussions and case studies illustrating benefits of the EIC over previous methods. Through reviewing the input and output fields, event organizers realized the importance of tracking and sharing this data with their DMO partners.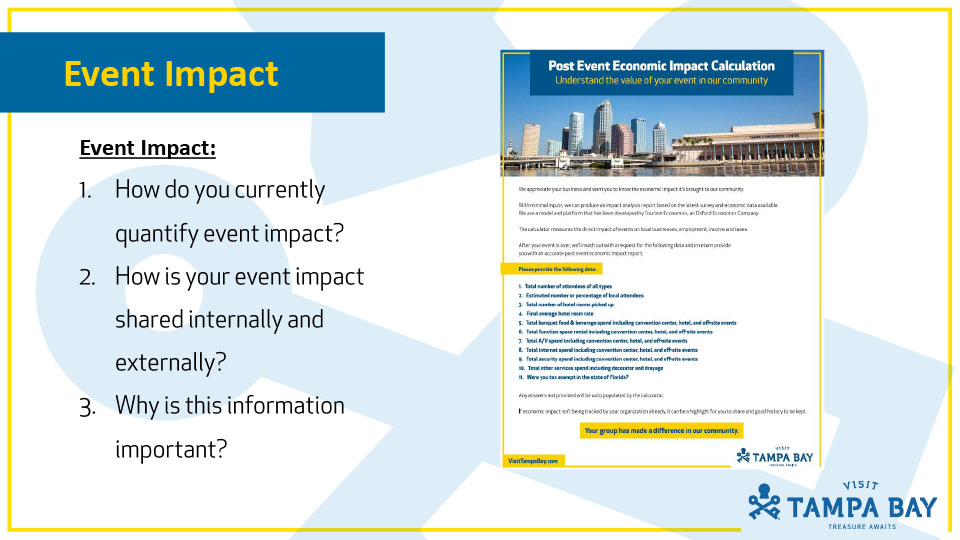 Learning Experience 
We began the roundtable with planners separated into small groups discussing short questions, with each table's conclusions presented out to the large group.  From there, we discussed why destination organizations might be asking different questions than in the past and how this information is used in creating the EIC. Finally, after review of the EIC output, we discussed how planners can use this information and how this is a valuable advocacy tool for destinations.
Event organizers were especially interested in learning how destinations quantify their event impact. As expected, the data capture and application of event impact information varied greatly among the audience. It was rewarding to learn event organizers planned to update RFP content to include data necessary for EIC accuracy. 
In future presentations, we will increase the number of examples showing how event organizers use EIC data internally in demonstrating the value of their important work.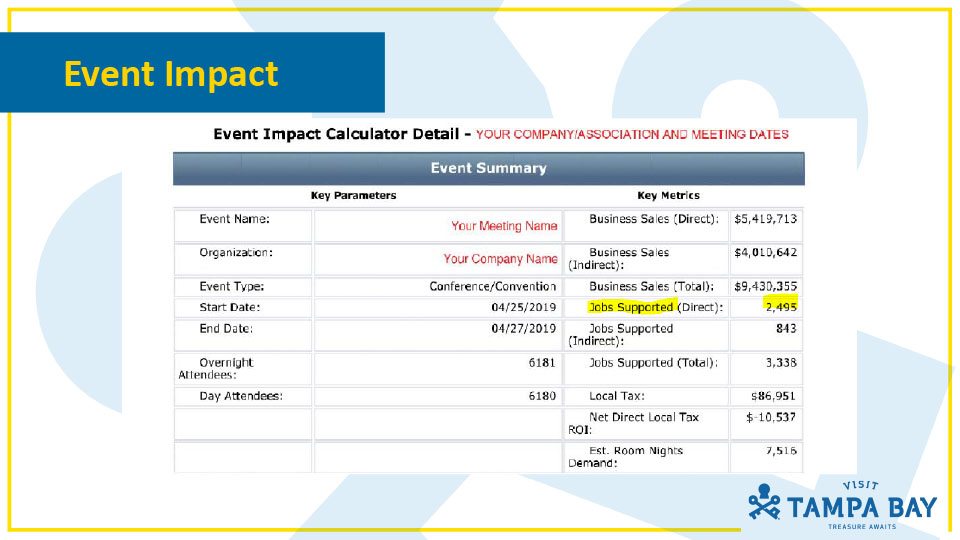 How can a destination organization use the EIC to its advantage? 
It's not difficult. Begin by utilizing the materials available through Destinations International, such as the Standard Practices Handbook, Stakeholder Information, and User Guide. 
Beyond using the EIC to educate stakeholders throughout your community, participate in expanding awareness among the event planning community while reinforcing the importance of involving your local destination experts.
Additionally, our presentation can be easily customized for varying audiences. Download the sample slides below and consider using for educational content during industry luncheons or as a breakout session offering.  Time permitting, include the Destinations International EIC video and provide examples showing the difference in a calculation output using outdated methods versus the EIC.