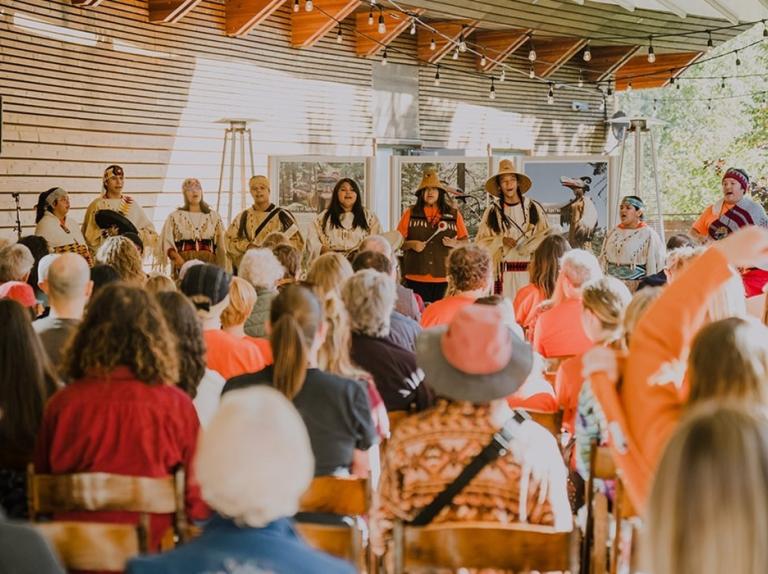 This year, our Destinations International membership team has been focusing on engaging and expanding our indigenous community partners. Many of these tribal councils and bands are working to not only connect visitors to their local experiences and share their history and knowledge but also to create employment and volunteer opportunities for their communities. I am delighted to bring awareness to these new members who have joined our association and have been grateful to work with them to expand our social inclusion. We look forward to welcoming their staff at our future events and we are working internally to share their stories through content, webinars, and speaking opportunities at our events.
If you are looking to develop an indigenous tourism strategy, I highly encourage you to reach out to any of the following members:
Discover Salt River
Chickasaw Country
Choctaw Nation of Oklahoma
Saint Regis Mohawk Tribe
Seneca National of Indians 

The more I learn, the more I want to help educate when it comes to sharing how our members are acknowledging the history with indigenous communities. Saturday, September 30th is National Day for Truth and Reconciliation, a day for all Canadians to commemorate the history and legacy of the residential school system. It is a day to honor the resilience, dignity, and strength of survivors and the intergenerational survivors and remember the children who never came home.  The day was created in response to the 94 Calls to Action by the Truth and Reconciliation Commission of Canada, specifically Call to Action #80, which calls for a statutory holiday to honor survivors, their families, and communities and ensure that public commemoration of the history and legacy of residential schools remains a vital component of the reconciliation process.
The residential school system, which existed for over 100 years, was designed to assimilate Indigenous children into Euro-Canadian culture, forcibly removing them from their families and communities. The system subjected children to neglect, abuse, and the erasure of their language and culture. The lasting impacts of this system continue to affect Indigenous communities across Canada. 
The significance of the National Day for Truth and Reconciliation includes:
Awareness and Education: It's an opportunity for Canadians to learn about the dark chapter of residential schools in Canadian history and its ongoing impacts on Indigenous communities.
Acknowledgment: The day serves to acknowledge the pain and suffering caused by residential schools, giving a platform for survivors to share their stories.
Reflection and Action: It's a day for both reflection on past wrongs and commitment to future action, aimed at genuine reconciliation between Indigenous and non-Indigenous Canadians.
Unity: It's a day for Canadians to come together in the spirit of reconciliation, recognizing that the path forward must be walked together.
Civic Responsibility: The day emphasizes that reconciliation is not just the work of governments or Indigenous leaders but is a collective responsibility of all Canadians. 
Destination organizations can play a role in educating visitors about the history and cultures of Indigenous peoples, thereby fostering a more nuanced and respectful understanding of the places we visit. This can contribute to destination organizations' broader goals of making a community a good place to live, work, and play, while also enriching the visitor experience with deeper cultural understanding.
Below are some ways our destination members are acknowledging this day. Thank you to these members for contributing their commemoration activities. 
British Columbia Destinations
Tourism Greater Victoria:
"We are sponsors of the Songhees Nation "South Island Pow Wow". It is the least we can do to help our nations invite other nations to recognize the day. The pow-wow returned last year after a 20-year absence."  
Destination Silver Star:
"Here is an activity in our area, the Indigenous Learning Tour."
Tourism Prince George:
"Tourism Prince George has a couple of initiatives for Truth and Reconciliation Day.

Our local First Nation, the Lheidli T'enneh Nation, is hosting an event on September 30th on their ancestral lands and historical village site, now known as Lheidli T'enneh Memorial Park. Tourism Prince George is a financial supporter of this event for the second straight year.
We've purchased Every Child Matters Shirts for the staff to wear on Truth and Reconciliation Day. These shirts are designed by Ts'msyen (Tsimshian) artist Morgan Asoyuf. The proceeds on the t-shirt sales for these shirts go to the Native Northwest Reconciliation Fund to support people and families who continue to be impacted by Residential Schools and intergenerational trauma. (Attached is a photo of the Tourism Prince George staff wearing the shirts).
Also, on September 16th, Tourism Prince George was invited to an afternoon with Elder Clifford Quaw at the former site of Lejac Residential School. Clifford, known as number 26, shared his experiences as a Survivor of the Lejac Residential School. Members of the Tourism Prince George leadership team attended the event." 

Image: Tourism Prince George 
Tourism Whistler:
"In Whistler, the Squamish Lil'wat Cultural Centre (SLCC) has a day of programming planned for the National Day of Truth and Reconciliation. Below are the details the SLCC sent to us:

This National Day for Truth and Reconciliation - engage in a day of listening, learning, and reflection at the Squamish Lil'wat Cultural Centre, the heart of Whistler's authentic Indigenous experience on the shared territory of the Skwxwú7mesh and Líl̓wat7úl. Visit on Saturday, September 30th for a full day of programming throughout the Great Hall, Theatre, Galleries, and out on the Mezzanine patio. FREE Admission thanks to Proud Partner CIBC on Saturday, September 30th, and programming with thanks to the Fairmont Chateau Whistler and the Resort Municipality of Whistler. Full event details." 
Sunshine Coast Tourism:
"The Sunshine Coast includes the traditional territory of 5 coastal First Nations, including the Sḵwx̱wú7mesh Úxwumixw, the Tla'amin, Klahoose, Xwémalhkwu, and shíshálh Nations.  In years' past, there have been many scheduled events to recognize the day, but often they are announced only a week or so before so we are still waiting to hear, but as soon as we do they will be posted to this page on our website.

 At our organization, we've always given our staff the day off (even before it was an official stat holiday), so they can participate in the events. The shíshálh Nation's 'tems swiya Museum' is typically open year-round and offers an incredible opportunity to learn about the shíshálh people, their culture, and history.  One particularly impressive exhibit at this local museum showcases the digital reconstruction of 4,000-year-old shíshálh ancestors' remains that were discovered in our region, and the 350,000 hand-carved stone beads they were buried with.  

The local First Nations have always offered such an incredible invitation to the wider community to listen and learn, despite the unimaginable harm that was inflicted upon them.  There are many opportunities in our community to listen to the stories of survivors of the residential school system.  Listening to these stories, while so difficult to hear, are how we acknowledge the truth of what happened, and begin to reconcile the harm by celebrating Indigenous culture and build relationships." 
Alberta
Explore Canmore, Kananaskis:
"In Canmore and Kananaskis, the Town of Canmore will be hosting an in-person Orange Shirt Day Round Dance (Truth and Reconciliation: Town of Canmore). TCK staff will be attending Truth and Reconciliation events, and you will see recognition of this important day on our social channels." 
Manitoba
Winnipeg:
"Here is our Tourism Winnipeg blog for Truth and Reconciliation week which highlights the events happening in Winnipeg on September 30."
Ontario Destinations
Tourism Kingston:
"There are local gatherings taking place, a Sacred Fire from sunrise to sunset, as well as online activations which can all be found on this page on our website: Truth and Reconciliation Day 2023 in Kingston – Visit Kingston. Additionally, we will be launching a new tab on our website; Indigenous Experiences, which will feature our local Indigenous community; vendors, artisans, shops and sites." 
Tourism Mississauga:
"Many events are planned in the City of Mississauga. Find them here."
Tourism Ottawa:
"Here's something we are doing as a staff team, rather than an event in the community. For info, We Voice Reconciliation is one of the key Experience Principles in our Destination Stewardship Plan.  

On Friday, September 29, our entire team is spending the day at Makatew Workshops, one of our Indigenous-owned tourism member businesses. Upon arrival at Makatew Workshops, we will gather for some welcoming remarks from Marc Forgette, Makatew's owner and founder.  We will then have small tours of the workshop itself as people will get to learn what happens at Makatew Workshops and how some of our funding programs helped improve the space.

Once everyone has had a short tour, we will all partake in a medicine bag workshop where each of us will assemble (sew) our very own medicine bag made of locally sourced white tail deer leather.

During the 60-minute workshop, Marc will share on the following topics:

Medicine Wheel Teachings
Cultural Appropriation versus Appreciation
Terminology
Residential Schools, Day Schools and 60's Scoop
Indian Status Card Myths
Truth and Reconciliation's 94 Calls to Action 

Lunch will be prepared by Indigenous Chef Paul Owl with desserts by Karen Smith, followed by a dance performance by Jiggle Dress Dancer Mariah Miigwans." 

Image: Government of Canada 
Tourism Windsor, Essex, Pelee Island:
"We are promoting a few things:  

Museum Windsor – Chimczuk Museum: Museum Windsor's Chimczuk Museum and Art Windsor-Essex (AWE) will be open and offering free admission on September 30, 2023. The Chimczuk Museum, located at 401 Riverside Drive West, includes the Original Peoples Culture and Legacy Gallery.
Windsor Public Library: All branches of the Windsor Public Library will be closed on September 30, 2023; however, displays of Indigenous content and resources will be featured at all branches and online at the Digital Branch throughout the week. Staff have prepared a video on Truth and Reconciliation, and offer the following opportunities for community engagement. Please visit the Windsor Public Library's Events Calendar for additional information.  
Ojibway Prairie Complex: The Ojibway Prairie Complex offers a peaceful backdrop for quiet reflection. Open and accessible to the public, the City encourages everyone to find time to visit these lands and the Ojibway Nature Centre the week of September 25 to 30, 2023, and beyond. Visit www.Ojibway.ca for more information.  
Downloadable Colouring Book: The Healthy Headwaters Lab (HHL) at the University of Windsor's Great Lakes Institute for Environmental Research presents the Ojibway Nature Centre Colouring Book illustrated by Mariah Alexander (Baashkooniingad Kwe, which means "buds on the tree beginning to open woman"), an Indigenous artist from Bkejwanong.  
A community-led Orange Shirt Day committee is hosting a community gathering and walk along the waterfront on Saturday, September 30, 2023. The event begins at 10:00 a.m. in the Vision Corridor alongside Art Windsor-Essex (AWE) at 401 Riverside Drive West, with activities taking place both inside the gallery and in the surrounding outdoor space. The walk will begin at 12:00 p.m., heading along the water to the Ambassador Bridge. For more information, visit the University's Orange Shirt Day event page." 
New Brunswick
Fredericton:
"Here is what is happening in Fredericton - Pomawsuwinuwok (All My People), a community gathering that will focus on healing and celebrating Indigenous culture and music. Taking place on St. Mary's First Nations Powwow Grounds." 

Image: Fredericton Capital Region