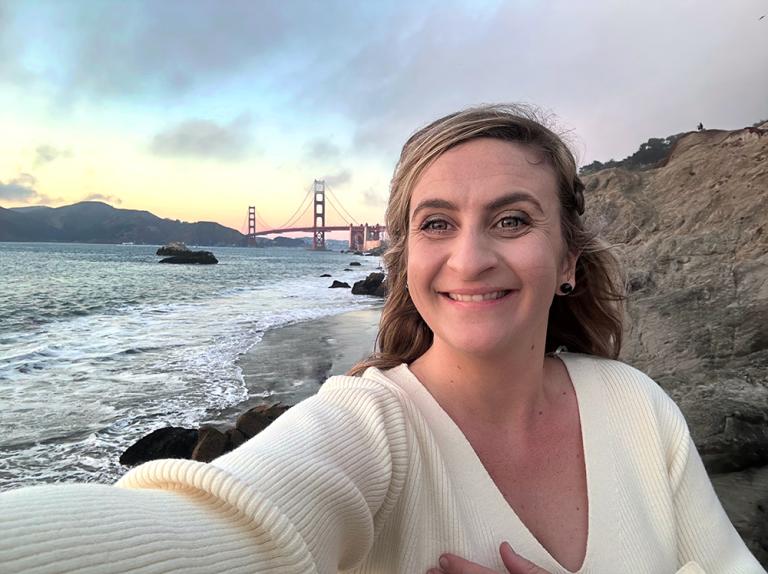 Bottom Line:
Welcome to our newest team member, Ophélie Le Livec, Content Marketing Manager!
Ophélie, also known as Ofé, is a passionate marketing storyteller with 11+ years of international experience in the travel and tourism industry. With a strong background across various departments of DMOs, her expertise shines in delivering innovative solutions and crafting captivating marketing plans that drive visitation and revenue growth. As a DI 30U30 class of 2022 emerging leader, she deeply understands diverse markets and effortlessly adapts to different audiences.
Ophélie spent over six years at VisitNorfolk before joining Destinations International in November 2023. During her time there, she made history by crafting VisitNorfolk's first in-house City Guide, a remarkable accomplishment that continued to thrive year after year. She also oversaw all in-house design, including presentations, flyers, brochures, and more, while actively collaborating with every department to maintain a strong and consistent brand cohesion and awareness.
Passionate about travel and storytelling, Ofé's purpose is to help partners and members and offer unique ideas that leave a lasting impact and hope to make meaningful connections and friends worldwide. 
What is your favorite destination and why?
It's a tough choice since every place I've visited holds something special. But if I had to pick, the state of Utah and its National Parks left me mind-blown.
In one sentence, what is your job at Destinations International?
Bring Destinations International's brand to new heights and turn wishes into reality.
How long have you been with Destinations International?
Officially, this November 1st, 2023. Woot Woot!
What was your first job in the tourism industry?
I was a Visitor Advisor at Carnac Tourism in Brittany, France. (Take a peek> here).
Fun Fact: Carnac has the largest megalithic complex of its kind in the world with 3,000 menhirs aligned and spread out over 2,5 miles (4km), dating back over 7,000 years. It's one of the most important centres of European prehistory in existence!
When you were growing up, what was your dream job?
As a kid, I loved pretending to know different languages by making up words that sounded like English. I recall a family trip to Vietnam where I couldn't understand the language, but I'd playfully translate for my parents. It was then that I first expressed my dream of becoming an interpreter (something related to languages) to help people understand each other.
What is your favorite thing about this industry?
Again, I love so many things. I love that it encourages personal growth and learning, celebrates different cultures, brings people closer together, sparks creativity and pushes us to improve and go out of our comfort zones.
What is your bucket list vacation?
I always have something new on my list; in fact, my relatives always laugh at me because as soon as I come back from a trip, I am already planning the next one! I would actually love to visit my industry and 30U30 friends in their destinations. I hope I can attend one of Davelyn's Themed FAM in Puerto Rico, go hiking with Alexea in Colorado Springs, receive my first Texas mum with April in South Padre Island, and explore many more places. A 30U30 retreat in Europe is also on my wishlist!
What is one fact about you that surprises people?
A fact that surprises people that know me is that I used to be the shyest and least confident person in the room and I've always been very close to my family in France, and no one thought I could live far away from them. Now, I've lived a life where I've ventured to Canada at 18 to learn English, explored Spain to enhance my language skills, and relocated to the USA in 2015. Today, I'm the first to step out of my comfort zone and continually push my limits. I've changed from someone who once hid behind the curtain to confidently introducing myself, speaking up, and now, I enjoy helping others in breaking free from their shells.
What is your favorite restaurant/meal in the world that you have tried when traveling?
I have to say, now that I've been away from home for over 8 years. One of my favorite meals that I crave the most is called "Galette Complète" (Buckwheat Flour Crêpe), it is a traditional dish from my state Brittany, France.
Fun Fact: Crêpes originated in France around Brittany all the way back in the 13th century. (read more)
What are two truths and a lie?
I have 7 half brothers and sisters and 11 nephews and nieces
I skydived above Key West 
I hate cheese and wine
I am overly competitive about… 
I am highly competitive with myself. I always want to exceed my own expectations and work hard to achieve the goals I set for both my personal and professional life.