Sports Tourism's Positive Effect on Communities
By Dr. Jennifer Stoll, STS
The pressure is on sports tourism organizations to provide their communities with an increased value proposition, but defining this value is often difficult. Organizations can look within their own stated desired outcomes to identify – and measure – an expanded definition of success driving community value.
Value proposition.
That's a phrase that often gets thrown around loosely. As tourism – and more specifically sports tourism professionals – we're constantly trying to increase this often-nebulous concept. Even pre-pandemic, the sports events and tourism industry was pushing to expand its value proposition back to the local communities in which it serves.
Then came 2020.
And the need for a wider value proposition became no longer aspirational, but rather mandatory for organizational sustainability.
The sports events and tourism industry has seen remarkable growth over the last 30-plus years. Sports ETA's 2019 State of the Industry Report conducted by Tourism Economics revealed an industry that accounts for $45.1B in direct spending, $14.6B in tax revenue, and nearly 740K FTE jobs (Sports ETA, 2020).
More than 500 sports tourism entities exist around the country and historically, their primary task was to boost local economic activity. From youth soccer tournaments to one-time mega events like the World Cup, these organizations have traditionally measured success based upon economic impact equivocated with "heads in beds" (room nights) generated by event participants, spectators, and organizers.
But sporting events provide a unique platform. They are often highly visible to residents, can yield significant social media and earned media impact, and provide legacy program opportunities, to name a few. Not to mention the access to participation and volunteerism coupled with the intangible benefits of civic pride, quality of life, and community connectedness often associated with sporting events.
With a feeling that there was something more to the story we were telling, I set out to analyze the stated desired outcomes of sports tourism organizations. My team of researchers and I dissected more than 130 mission statements from destination members of Sports ETA, the professional trade association for the sports events and tourism industry (Stoll, et al., 2020). These entities represented a wide range of organizational structures (stand alone sports commissions and divisions of CVBs/DMOs, for example), geographic regions, and destination populations.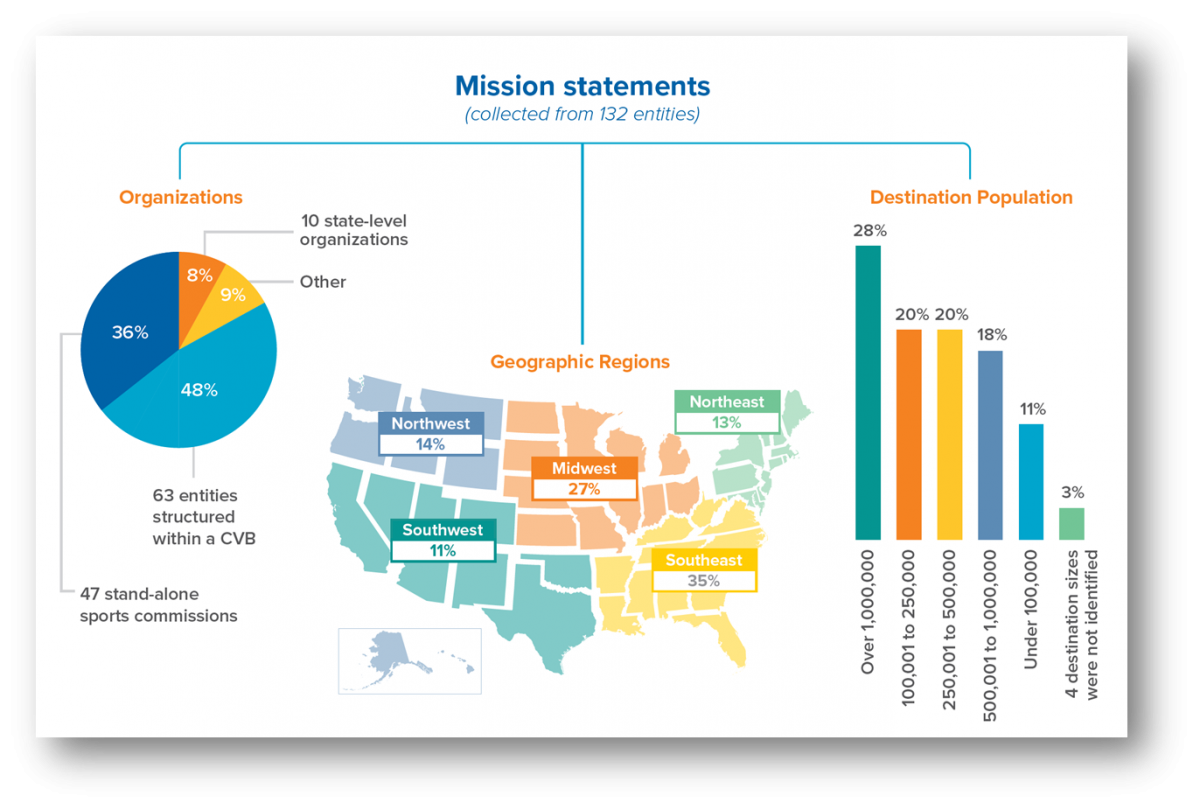 What we found was fascinating. There was no doubt that sporting events, whether recruited or owned and operated by the organization, were the primary output (or product/service) offered to the market by these organizations. The research confirmed this assumption.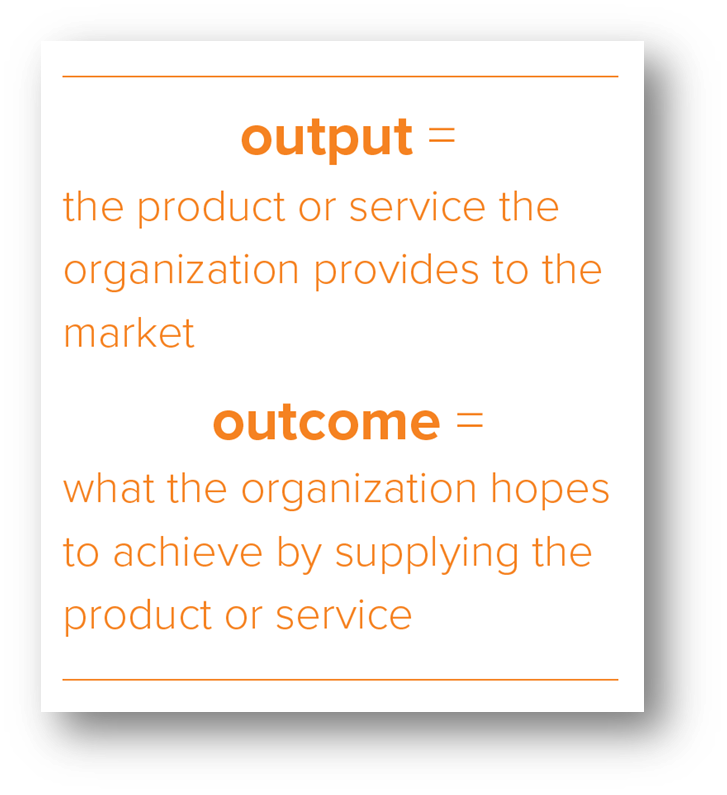 Yet when it came to identifying desired outcomes stated in the entities own mission statements, these organizations didn't stop at driving economic impact. Yes, it was the most frequently occurring desired outcome – which is logical as many of these organizations are funded in-part or in-full by lodging tax revenue. But it wasn't nearly the sole desired outcome their mission statements conveyed. A frequency analysis revealed four additional desired outcome themes including 1) destination branding, 2) socio-cultural leverage, 3) tourism/business development, and 4) venue engagement. Given what we perceive collectively about sporting events and the unique platform they provide mentioned above, this all makes sense.
Yet a key question remains: How do we better align sports tourism organizations' definition of success with their stated desired outcomes?
This question takes us full circle back to the notion of value proposition.
Our organizations' value proposition is right there in our very own mission statements, which were undoubtedly crafted with thoughtfulness and intentionality. But it is not just the economic impact, destination branding, socio-cultural leverage, tourism/business development, or venue engagement that creates the value. The value is found if we forge one step further and expand the definition of success in each one of these areas.
For example, successful socio-cultural leverage can be defined by civic pride, resident sentiment, quality of life, and community connectedness among other things. Tourism/business development means not only bringing sporting events to town but leveraging them to cultivate a community ripe for business recruitment and retention, as a place people want to work and live.
These are just some of the positive effects of sports events and tourism. And there are countless more, many common among all communities, and some distinctly unique. We must not only identify them, but assign KPIs to them, diligently measure them, and track them over time.
We know now more than ever the importance of advocacy. Our work is important to the overall economic health and vitality of our beloved communities. As we strive to expand the definition of success in the sports events and tourism industry by drilling into the broad outcomes we've set our missions to achieve, the once elusive "value proposition" begins to crystalize and widen naturally.
The result is a much more comprehensive value proposition highlighting the positive impacts of our work. This value proposition will now intersect with an array of important community sectors and be underpinned by data and storytelling that all point to achieving collective community goals.
Note: This blog post is based upon a recently published peer-reviewed article written by Stoll, et al. (2020). Graphics provided by Sports ETA.
References:
Sports ETA. (2020). 2019 State of the Industry Report. Retrieved from https://www.sportseta.org/state-of-the-industry-report-2019
Stoll, J. A., Dixon, A., Goldsmith, A., Andrew, D. P. S., & Chelladurai, P. (2020). Sports tourism entity desired outcomes. Journal of Sports & Tourism, 24(3), 195-213.
Bio:
About Jennifer Stoll, PhD, STS
Jennifer Stoll, PhD founded Stoll Strategies in 2018 with one goal in mind—propelling the sports events and tourism industry to the next level by putting her passion for sports and her love for learning, research and advising to work. She currently oversees all research and education for Sports ETA, the professional association for the sports events and tourism industry.
Jennifer supports, guides, and creates practical solutions catered to her partners across the world through the convergence of custom-tailored research, real-world experience, and the power of thinking big. Using an economic development lens, she helps her clients define the often-intangible benefits of sports events and tourism to create long-term success and sustainability.
A former collegiate softball player, she earned her Sports Management degree from Colorado Mesa University. She went on to graduate with her Master's in Sports Administration from the University of Louisville and a doctorate in Sports Management with an emphasis in Sport Tourism from Troy University.
In her downtime, you can find Jennifer on her farm or exploring the mountains in Western Colorado with her husband and two young kids.