Destinations International Announces Opening of 2021 Annual Convention Registration and Keynote Speakers
The theme of this year's hybrid Annual Convention is "Embrace Disruption." Pre-convention discipline-focuses summits and CDME courses also being held.
FOR IMMEDIATE RELEASE
Media Contact:
Caitlyn Blizzard
[email protected]
1.202.835.4202

The theme of this year's hybrid Annual Convention is "Embrace Disruption."
Pre-convention discipline-focuses summits and CDME courses also being held.
Social media hashtag: #AC21Baltimore
Click here for headshots and convention assets.
WASHINGTON, D.C. (April 22, 2021) – Destinations International, the world's largest resource for official destination organizations, convention and visitors bureaus (CVBs) and tourism boards, today announced that registration is open for the 2021 Annual Convention. The event will take place on July 13-15, 2021 in Baltimore, MD, USA. Early Bird registration rates for Destinations International members apply through May 28, 2021. Registration and more information may be found at destinationsinternational.org/annual-convention.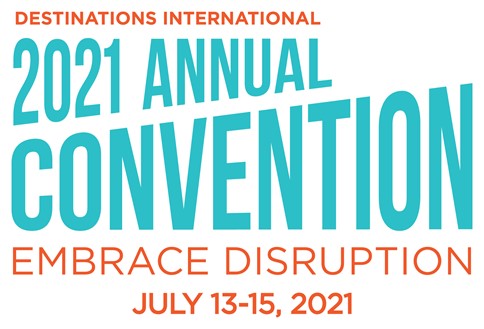 The theme for this year's Annual Convention is "Embrace Disruption." The past two years have been filled with extraordinary challenges, brought on by a global pandemic. But through a series of additional challenges – budget cuts, global elections, social unrest and injustices, natural disasters…compounded by the pandemic, the world of destination organization leaders has changed. Destination leaders must look for solutions for a post-pandemic recovery by rolling up their sleeves and coming together with stakeholders to cultivate an innovative approach to and solutions that will advance the good work they do on behalf of the communities they serve.
In addition to the Annual Convention, Destinations International will be hosting pre-convention events on July 13. Hybrid pre-conference events include the Marketing and Communications Summit and the Finance, Operations and Technology Summit. Virtual pre-conference events include the Membership Summit and Visitor Services Summit. On July 10-13, Destinations International will also be offering four in-person Certified Destination Management Executive (CDME) courses.

The 2021 Annual Convention is a first-of-its-kind hybrid event that will bring together leaders in the travel and tourism industry to learn more about the tools and resources they will need to be successful for the future. A hybrid event combines both in-person and virtual components, allowing attendees to join in their preferred format. This year's Annual Convention will feature a live in-person audience in Baltimore, MD as well as an online audience on our virtual event platform. The health and safety of attendees is a top priority for Destinations International and the association has been working closely with Visit Baltimore and local health officials to ensure health protocols are in place during the event.
"We have been working closely with the Visit Baltimore on every facet of the meeting, including safety guidelines, said Don Welsh, president and CEO of Destinations International. "With the help of Al Hutchinson and his extraordinary team at Visit Baltimore, we have a program that will leave all attendees inspired and energized to move past disruptions and innovate like never before. In partnership with Visit Baltimore, we look forward to hosting our industry colleagues from around the world!"
"Visit Baltimore is honored to welcome our industry peers to Baltimore for the Destinations International 2021 Annual Convention. This is the first major hybrid industry event since the COVID-19 pandemic started, and the local tourism and hospitality community is eager to host our colleagues and roll out Charm City's red carpet," said Al Hutchinson, president and CEO of Visit Baltimore. "As we prepare for July, the health and safety of attendees and staff remain our top priority. To help us prepare, Visit Baltimore has partnered with the Global Biorisk Advisory Council to bring its GBAC STAR Accreditation program to local hotels, meeting centers and attractions. This performance-based accreditation program helps facilities demonstrate they have the work practices, procedures and protocols to prepare, respond and recover from outbreaks and pandemics. We know this will go a long way to instill confidence in attendees, staff and key stakeholders."
Keynote speakers include:
Wes Moore, best-selling author, entrepreneur, television producer, retired US Army Officer and Baltimore native. He also served as the CEO of the Robin Hood Foundation, one of the largest anti-poverty forces in the nation.
Global All-Stars, a general session facilitated by Miles Partnership that continues to serve as a platform for showcasing insights, ideas and inspiration from around the world.
Kevin Brown, speaker and author, Kevin's unconventional path to business and personal success has taught him that winning in business and in life requires anything but conventional thinking. Kevin is on a mission to help people and organizations embrace a simple philosophy that separates world-class organizations and high-performance people from everybody else. He is passionate about helping people expand their vision, develop their potential and grow their results.
"We could not be happier to finally announce the return of our Annual Convention – 'Live and in Person," said Butch Spyridon, President and CEO of the Nashville Convention and Visitors Corp and Chair of Destinations International. "Many of the brightest minds in destination marketing and hospitality will gather this July in Baltimore for the first time in almost two years. I, for one, cannot wait to toast our colleagues and our industry with real beer."
This hybrid event will provide ample opportunities for sponsors and business members to network and connect directly with convention attendees through highly engaging activations such as access to the in-person Connections Lounge, an exclusive dedicated area for 1:1 socially distanced appointments with customers. Additionally, sponsors will have the chance to further showcase their thought leadership both in-person and digitally through a variety of opportunities such as Flashes of Brilliance Micro-Sessions and Ask the Experts educational sessions.
The 2021 Annual Convention is presented by Destinations International with the support of the Destinations International Foundation. Destinations International is grateful for the support of our Pinnacle Partners: Brand USA, Miles Partnership and Simpleview; our Premier Partners: Arrivalist, Fired Up! Culture, IMEX Group, Longwoods International, MMGY Global, STR, Tempest and TripAdvisor; and our event sponsors to date: Adara, Arrivalist, Barkley, Brand USA, Casual Astronaut, Clarity of Place, Connect, Crowdriff, Cvent, Destination ENV, Destination Analysts, Digital Edge, Expedia Group Media Solutions, Fired Up! Culture, Fuseideas, Greenberg Traurig, Helms Briscoe, IAEE, IMEX Group, JLL, Longwoods International, Madden Media, Maritz Global, Mile Marker 630, Miles Partnership, MMGY Global, MMGY Nextfactor, NFL, Northstar Meetings Group, PCMA, SearchWide Global, Simpleview, STR, Tempest, Tripadvisor, True Omni and Zartico.
For information please click here. For more information on Destinations International or the 2021 Annual Convention, visit destinationsinternational.org.
###
About Destinations International:
Destinations International is the world's largest resource for official destination organizations, convention and visitors bureaus (CVBs) and tourism boards. Destinations International is about serving destination marketing professionals first and foremost. Together with almost 6,000 members and partners from nearly 600 destinations in 15 countries, Destinations International represents a powerful forward-thinking, collaborative association: exchanging bold ideas, connecting innovative people and elevating tourism to its highest potential. For more information, visit www.destinationsinternational.org.